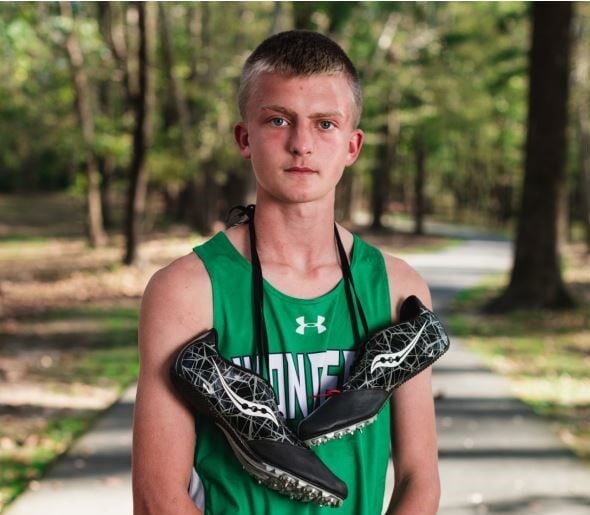 KANNAPOLIS – It began as a young boy simply wanting to spend time with his dad.
That's what running was for Gabe Blackwelder nearly a decade ago.
Blackwelder's father, Nathan, had taken up the sport as a hobby, and before long, young Gabe was gleefully tagging along, running in his father's shadow, content to spend time with the man he admired most.
"We'd always go out and run together, and it was a nice little bonding thing," recalled Blackwelder, now a senior at A.L. Brown High School. "After a while, it was just the feeling of accomplishing something – going out there, doing what you can, trying your hardest to get better. We ran hard, and it was just a fun time."
But soon it became so much more.
As the years passed, Blackwelder didn't just hang with his dad; he surpassed him. When he got to middle school, he joined the track team, and then he started really taking the sport seriously when he enrolled at A.L. Brown.
Pretty soon, he was a leader on the Wonders' cross country and track and field squads and, later, one of the top runners in the South Piedmont 3A Conference.
Now, Blackwelder's running shoes are taking him all the way to the town of Pembroke, where he'll compete in both cross country and track and field at the college level.
After that, armed with more life experiences and what he hopes will be a doctorate one day, the sky truly will be the limit on what Blackwelder can accomplish.
But for now, in his final campaign as a Wonder, Blackwelder simply wants to harken back on those days running with his dad and do what he did as a little boy: the best he could.
In two cross country races this season, Blackwelder has a runner-up finish and a victory. In the opening meet of a 2020 season with a start that was delayed by the coronavirus pandemic, Blackwelder finished second. Days later, he motored his way to a gold-medal finish in a meet that had to be held on the A.L. Brown track because of flooding.
He ran the 3,200-meter event in 10 minutes, 59 seconds. It was a good time for an early-season race.
"Me and a couple teammates raced off each other most of the day," Blackwelder said. "The last lap, I just went for it and ran 10:59."
Blackwelder said part of the reason he's been so strong so early this year is because he considers himself to be in the best physical condition of his life.
"Definitely," Blackwelder said. "Just this year, we've had a lot more time to prepare for the season. We're doing a lot more weight training, and I feel a lot stronger than I have before."
Not that Blackwelder was ever in poor shape. The years running with his father built up his endurance. And ever since he gave up another sport he really liked -- baseball -- and focused solely on becoming better as a runner, he's always been in the hunt during A.L. Brown competitions.
In fact, that 10th-grade season is when Blackwelder ran the race that played a large role in his landing a future spot at UNC Pembroke.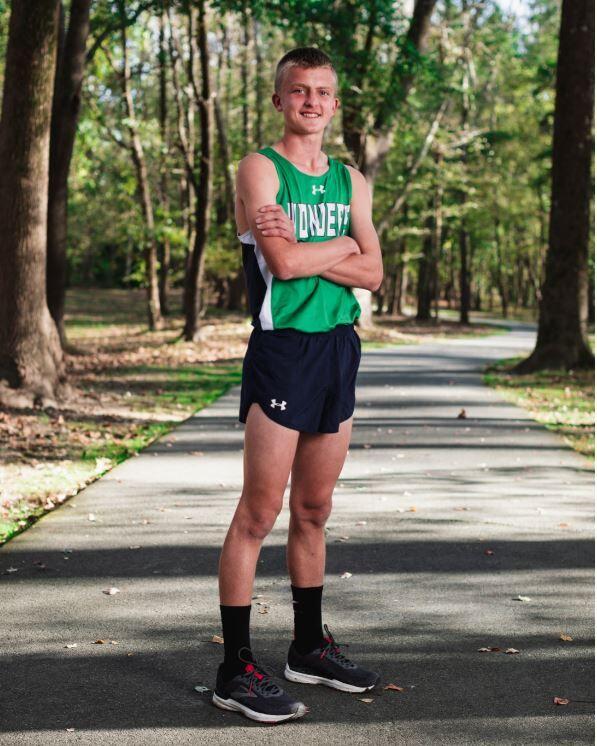 was the spring track season, and he made his mark by finishing second in the SPC in the 3,200 meters and third in the 1,600. He put an exclamation point on the year by running a personal record of 4:45 in the 1,600 to take 10th place in the regional meet.
He felt good about his final race of that season, but he didn't really know how much it would mean until the following year, when COVID-19 caused a shutdown of sports in North Carolina, meaning Blackwelder couldn't be on the track for his all-important junior season, when college recruiters are most vigilant of prospects in high school.
"It was really tough because I knew it was an important time for recruiting," Blackwelder said. "I knew that if I continued to lower my times down, it would solidify that I was able to run in college.
"I got recruited to UNC Pembroke mainly based on my sophomore year," he added. "Mainly, the 4:45 was a good time, (UNCP track and field coach Peter Ormsby) said, to come on the team. I was very grateful for that. I was just really excited for the opportunity."
As good as his time was that sophomore year, though, Blackwelder didn't qualify for the state meet. But for as well he's running this season, he isn't putting any pressure on himself to qualify for the state meet this year, let along win the whole thing.
It would be nice to be a conference champion and run in the state meet, he said, but it's all about perspective.
"I'm just going to run hard and see what happens," Blackwelder said when asked what his goals for his senior year were. "I'm going to make sure not to waste a single race, because you never know when your last race is going to be because of the coronavirus, so I'm just going to take every opportunity and do my best with it."
Yes, the specter of a shortened season is a bit of a nightmare for Blackwelder.  He knows that feeling all too well after, while in tremendous shape and set to have a stellar junior campaign, the N.C. High School Athletic Association ruled it couldn't continue because of COVID.
The Wonders had participated in just one track meet at the time in March.
"It's a little tough this season," Blackwelder said, "but it's also a good motivator because you can't just say, 'Oh, there'll be more races.' You have to make sure you do your best because that could be the last one."
Therefore, every race Blackwelder runs this season will have meaning – the shorter cross country ones held on tracks, the longer ones held in parks, and any that take place later in outdoor track season.
He's going to channel his favorite runner, Kenyan marathon titan Eliud Kipchoge, and do his best. He wants to be ready to compete when he gets to UNC Pembroke, the school that stole his heart by simply giving him a chance.
"I just really loved a lot of things about the school," Blackwelder said. "When I went and met with the coaches and a few members of the team, I just really felt connected, and I really thought it was going to be a really good place to be."
Along with running at Pembroke, Blackwelder said, he's going to pursue another one of his passions: making a difference.
He'll initially study exercise science and try to parlay that into that coveted doctorate in physical therapy.
It's not about attaining status for Blackwelder; it's about changing it for everyone.
"I just really want to make a difference in people's lives, and I know that rehabilitation is really important," Blackwelder said. "To help someone regain the muscle or movement that someone had before they had an accident is a big deal to a lot of people, and I'd like to be a part of that."