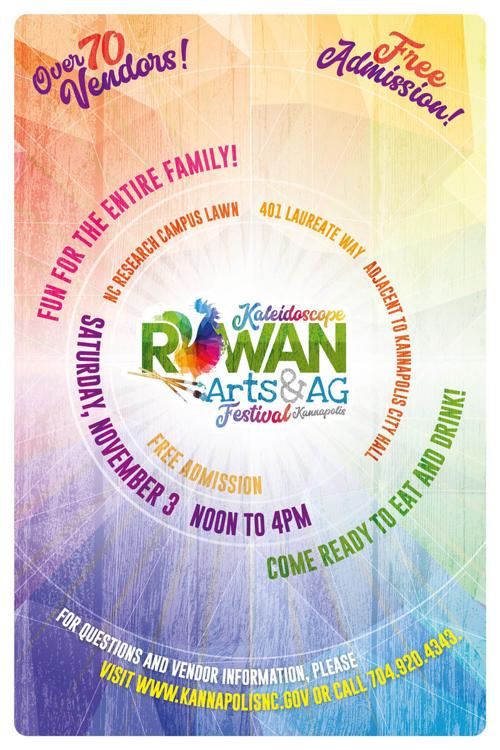 The Kaleidoscope Arts & Ag Festival returns to Kannapolis the first weekend in November.
The event will be held from noon-4 p.m., Saturday, Nov. 3, with new activities on the North Carolina Research Campus Lawn, adjacent to Kannapolis City Hall, 401 Laureate Way.
As part of the Rowan Arts & Ag series, the event will feature over 70 vendors and performances by members of the Salisbury Symphony.
Over 75 local artisans such as painters, jewelry makers and woodcarvers will help visitors celebrate the rich culture of agriculture with local breweries, wineries, and goods from local farmers. Get an early start on your holiday shopping.
Come ready to eat and drink because it will also include wine and food vendors like Mac-Attack Chicken, Chicken Salad Chicks, Carolina Smash Truck, Douglas Vineyards, Morgan Ridge, Railwalk Brewery & Eatery and Cougar Run Winery.
There will be lots of fun for the entire family such as stilt walkers, bubble and balloon artists and more.
Visitors can also perform with The Flow Circus, which will have its interactive play station with skill toys from around the world such as flower sticks, Japanese kendama, spining plates, yo-yo's, tops, hand sacks, juggling toys and more.
For questions and vendor information, please visit kannapolisnc.gov or call 704-920-4343.
Be the first to know
Get local news delivered to your inbox!