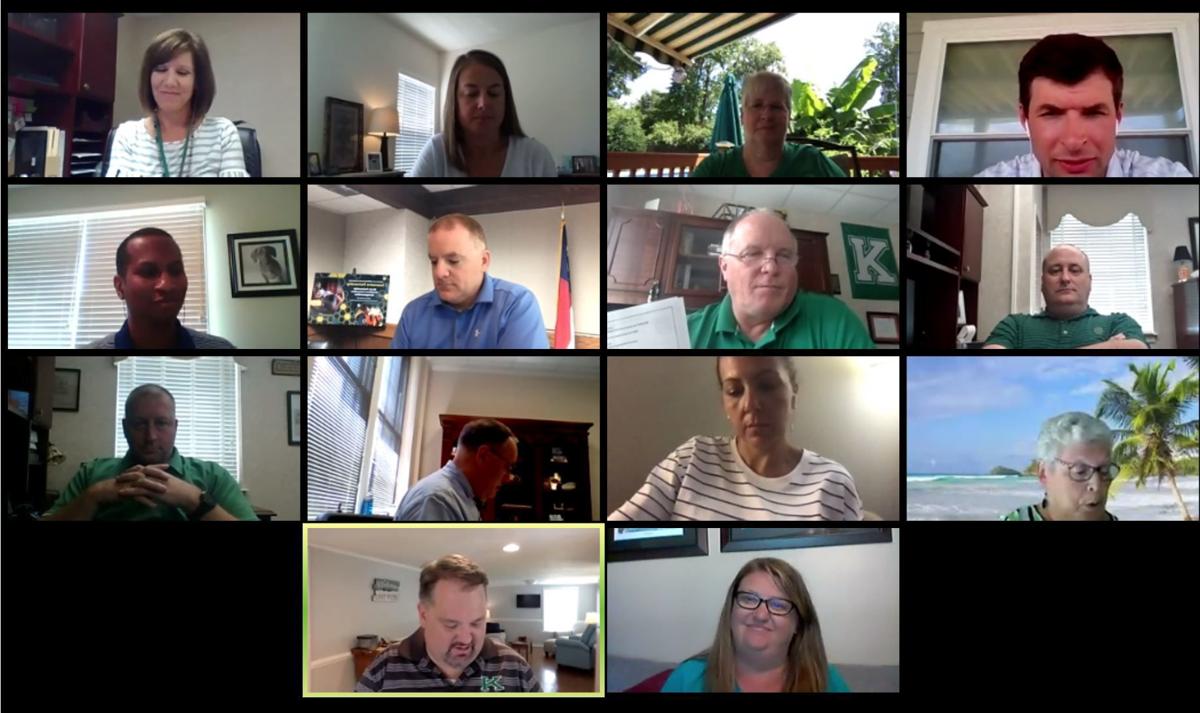 Kannapolis City Schools doesn't know exactly what the start of the educational year is going to look like yet — it won't know until it gets further guidance from the state in a meeting with Gov. Roy Cooper on Wednesday — but preparations have already begun for what will undoubtedly be the most unique school year in the district's history starting this fall.
Will Crabtree, director of business for Kannapolis City Schools, laid out the groundwork of the health and safety measures the district has already taken for the upcoming year at Monday's Board of Education meeting.
The district is ordering 14,000 8-inch by 4-inch reusable, washable masks for students in grades Pre-K through fifth-grades and 20,000 washable, reusable 9- by 5½-inch masks for grades 6-12 and all employees. These measures should give each person five masks they can use and reuse and wash for the upcoming year.
They were advised by the North Carolina Department of Health and Human Service to order these pieces in preparation for the upcoming year, according to Superintendent Chip Buckwell.
"Don't confuse that yet with any requirement to wear, but that we would provide those," he said. "So instead of trying to wait until some other decision is made, we needed to source these now to be able to move forward with school in the fall."
Crabtree said he believes this is enough inventory for a little bit of a cushion to deal with the possibility of students moving into the district in the upcoming year.
How they will distribute the masks has not been determined, but the idea is to give out all five masks at once to students so they can be prepared to have what they need.
"All the details of all the plans of everything we're going to do is waiting on the governor to make his decision about what we're going to do as far as which level of plan we implement," Buckwell said. "Then we would go forward from there with our plan with some details."
The start of the school year — or at least the planned start of the school year — is about seven weeks away.
In addition to the face masks, the district is taking action to prepare campuses as well.
The district is ordering 100,000 gloves in various sizes, which it believes will last the entire year. These are for custodians who will be continuously cleaning campuses as well as front office staffers and school nurses.
As of now, there has been no guidance saying students will need gloves, but Buckwell cautioned that the state could change its mind.
The planning goes beyond masks and gloves, though. Screening students and teachers for COVID-19 will be extensive.
KCS is ordering 25 walk-through heat scanners people must go through on their way onto campus.
"This is basically an apparatus that sits at the door — it looks a lot like a metal detector, but it's not — and as you walk through, it takes your temperature," Crabtree said. "We can do that a lot quicker than having a handheld temperature, and as we look at the requirements right now, that's one of the requirements that has to be taken before entering school buildings."
Additionally, the state is requiring 58 handheld thermometers, which can be used throughout the school in "one-off cases," according to Crabtree.
Also, if a student were to go through a walk-through heat scanner and a temperature is detected, it must be verified with a handheld thermometer.
The walk-through scanners are theoretically a faster way to get students into buildings, but there are potential complications, as Board Chair Todd Adams brought up.
"We need them moving in as fast as well can because they're going to be standing outside 6 feet apart in the rain," he said. "Gotta get them in the building as fast as we can."
It's not something that is ironed out yet, but it is something the district is trying to figure out how to address.
The district will have all the scanners and thermometers before school starts, according to Crabtree.
Buckwell also laid out what would happen if a child does have a temperature.
"One of the things we do have some guidance on is if a child who is scanned to have a temperature, they have to then be assessed by a trained person using the handheld thermometer," he said. "So it would either be a school nurse or somebody that we had trained who had gotten the CHA (Cabarrus Health Alliance) training and would be close to, or at the monitor, when it went off, or it referred to them if they were busy.
"If you had one, and then three people later, you had another one, the person who was assigned to that monitor may be busy that second, but we would hold that person to make sure the next trained person (would be there), so it's not just going to be anybody taking a person's temperature, it's going to be somebody that's trained how to do that effectively and the correct way."
Finally, the district is getting enough hand sanitizer to last the entire year.
"We are ordering a tractor-trailer load of hand sanitizer, 26 pallets full of hand sanitizer," Crabtree said.
Crabtree said he is sure other things will come up, which they will have to make adjustments for, but as of now, they have pretty excessive planning in place.
"We are actively working and planning to get kids back in school," he said.
Buckwell added: "It may not look like it because there's not definitive information coming out from us as to what school's going to look like, but the things we can control, we're trying to control, and the things we're trying to prepare for is getting kids back into school as safely as possible."
Be the first to know
Get local news delivered to your inbox!