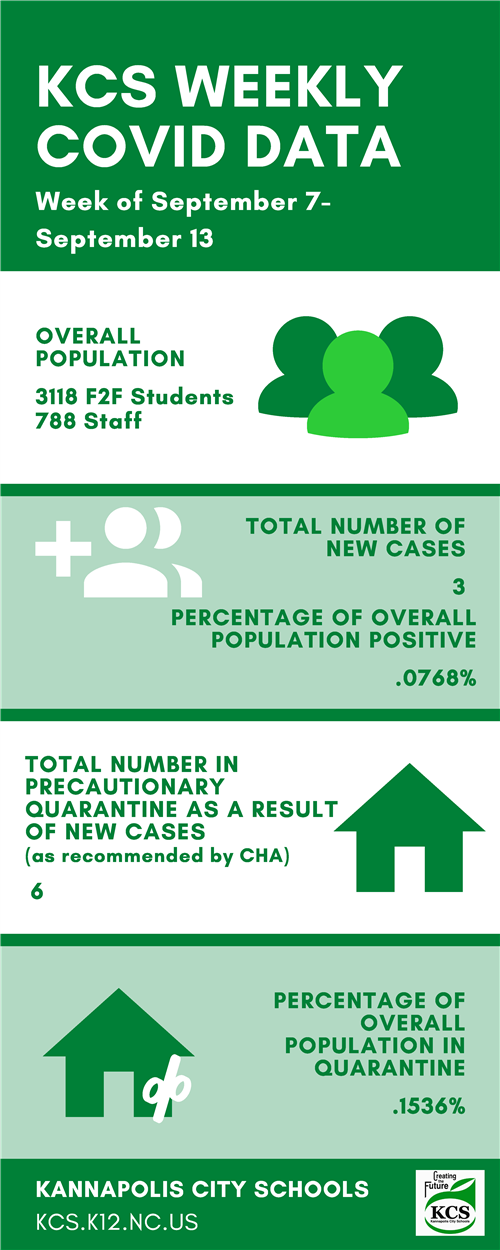 Kannapolis City Schools reported three new cases of COVID-19 this week in a Facebook post from Superintendent Chip Buckwell.
Six people are in precautionary quarantine as a result.
"For the week of Sept. 7 through Sept. 13, KCS had three new confirmed positive cases of COVID-19," Buckwell said in his Facebook video. "If you have not been contacted directly, you/your student has not been identified as a close contact by Cabarrus Health Alliance (CHA)."
KCS had two new cases of COVID-19 for the week of Aug. 24-31, and one case over a seven-day period from Sept. 1-6.
"As we navigate some of the new challenges presented by COVID-19, we are extending shared expectations to include new protocols and procedures related to keeping our students healthy and safe," Buckwell said. "We encourage you to talk to your children about these procedures, such as frequent hand washing, social distancing and wearing masks, and practice with them when possible."
KCS is halfway through its first nine weeks of the year, and the first progress reports will be going out this week.
"All schools have been working with students to establish routines and procedures within all content areas for on-campus and/or remote learning," Buckwell said. "Teachers have also assessed students' performance to give accurate information on how to best meet instructional needs.
"For this first progress report, we are sharing snapshots of how each student is performing and will give detailed content measures at the end of the quarter."
He continued: "We continue to be encouraged by the hard work of our students and staff and appreciate the efforts of the KCS community to wear their masks, wait 6 feet apart, and wash their hands. It is #KCSEssential!"
Be the first to know
Get local news delivered to your inbox!