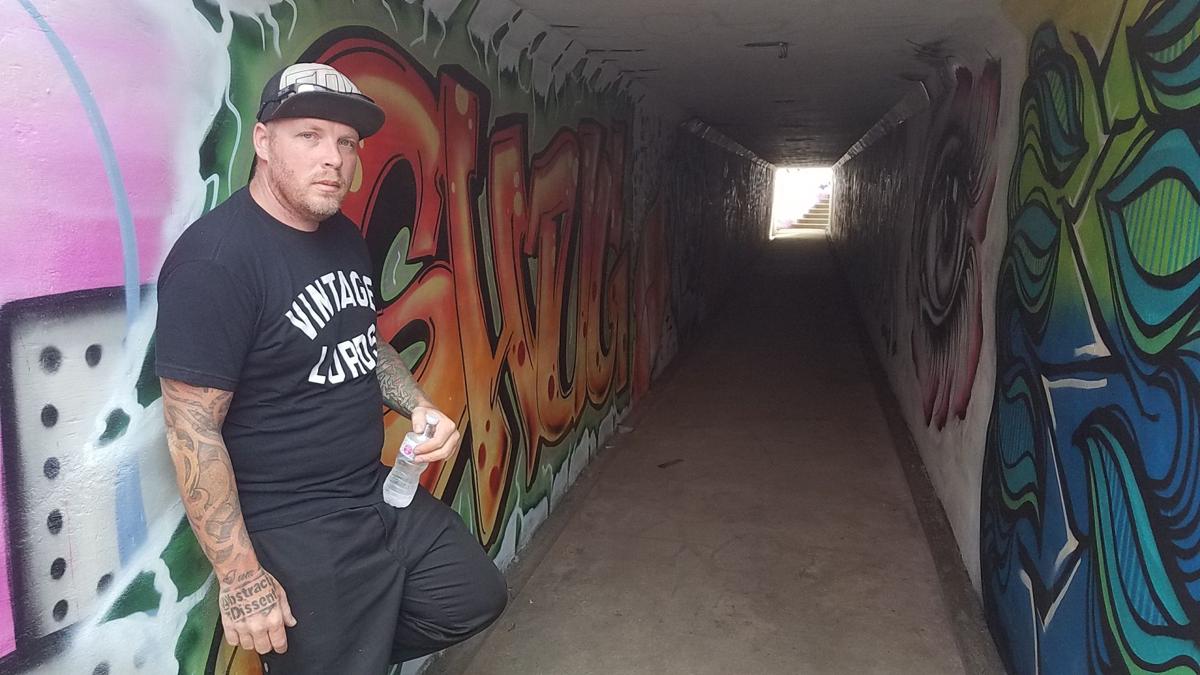 KANNAPOLIS -- A tunnel built for pedestrians to avoid the heavy traffic crosses under busy Cannon Boulevard in Kannapolis.
Before Shane Pierce took his spray paint to the walls of the tunnel, curse words and racial slurs were written, and trash was sprawled out from end to end.
It wasn't the vision Pierce wanted the youth to see when making their way to school at Royal Oaks Elementary School on Dakota Street.
"That's what this was originally built for, is for kids to walk to school," Pierce said. "If you lived within a mile of the school, you couldn't take the bus, back when Royal Oaks was built. That's why they put this tunnel in so kids didn't have to cross the street."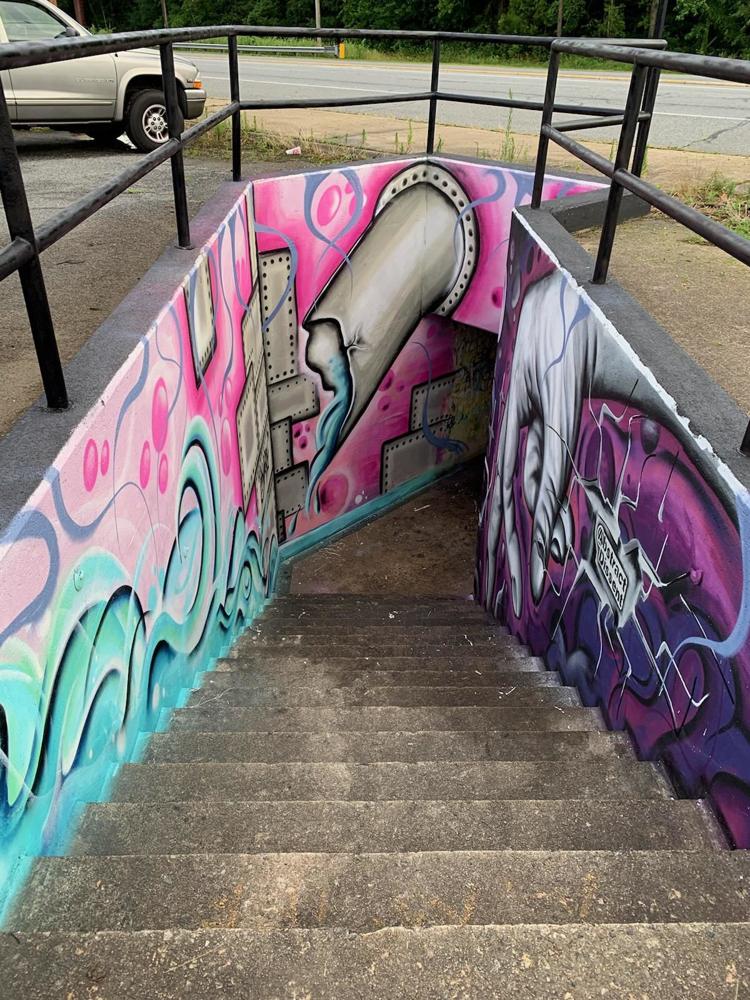 With money out of his pocket, and some donations here and there, he cleaned the tunnel out – got rid of the trash, snaked the drains and sanded the rails.
Then he spray painted random designs on the wall, giving those who crossed, especially children, something visually appealing.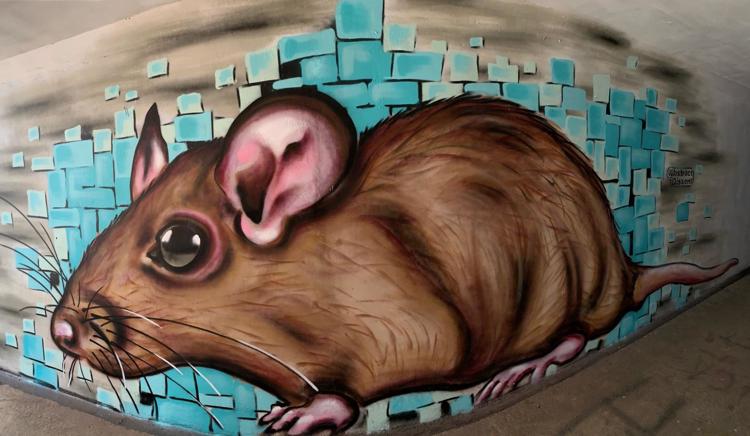 Pierce, whose brand is Abstract Dissent, lives in Kannapolis but has done hundreds of graffiti work throughout the Charlotte area.
He took on the project at the tunnel on the corner of Cannon Boulevard and Dakota Street, near the County Cleaners, because of a story he was told.
Pierce learned about a third grader who attended Royal Oaks, but couldn't get on the bus because of his proximity to the school.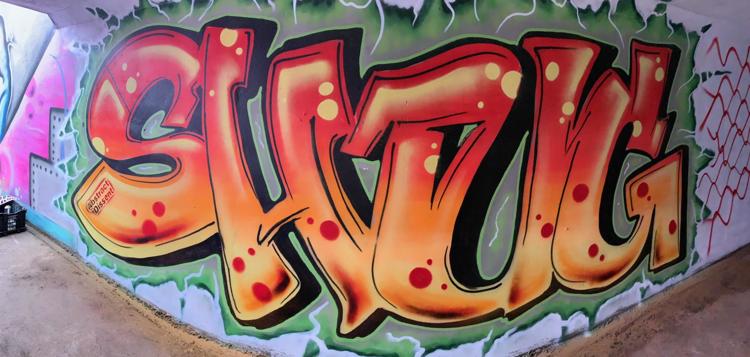 He had to walk to school, taking the dark, dingy tunnel with obscene language just to cross the street.
"I took on the whole tunnel," Pierce said. "I cleaned it out, snake the drains, sand the rails, paint them and make it so these kids can walk to school. That was the motivation to take it over."
Pierce experimented more than a month ago, putting piece by piece of graffiti art on the wall.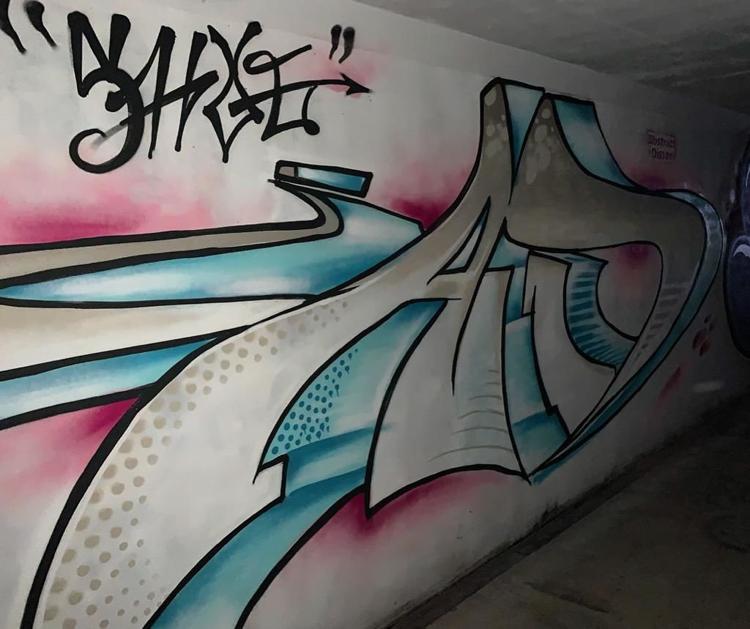 He continued receiving positive feedback, so he kept on adding more.
"I wanted something fun and cool for the kids," Pierce said. "It's all just random ideas that I came up with."
Pierce painted the majority of the tunnel, with occasional guest artists adding a couple pieces.
He said he hopes to find a way to add light to the tunnel so people can walk through at night.
"To me, it helps get my creativity out and to bond with the public, and build a relationship with the community," Pierce said. "To me, the street art has been about giving back. If you look at everybody I've worked for, they are people doing stuff in the community."
Pierce has only been involved in street art for two years. He didn't take any classes. He just practiced daily to master his craft.
"I was always into it. I always appreciated it, how talented some of the graffiti artists were," Pierce said.
Pierce work started in Salisbury at a graffiti park. He then worked on projects at Grievous Gallery, Pedal Factory, The Fish Bowl and schools in Salisbury before his work caught on.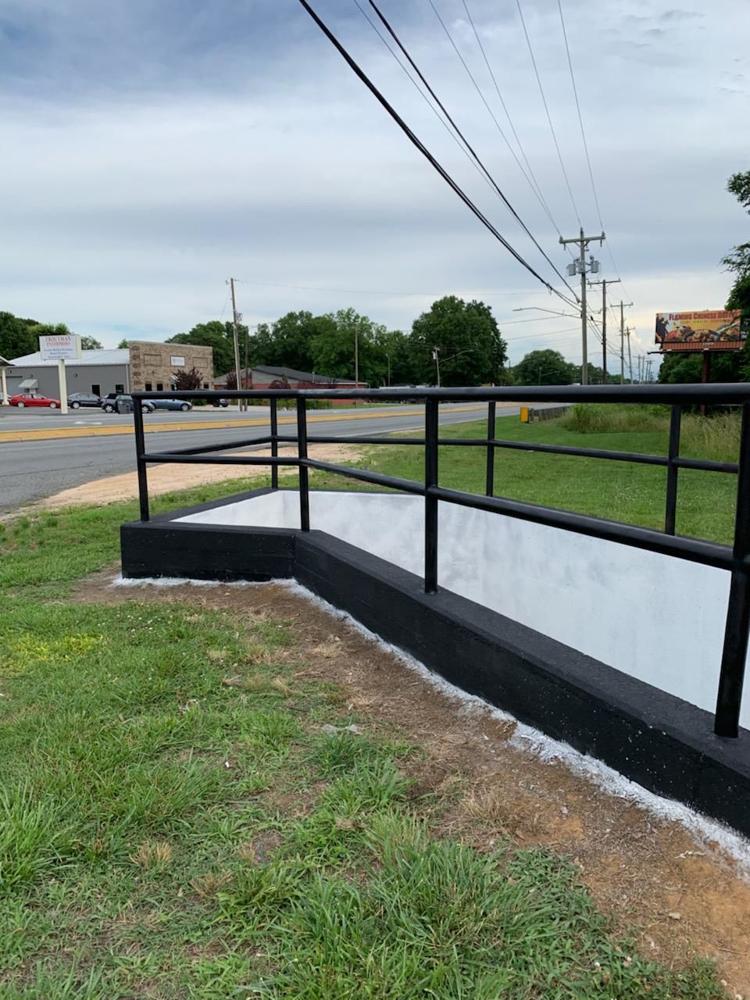 He has painted at schools, treatment centers and nonprofit organizations that serve his purpose – helping the community.
"I've stuck to my purpose," Pierce said. "I've turned down money and have gone to where things feel right and people doing things I believe in within the community. That's where I want my art. I don't want it on developers' high-rise condos in Charlotte."
Pierce donated a mural last year after a fatal shooting at Butler High School in Matthews. Following a deadly shooting on the campus of UNC Charlotte at the end of April, he designed a UNCC Charlotte Strong mural and posted it to his Abstract Dissent Facebook page.
"People were like, 'What are you going to do? What's your response?'" Pierce said. "I've done all these schools. I'm the guy who would respond and they remembered the Butler piece. I couldn't get into (UNCC), so I built a graffiti wall in my backyard and painted a piece for UNCC."
Pierce, who is originally from Cleveland, Ohio, said he judges big cities by its street art design.
He took a little piece of big city culture and brought it to a small tunnel in Kannapolis so children don't have to see profane language while crossing through.
"Mainly, I stick to people giving back to the community, that's where I do my art," Pierce said. "I think it's really important, mainly because Kannapolis has never seen anything like this. The people that live here feel like they just got LA or New York in their backyard."
Be the first to know
Get local news delivered to your inbox!