CONCORD — Volunteers from the community gathered Saturday at Charlotte Motor Speedway for a food drive benefiting 1 Can and the Cabarrus Blessing Boxes, which have been a source of help for many since the beginning of the COVID-19 pandemic last year.
People from the community were able drop off items in a drive-thru capacity. The hope was to fill a box truck full of food items that would then go to the numerous Blessing Boxes throughout Cabarrus County in subsequent days and weeks.
"Honestly, it's just good knowing you can help people in the community," said 2020 Teen Miss North Carolina Haley Crowe. "It's great giving back."
Pageant queens across the area have been a huge help to 1 Can and the Cabarrus Blessing Boxes in recent months as they have planned food drives of their own and committed to filling boxes as well as maintaining them.
Crowe held a food drive of her own alongside 2020 USA National Miss Tar Heel State Jr. Princess Skylar Yarborough in October, and they were once again side by side accepting donations at Saturday's event.
"I like when the people come and they have a lot of food," Yarborough said. "One person had a lot of food in his trunk. A ton! The trunk looked like it was almost to the top!"
While 1 Can and the Cabarrus Blessing Boxes are always looking for help and volunteers, there always seems to be someone new showing up to give aid.
In recent months, Cox Mill High School has gotten very involved with the Blessing Boxes, adopting No. 5 and keeping it up. That is in addition to the volleyball team putting together hygiene packages to include in the boxes in December.
Ariana Sommer is sophomore vice president of the Cox Mill Student Council. She became interested in getting involved over the summer.
"I was in Charleston with my mom and we saw Blessing Boxes, and we went, 'Oh, that's cool,' because as VP I handle community service," she said. "So I came back here and started doing more research and I found 1 Can (and) I reached out, and it just fell into place from there."
Two student council members helped 1 Can founder Sheryl Kluge empty the box truck full of food after the event ended Saturday, and two more worked Sunday to sort everything donated.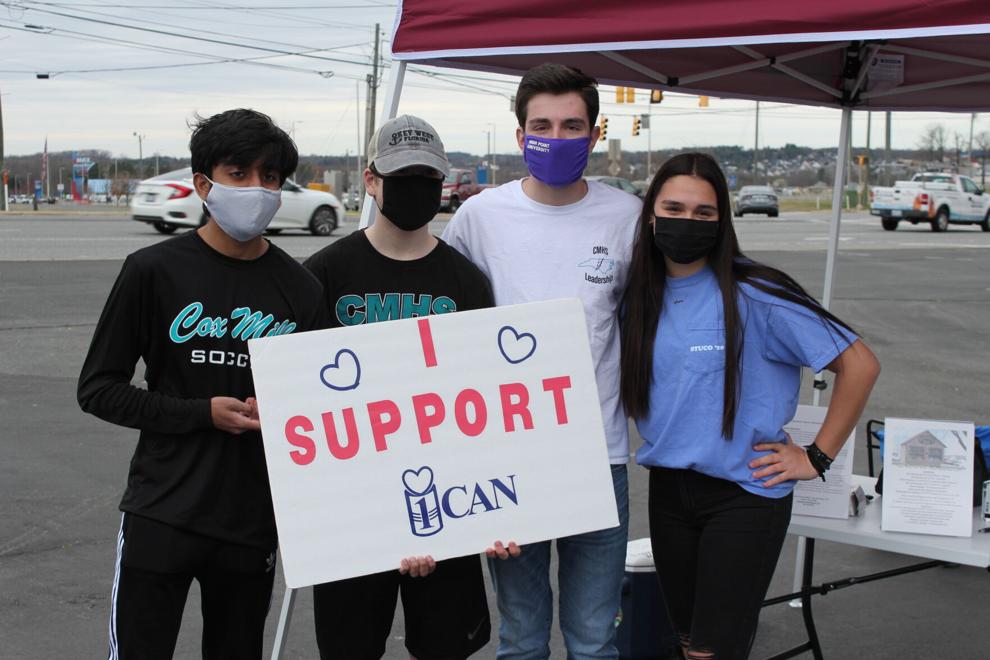 The Cox Mill Student Council has put forth tremendous efforts toward 1 Can and the Blessing Boxes in recent months.
"Recently we hosted a drive just for donations for our box, and we raised over 1,200 items, so that was huge," Sommer said. "We have a lot of stuff to kind of stock our shelves and stock our box throughout the year."
Cox Mill's Student Council currently has 32 members and will have more than 40 next year. They will continue to check the box through the end of the school year and during the summer.
Sommer said the Student Council also plans to plant flowers around Box No. 5 in the future to make it more welcoming and "homey." For her, committing to helping out with something like this is easy.
"I love it," she said. "I love being able to do community service; it has such a (special) place in my heart. I love being able to really reach out to others and be face-to-face with those in need and really be able to serve how I can."
Sheryl Kluge is always looking for help and was thrilled to see all who came out to volunteer Saturday as well as those who donated.
"The (number of) people that are willing to help has grown so much, and it's phenomenal," she said. "It really is good."
This doesn't mean she has too much help or too much food to go around. In fact, she said, things were stretched pretty thin at the end of February.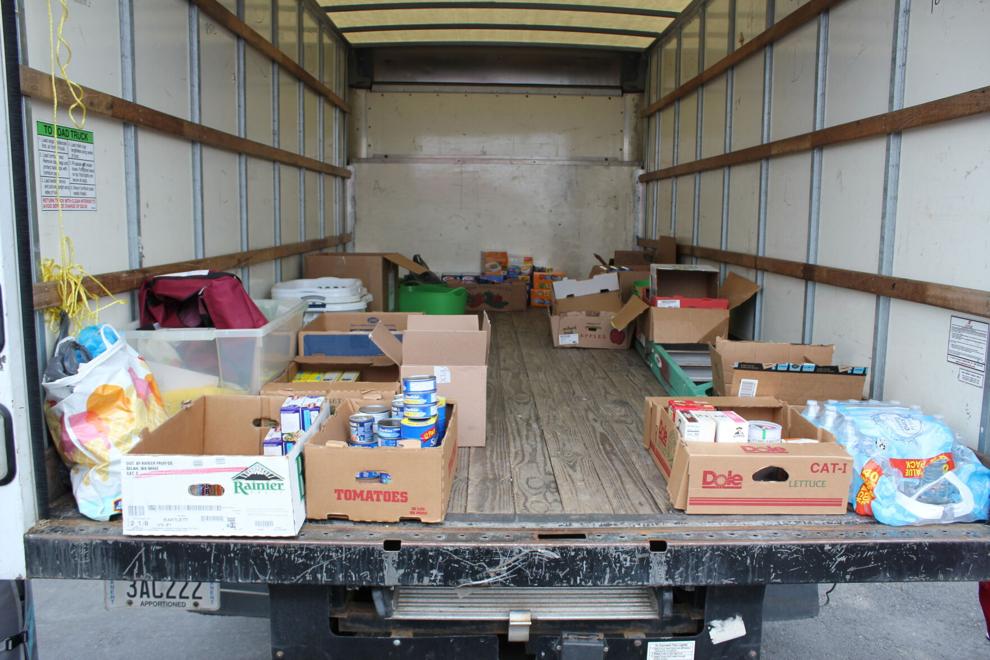 "That last weekend of the month was brutal," she said. "We went through a lot of food that weekend, so the need is definitely still there and it's definitely clear that when people get to the end of the month (they need help) … That was a scary weekend for me and I was like, 'Oh, thank goodness this is coming up because the shelves were getting really empty."
Saturday's event will go a long way in alleviating some of that stress for Kluge, who said she plans to do drives once every three months or so. She is able to set them up with help from volunteers such as Crowe, Yarborough and the Cox Mill Student Council, but also with help from people like Mike over at Concord Shops, who donated the box truck, Sean Miller at Digital Graphics Express for providing them with a banner and Joshua Williamson at Food Lion Store 1552 on Pitts School Road, who also supplied a generous donation.
Her helpers at the boxes, though, give her a lot of assistance and she is always looking for help there.
"I am looking for, we're calling them 'Blessing Box Keepers,' people who will volunteer, do the rounds once a week," she said. "We would provide them with the food, (and) we would look for them to volunteer for a month. I'm looking for Mondays, Wednesdays, Fridays — they can pick one of those days and do the Blessing Box rounds for me. Fill them, clean them out, take out any trash, anything that shouldn't be in there and be done, and they can do it for a month or longer, whatever they'd like to do."
While she does need volunteers and is constantly in need of donations, she can't say enough about the help she has already gotten and how far events like Saturday's go toward helping others in the community.
"I'm really happy with what was accomplished today," she said.