KANNAPOLIS — A YouTube video with 427 views earned a former A.L. Brown student a shot at winning $25,000 on Food Network's "Holiday Baking Championship."
Lorenzo Delgado is one of seven competitors left on the cooking channel's competition series airing for the next four weeks on Food Network at 9 p.m. on Monday nights.
A 2015 graduate of A.L. Brown and a 2017 recipient of an associates' degree from Johnson & Wales in Charlotte, Delgado has already won two separate challenges this season. He was on the brink of elimination in the most recent episode after a mishap with a snow globe, but his hopes remain alive with a shot to win $25,000. That alone is worth enough for him to deal with the stresses coming with the show.
"It's definitely a lot of fun," Delgado said in a phone interview Tuesday. "It can be stressful whenever they throw those mystery curveballs of ingredients that we have to add while we're doing it during the show. It gets really intense, but honestly, it has just been such a crazy roller coaster."
Delgado spent several years working in New York out of Johnson & Wales and then made his way down to Miami to continue his career. But over the last few months — just like everyone else — he was bored during quarantine and decided to tap into the creativity that inspired him so much when he got into Chef Mallory Harris' class at A.L. Brown High School.
The 23-year-old took to YouTube to film himself baking a cheesecake … that's too simple of a way to describe it, but go watch the video to see exactly what he made. It was something to pass the time and have some fun while he was stuck at home. He didn't think much of it, and the video is far from going viral, but somehow, some way, the right person saw it.
"It was the only video I posted on YouTube and someone so happened to see it from Food Network," he said. "Then they contacted me and said, 'Hey, do you want to fly out?'"
It sounds suspicious objectively, and Delgado was rightfully hesitant initially.
"I was kind of skeptical at first because I only had like 300 views on the video," he said. "I was like, 'There is no way somebody found me.'
"But I trusted it, and then I flew out to California and did the show."
The entire thing would sound borderline ridiculous if a stranger on the street went up to someone and told that story. But it was real — very real — and now Delgado is four episodes away from possibly being crowned the winner of the seventh season of the "Holiday Baking Championship."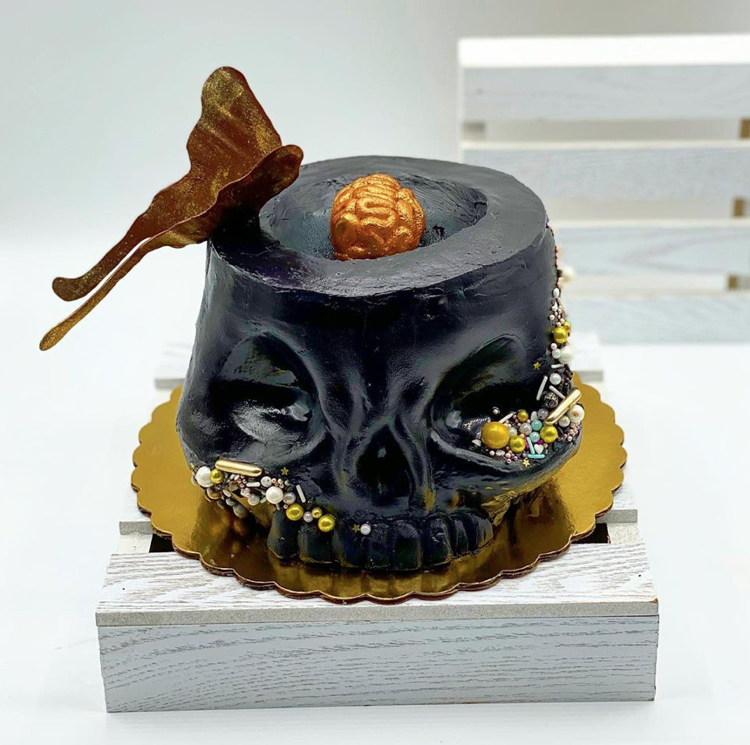 Delgado can't share if he won the show, he can't even give a hint to how he did in next week's episode. It has been a challenge not to reveal the secret.
"It is so hard," he said. "But now I've gotten used to where it's so fun to just keep people on a string and keep them guessing, so I'm kind of being entertained by that."
Delgado doesn't have to keep the last episode a secret anymore, at least, which has to be a good thing because of the drama in Monday's challenges. He was one person away from elimination after challenges he ran into with the color of his cheesecake and a sugar snow globe, which gave the judges a feeling of "having Thanksgiving on Mars."
The judges liked the taste of his dessert, which had to be made by transforming balsamic Brussel sprouts — wrap your head around that one — but Delgado definitely got over his skis a bit, which got him in trouble.
The Kannapolis native clearly has a talent for making desserts look beautiful — that is easy to see when scrolling through his Instagram — but being able to balance making something aesthetically pleasing and also tasty is a challenge he is trying to perfect on the show.
"It's so challenging," he said. "Just because while you're doing that you have to put a smile on your face because you know you're going to be filmed on camera, and it's just really hard.
"You have to think on your feet because they throw out these challenges, you've got to really have your mind and your brain constantly going and thinking of ideas of what you should do, what can I do to make this better? What can I do to step up my game from last week? So your mind never stops."
Contestants in the show are asked to make a dessert in a preliminary heat and a main heat. A winner is picked from the preliminary heat and given an advantage in the main heat. Delgado won the main heat in Episode 2 and the preliminary heat in Episode 3, so he set expectations high for himself with the judges at the beginning of the show. That has also created a challenge for him, one he says might have been important in the recent episode.
"I think the pressure really got to me, because I'm like, 'Dang, I've got people watching me, now they're going to be having my back, and I'm just like, Ahhhhhhhhhh!'" he said. "I think I just got really overthinking a lot of things that I was doing, and it made me overthink on my planning and the desserts that I was presenting."
But he got through the episode and still has a chance to win. And last week, he was able to celebrate staying alive with his family as he is back in town working from home. This is the first time in three years he will have had a chance to be at home for Thanksgiving because the holidays are such an important time for a pastry chef, and he is excited to not only enjoy his time with his family, but also bake for them while he is home.
And, who knows, maybe he'll take a second shot at perfecting his snow globe.
"Since I've been home, all my family can talk about is, 'What are you making this year? What are you making? What are you making?'" he said. "I'm like, 'Oh, gosh!' So I've got to come out with a full-on buffet presentation for them."
He continued: "I'm thinking, of course, macarons, but I think I want to remake some of the stuff in the challenge that I came in the bottom two. I think I want to remake those and make them into a dessert that I feel comfortable presenting, too."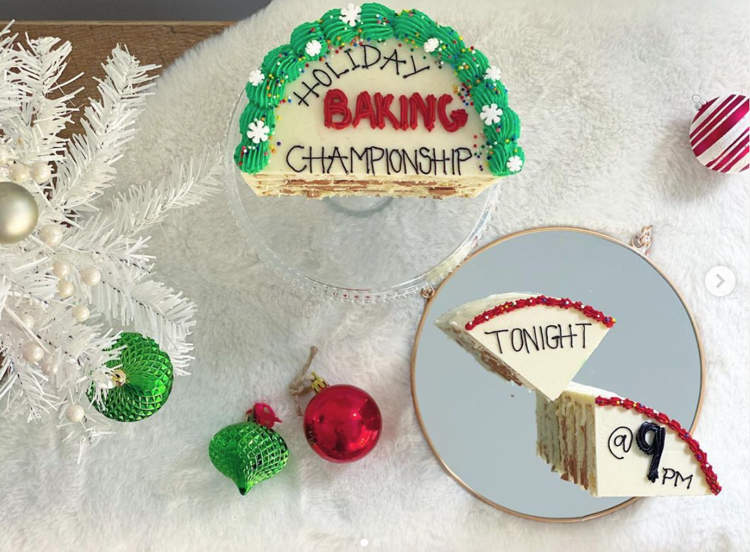 Delgado is excited to once again celebrate the holidays with his family and break out the sangria, which is tradition with the Delgados, but he is also happy to be away from the stress of the competition, which was a grueling task over the course of a month.
While the competitors did have several days between competitions, the planning for each day was constant as they often had to come in with an idea of what to make. Even with that planning, though, the curveballs thrown at them just add to the mental stress that piled on over the month. That is in addition to the stress of filming the competition under COVID-19 regulations in California.
The entire experience was a blast for Delgado, but one that was undoubtedly exhausting.
"It is so tiring," he said. "And then your brain stops functioning, and you're like, 'No! I need it to function right now,' because you've got to be creative because you don't want to do the same thing that you have been doing or one thing the judge has already seen; you want to do something different.
"So it was just a lot, but honestly, it was one of the best experiences of my life."
To think it all started with a YouTube video with fewer than 500 views and a woman from Food Network who somehow found it.
"I need to figure out how she found me," he said. "Because out of everything that was going wrong in 2020, I'm surprised that happened."
He continued: "The universe blessed me. I got so lucky."