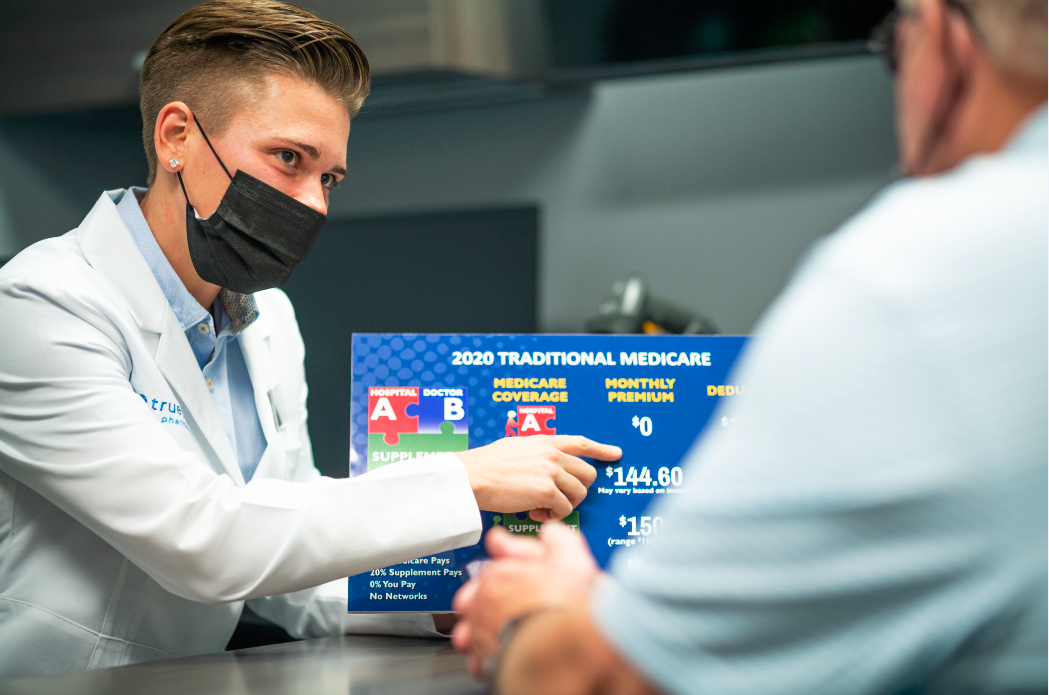 CONCORD — Customers of Cannon Pharmacy Concord may have noticed the pharmacy's recent name change to TrueCare Pharmacy Rx. Owners Josh Young and David Line said that name change comes with a new way of providing care.
Gone are the days where pharmacy runs turn into a mini grocery purchases, Young said — or at least those days are over at TrueCare Pharmacy. While the apothecary sometimes was synonymous with dish soap and detergent, TrueCare Pharmacy is heading into a more modern approach to pharmacy, he said.  
"You can think about it as the pharmacy is no longer the place where you go and get your dish soap," he said. "It's the place you can go and get your medicine and your cholesterol checked or your medicine and an A1C done."
Why the change?
With pharmacists pushing for provider care status, Young and Line see pharmacy moving toward a comprehensive approach to care.
The pharmacy is expanding its services to reach a wider set of needs, Young said. The pharmacy is going to gradually expand its capabilities and they hope, Young and Line said, to one day have other health care providers on staff.
"We believe pharmacists can be very powerful frontline providers in which we can do what is called point-of-care testing — or vaccinations, advanced counseling, and other things that are social determinants of health," he said. "We believe by partnering and offering a wider range of services that are pharmacist led, it will eventually get to the point where you are bringing in nurse practitioners or a PA to create that health home."
What does this look like for TrueCare Pharmacy?
TrueCare Pharmacy isn't just dispensing medication, Young said. He described it as a clinically integrated pharmacy focused on more overall health.
When patients walk through the pharmacy doors they will be greeted by a care concierge that will guide them to the correct service they are looking for, whether that is the pharmacy, testing, medical hardware, a consultation or patient services.
"We are trying to wheel all of that into one place you can start at to get all the resources you need," Young said. "If you have a need, this is that one place where you can go to at least start to get a better understanding."
The core values for Cannon Pharmacy are hard work, compassion, respect and care. And those values are emphasized in the new branding, Young said.
"We like to think of ourselves as a TrueCare Pharmacy pharmacy, wellness clinic and resource center," Young said.
Two positions that have already been at the pharmacy — a community liaison and patient advocate — will be available to specifically aid patients. The patient advocate will be available to help patients get their prescriptions at lower costs. The main goal, Young said, is to eliminate costs as a barrier to access. The community liaison will help put patients in contact with services in the community to address other needs they may have.
For example, if a patient has safety concerns about falling at home, the liaison would put the patient in contact with someone to check the home for safety, Young said.
And with all of the added space with the commodity retail gone, the pharmacy made room for a sit-down consultation area for pharmacists to have a conversation with patients to answer questions.
What new services will be offered?
Pharmacists have slowly gained the ability to conduct point-of-care testing over the years like genetic or COVID-19 testing.
Line said while pharmacists are able to do some things — like vaccines — their scope of care is expected to increase in the future. He said pharmacists may have the capability to offer strep tests or screen for the flu. With TrueCare Pharmacy already setting up for the basics like genetic testing, Line said they will be better prepared to offer services like flu tests.
One of TrueCare Pharmacy's goals is to have more communication with patients and their care providers, Young said. Having that communication will lead to better care for patients. Young said if a doctor and a pharmacist collaborate, patients can have a better experience working through or monitoring their medication.
Doctors may see more of the impact as pharmacies begin to work with them more intimately on solutions regarding patient care.
Young and Line said that while the values of TrueCare Pharmacy have remained with the switch, the way patients will be cared for is different and will improve health of the community overall.
Pharmacies are sometimes more accessible than a doctor' office or an Urgent Care, Young said. Giving a wider access to basic care services provides better health to the community, he explained.
"When you walk into the doctor's office, you can't just walk in and speak to somebody. You have to have an appointment, but with pharmacy you can," Young said. "By increasing this model we basically are filling a gap in care. We are currently kind of doing that, but it is really pieced out. So we are looking to fill those holes and increase access to those reliable skilled services."