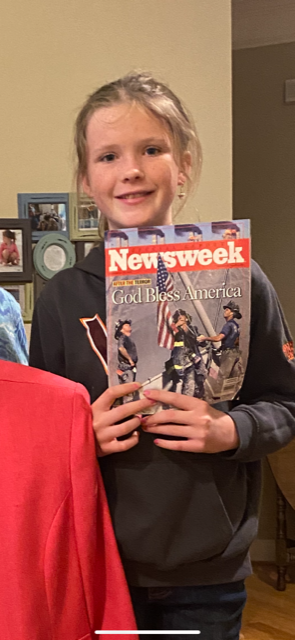 "Oh, Fatherrrr," began 11-year old Emily Fortin of Concord as she approached the kitchen counter where her dad was marinating chicken for dinner. Craig Fortin knew that whenever she called him "Father" she was about to ask to go to her friend's house or likely wanted him to buy her something, but this time, he was wrong.
"Can I interview you for my project about 9/11?" asked the sixth grader at Harris Road Middle School. "Do you remember where you were that day?"
Of course Craig remembered exactly where he was and at what point he turned on the TV. He remembered the images of the smoke and that one tower was still standing. He remembered the confusion as the early reports indicated a small craft had crashed into one of the twin towers. He remembered the second plane and the towers falling and the realization that the nation was under attack.
During the two and a half hour commute through stop-and-go traffic from Thousand Oaks to Los Angeles, he listened to updates about hijacked planes crashing into the Pentagon and Pennsylvania. He remembered compulsively redialing his Aunt Maddy in Washington, D.C., but there were no phone lines available. It wasn't until early evening that Craig finally learned that she was OK and not one of the many lives lost that day.
Adding the chicken to the pan on the stove, he turned to his eagerly waiting daughter.
"Emily, I'd love to answer your questions, but you should really ask your Aunt Maddy," he said to her curious face. "She was in the Pentagon that day."
Later that evening, Emily, with her Chromebook tucked under her arm and cellphone in hand, knocked on her Aunt Maddy's front door. Maddy answered the door and stepped into her office just beside the entryway. Newspapers, magazines, photos and books were scattered across the usually tidy desktop in the office decorated with patriotic memorabilia, keepsakes and awards that represented her 32-year career working as the executive assistant to the Secretary of the Army. Emily examined plaques and looked at pictures and asked about the framed flag Maddy was presented at her retirement. Suddenly she remembered Maddy had a new kitten and ran out to find Sonic.
Sitting on the sectional couch, trying to keep the fluffy and frisky kitten contained to her lap, Emily opened her laptop and started asking Maddy questions about where she was when she found out about the 9/11 terrorist attacks of 2001.
"This is the dress I was wearing," Maddy began, laying a pink tweed skirt and jacket across the back of the couch. "It was a Tuesday."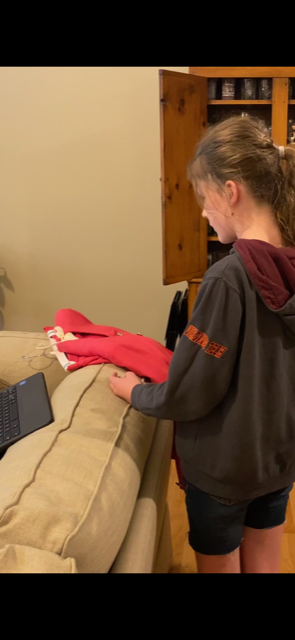 "I was at my desk in the Pentagon and I saw it on my computer, the attacks in New York," Maddy said. "A few minutes after that there was this huge noise in the Pentagon. I was talking to a friend of mine and said, "I have to go. Something happened here."
Maddy guessed whatever happened was on the helipad. "I saw someone running, alarms were going off everywhere," she continued, as she explained getting her keys and purse but not having time to change out of her high heels. She tried to get to her car but was re-routed to the courtyard. When she ran into someone else from her office she told them, "We need to stick together."
On a black and white aerial photo of the Pentagon, she showed Emily where her office was and where the plane had crashed into the west side of the building. Maddy's finger traveled across the photo as she continued her recollection of the events.
"We went from the E ring to the A ring and saw all this black smoke, but we didn't know what had happened." Maddy looked up, shaking her head. "It never occurred to me that it was an airplane, even having just watched all that in New York, it never occurred to me."
Maddy continued, "We walked to the concourse and outside. We were walking down the stairs to the parking deck and the phone rang." She looked at Emily. "It was your grandmother. I told her, 'Something has happened here.' She said, 'A plane went into your building.'"
Maddy described the scene of everyone who had evacuated the building but had nowhere to go. "Everyone was just wondering what was going on and what would happen next." She described hearing the unnerving roar of a fighter jet approaching and seeing it fly so low, just overhead and directly over all the people stranded in the Pentagon's courtyard. "It tipped its wings like this," she showed Emily with her hands, "as if to say, 'we got you.' It was an amazing feeling of support."
Emily stopped asking interview questions and just listened as Maddy described how quiet the city was without any planes flying, about how she was finally able to get on a subway to get home, about how later that night, they only heard one plane in the sky and knew it had to be the president.
"On Thursday morning, I got a call from one of the military guys asking if I could come to work," she remembered. "I said yes and by noontime I was in my desk. It was very smoky, very eerie, lots of areas blocked off, but there we were. Alarms would keep going off; it was very unnerving. When I did go down to other places in the Pentagon, there were all these signs posted from kids and different people, and it was very emotional. But we had work to do; the Army was doing double duty because there was no Homeland Security at that time so the Army was doing that and the regular work. It was a strange time, I guess you would say."
Holding a commemorative pin in her hand, Maddy described the ceremony at the Pentagon on the one-month anniversary of the attack. She spoke of chairs with roses honoring those who had died and their families, the Battle Hymn of the Republic playing with everyone in attendance waving their flags, the "missing man formation" flyover when one pilot pulls out of formation and leaves an empty space that represents the departure to heaven. She described how the world united in that time and how people came together. She showed Emily the pin that those who attended the ceremony received. "I wore that pin every Tuesday until the day I retired," Maddy concluded.
Emily asked one final question about the lessons learned from the tragedy. Maddy was looking through newspapers from the days and weeks following the attacks. "It made a lot of people think. We have learned to be less trusting. We have to select leaders that are world-wise and smart about that," she paused. "We have to have greater respect for our military and the people who protect our world and have greater appreciation for them."
Emily nodded and thanked Maddy for her help. Emily gently touched the dress Maddy wore on Sept. 11, 2001. She looked at the Newsweek with the firemen draping the United States flag over the Pentagon. She picked up the kitten and snuggled it for a moment then walked out to her mom's minivan in the driveway.
During the ride back home, Emily talked about what things she had learned, what she was surprised about and had misunderstood up to that point. She asked questions about the airplanes and terrorists and all the reasons why. It was clear she was still unable to grasp the magnitude of that day but she was beginning to understand. It was the kind of conversation between generations that are rare and precious. Something that seemed ancient and distant became tangible and personal and relevant. In that one evening, Emily and Maddy wove a memory that united history and tragedy and time and people and significance, and Emily now has that story to pass on to her own children one day.
Out of respect for the survivors, the military, those who never made it out and those whose stories may never be passed on, Maddy did not want this story to be about her and declined to have her name published. This story is about passing on the legacy of those went in as others fled out, the first responders and service animals, those who died at the will of terrorists and their families left to continue, those who survived the horror, those who protect our nation and for the dialogue between generations that ensure we will never forget.