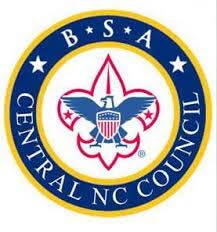 Every school year, members of the Boy Scouts of America's Central North Carolina Council show up in person to recruit elementary-aged children into Cub Scouts. This year, that recruitment process looks a little different.
"Our pre-COVID recruitment involved in-person school rallies and presentations," explains Stuart Williams, Scout executive and chief executive officer of the Central N.C. Council. "With schools being virtual and the continued restrictions on group gatherings, we have turned to an alternative rally campaign. We are hosting sign-up opportunities at multiple locations throughout our districts, where you'll be able to register your child for the excitement of Scouting from the safety of your car. All this will take less than 15 minutes."
So, instead of coming directly to your kids, the Central N.C. Council is asking you to come to them on Thursday, Sept. 24 between 6 and 8 p.m. to hear all about the benefits of Scouting and why right now is actually the perfect time to sign up.
In Scouting, boys and girls start with their best "right now" selves and grow into their best future selves through fun, hands-on learning. That growth begins in Cub Scouts. Your child can be right in the middle of all the action, from regular Den and Pack meetings to camping and outdoor adventures to annual Pinewood Derby races — you name it. After all, activities that build citizenship, character, personal fitness and leadership skills are what is at the heart of Scouting, and those are the things that stay with you long after you leave the program.
"As an Eagle Scout, I have experienced firsthand what Scouting can do for someone and what the impacts of that rank have on someone's future," said Jay, a Concord-based Eagle Scout, Scout Parent, and active member of the military. "The values that were instilled in me through the Scouting program in my youth have had a huge impact on my life. It's a great family program that I'm fortunate enough to enjoy with my own children currently."
Not only is Scouting great for families, but it provides a built-in opportunity for your children to make new friends, stay physically active, learn a few things that can't be taught through a computer, and of course, have fun. Plus, it's safer than ever thanks to their diligent and dedicated volunteers.
The Central N.C. Council has been following CDC guidelines during all activities. "We are still holding meetings with masks and social distancing, and we're still able to run programs in a safe, effective manner at our 1,000-acre camp," notes Williams. "Plus, there are special Virtual Merit Badges and new Life Skill Training Programs available." The council even managed to host a Virtual Campout with a surprise welcome from NASCAR driver Ryan Newman over the summer.
In other words, pivoting during the pandemic has introduced the Central N.C. Council and their Scouts to exciting new opportunities that they may not have considered before. Volunteer Cub Master Kevin puts it best when he says, "COVID has been a challenge, but we have continued offering content throughout the past six months. Any time you have to re-evaluate how you present something, the final product tends to be better. Challenges prevent complacency."
As far as the challenge with recruiting new kids to join Cub Scouts is concerned, they've managed to come up with yet another creative solution with their "One Night School Night" event. So, if you are the proud parent of a boy or girl in kindergarten through fifth grade, come join the fun and adventure of Cub Scouts. To find an accessible location within your county or to view some Frequently Asked Questions about Scouting, visit bit.ly/cncc-one-night.
About the Central North Carolina Council
The Central North Carolina Council of the Boy Scouts of America is made up of five districts from seven N.C. counties. The Central N.C. Council's resident camp, Camp John J. Barnhardt, is on the beautiful 1,000-acre William C. Cannon Scout Reservation on Badin Lake in Stanly County. Additionally, they have two Scout Shops — the Bennett D. Hester Jr. Scout Shop in Albemarle and the Cabarrus County Scout Shop in Kannapolis — both operated by the National BSA Supply Division based in Charlotte.
Get local news delivered to your inbox!
Subscribe to our Daily Headlines newsletter.