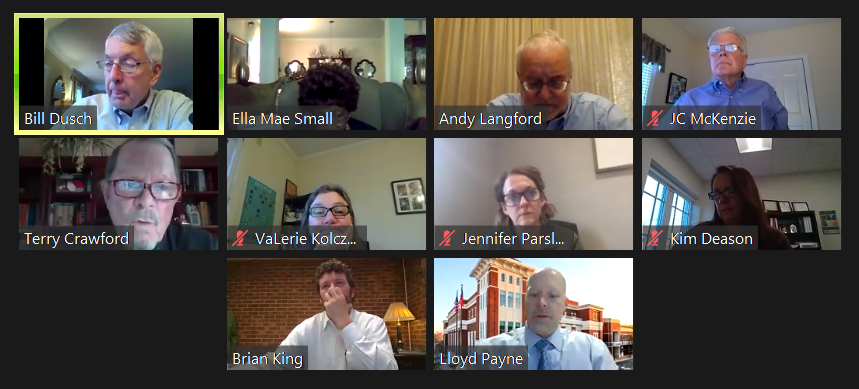 The Concord City Council sat down last week to edit the Concord United Committee petition. One thing was clear — its members will make or break the committee.
Since the vote to create the Concord United Committee was postponed in January, other council members have provided more input and edits to the petition. Council member Andy Langford opened the discussion Thursday, Jan. 28, saying he has high hopes for the committee, but he understands it may fail.
"If this committee doesn't work, I will be among the first to say, 'Let's kill it, try something else,'" Langford said.
CONCORD — More than 40 people spoke at Thursday's Concord City Council meeting in favor of t…
But the most important aspect of the committee to ensure its success, Langford said, will be its appointed members. 
Committee members
In addition to the committee members, city staffers will appoint a liaison to the committee. 
"I think who we put on the committee and who the liaison are will determine how effective this committee are [sic]," Langford said. He continued: "I think who we pick, those 18-24, people will still be absolutely critical."
He also restated that committee members will go through a vetting process before they are nominated to the committee. 
Langford made it clear that the committee will be made up of a diverse group and not of people from "old power systems." 
"If it is all of the old power systems saying we are going to look at ourselves, that is not going to work," Langford said. "This is a group that represents our whole city, especially those who think they have not been heard before."
Council member JC McKenzie echoed Langford, saying he will not vote for a committee that isn't as diverse as the city. 
At a Tuesday night work session, the Concord City Council voted to postpone the vote for the…
The committee members, Langford said, must listen to the voices of the community. 
"I think there is a lot of learning, there has got to be a huge amount of collaboration, a huge amount of listening, and, from my standpoint — I'm not sure if anyone believes this or not — the listening is more important than the solutions," he said.
But before the committee listens, several council members asked if committee members could go through municipal and civic education. 
Committee's education
Council member Brian King recalled the short courses all city council members go through with the UNC School of Government before they start their first days of work. King asked if the committee members could go through similar education in its first few meetings. 
This idea was originally brought up by Council member Jennifer Parsley in previous discussion on the committee. Parsley also sent an email to the council with a similar suggestion. 
Several other council members agreed. Two groups were put forward for the job: the UNC School of Government or City Manager Lloyd Payne and City Attorney Valerie Kolczynski. 
Council member Terry Crawford also suggested that the committee be made aware of what the city has already done in the way of racial equity. 
There was a concern among several council members that the committee could try to address issues outside of the city's control. Council member King was one who voiced the concern. 
"They need to know what the city can and can't do, and if they decided something is very important to them and they realize, well, there is nothing the city can do about that, you know, if it is health care or something like that, you don't want to waste their time," King said. 
Having someone explain the city's jurisdiction, King said, would help prevent this. 
King also suggested that the committee have a definite end date. 
"I do feel like there should be a definite finish line to this so that it isn't just an open-ended, constant, you know," he said. "I do like to treat it as a study to get different perspectives on what we are doing."
Several council members agreed to a two-year time frame for the committee with the option to continue. Later, several session attendees requested a longer term. Langford then suggested a three-year period with an option to renew. 
But as the committee works its way through those years, Parsley said, the committee can expand its interests. 
How to expand
Parsley acknowledged that, like all societal issues, many groups are interconnected. as the committee wades through racial equity, it may face LGBTQ, gender, accessibility and other types of issues. 
"I think there is a lot of overlap in that," Parsley said, "so I think that will happen organically."
This problem had been addressed at the City Council's January work session, where several council members asked if the committee will address all types of inequities. 
Langford restated Thursday evening that the committee's focus is racial equity, but he expects those other issues to arise. If the committee wants to pursue an area outside of racial equity, it will need to ask the City Council for permission. 
But some of those other issues may need to be addressed by other governmental bodies, like the county or state. 
"I would not be distressed at the end of the two years," Langford said, "if this turns into a committee that involves the county and Kannapolis and Concord and the School Board and the Better Business Bureau and other groups that all come together.
"That will be a different committee with a different agenda. I would hope this committee could be a catalyst for those kinds of things.
"We are not trying to keep people out. We are trying to start it and see how it blossoms."
The City Council is scheduled to rehear the petition for the Concord United Committee at its Feb. 11 council meeting. After the discussion, it's expected for the council to approve the committee. There will be a work session held Feb. 9 before the meeting.