CONCORD — Mint To Be held its fall community baby shower this past weekend, and founder Sharee Allen took a moment with the Independent Tribune to talk about what's next for the nonprofit.
During the afternoon on Saturday, 35 moms came through the baby shower to pick up kits with essential items like diapers, clothes, baby bathtub, pillows, snacks and even a stuffed toy. Compared to the 25 moms that Mint To Be was able to serve at its spring baby shower, Allen said the shower had not only grown in its capacity to help moms, but in the essential items and services the nonprofit could give its moms.
With the pandemic still ongoing and a recent spike in cases, Allen said people still aren't holding baby showers. But moms are in dire need of support, which is why Mint To Be is expanding its reach.
"This time we have really taken it a level up," Allen said. "We are still in the pandemic. Moms are still needing support, not only for babies and themselves, but just mental support. We are here just trying to give that support to them."
Mint To Be already has a postpartum depression counselor on its board who provides services to its moms. Allen said that during the pandemic when moms specifically have needed to stay socially distanced, it has been hard. Having counseling resources available has been a lifeline.
"She provides counseling for moms that are dealing with postpartum, mentally drained in the house all day long, can't go out and really need someone to talk to. We all know we can't pour from an empty cup," Allen explained. "We have to be filled up to be able to pour back into our kids, our spouses and our boyfriends, or whoever that significant other may be."
Allen said that there will be another service coming soon to the nonprofit: a doula. Allen has been working to be able to have a doula available for a while and said she is excited to be able to announce who will be offering the service in the near future.
At the Sept. 11 baby shower, Juan Irby from Dad to Doula was able to talk with expectant moms about doula services.
This time around, the shower had a spaced out tented area where moms could sit and talk, something Allen couldn't provide at the last shower.
For expectant mom Tatiana Semanyshyn, having other moms around was exactly what she was looking for.
"I came here to find some girlfriends who will also have kids," she explained. "I'm excited, but I'm a little worried about the future delivery."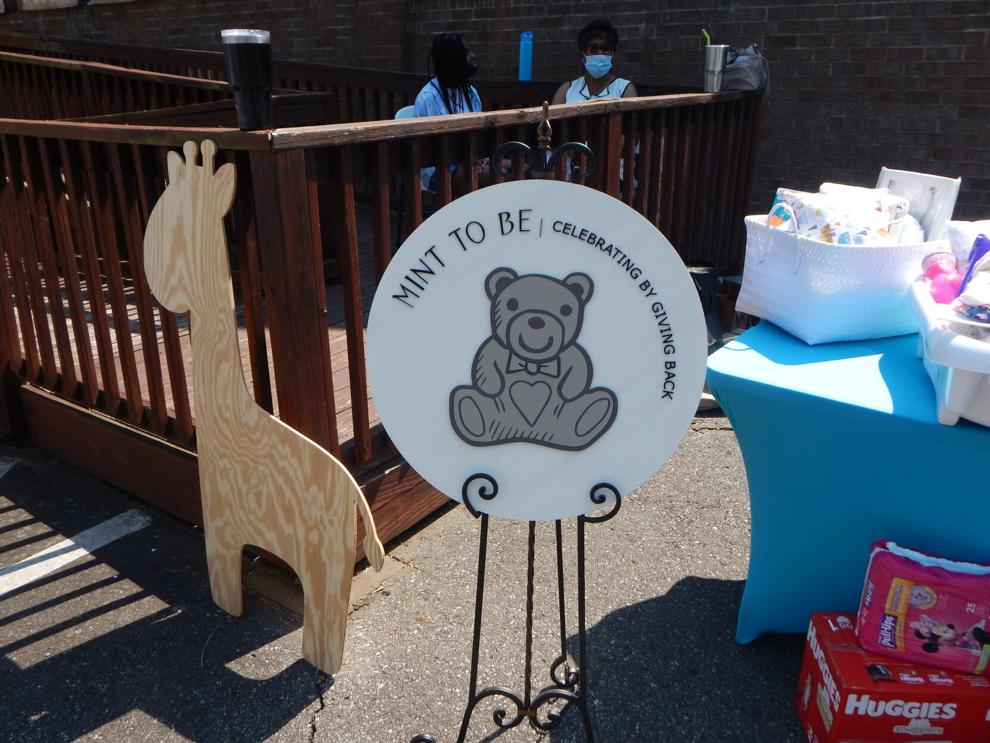 Semanyshyn said she had just moved to the Concord area and was nervous as a first-time mom. She hoped that having a support group of other moms around would make all the new transitions easier, especially being with others who are or have faced the challenge of giving birth during a pandemic.
For those who are experienced moms, like Yolanda Zavala, who will soon have twins, things are still different. Already a mom, she knows every baby experience is different, but with the pandemic, this experience has been unique.
Allen said that for a lot of moms who are expecting their second, third or fourth child, the pandemic has tightened finances and resources.
With waiting lists for childcare support already years long in some areas, Allen said, moms are struggling.
At next spring's baby shower, Mint To Be will gift one mom with free childcare for a year, through a donation from Belk.
Mint To Be will also move its baby shower location in 2022. While VIDA Wellness has hosted the showers this year, the reach of the nonprofit has spread, and moms in areas of Mecklenburg County have asked about its services. While the showers will still be held in Concord, Allen said she wants to move to a larger space closer to the Charlotte area.
"We definitely want to share the love," Allen said. "It just keeps getting bigger and better. My heart is just super overjoyed to be able to bless those that just don't have it."