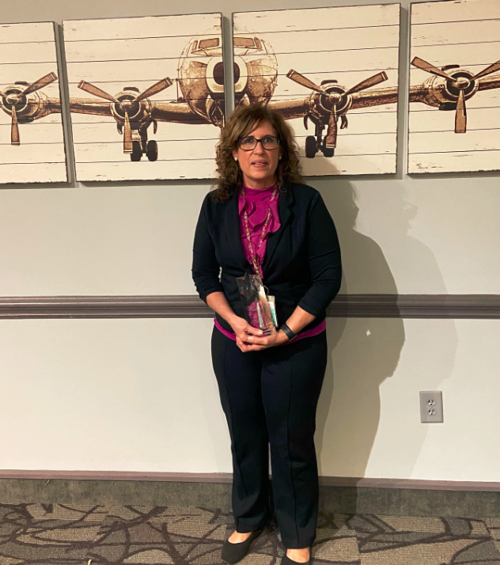 CONCORD — At the Nov. 12 City Council meeting, Susan Green, assistant aviation director, was surprised with the news that she is the 2020 recipient of the Jo Atwater Continuous Core Values award, which is the city's highest honor for its workers.
The Continuous Core Values award was created in 2003 to recognize one co-worker annually who embodies the organizational core values and commitment to serving others in the community. Jo Atwater, Concord's Human Resources director until her death in 2004, was the first recipient of the award named in her honor.
During the virtual City Council meeting, Customer Service Advancement Team co-facilitators Lesley Reder and Desmond Miller announced Green as the winner, while her family, friends and Aviation Department colleagues filed into a large conference room at the Concord-Padgett Regional Airport in a show of support.
"Susan was selected from an outstanding pool of nominees last spring," said Reder. "Susan demonstrates the city's core values every day through her work at the airport and in our community. She has remained focused on helping our airport continue to grow, while keeping our customers in mind. Susan has had numerous roles over the last 25 years, starting as an aviation service worker fueling aircraft, parking planes and even serving as a "firefighter" before there was an onsite fire station. Beyond her service to the airport, Susan is committed to her community through her service with her church and various nonprofit organizations."
Green is committed to her community. She has organized food and clothing drives through her church, is a member of the Cabarrus Visitor Bureau's Women in Leadership group, helped with the Berlin Airlift Veterans Association C-54 Spirit of Freedom Tours, and helped plan the Grin Kids send-off and return from their annual Florida trip. "Going above and beyond to ensure that customers and co-workers are treated with dignity and courtesy is common practice for Susan," said Aviation Director Dirk Vanderleest.
Green is the assistant aviation director at Concord-Padgett Regional Airport. She worked her way through customer service roles and into property/lease management until she became the assistant aviation director in 2018. She has a unique understanding of the airport's operations and a dedicated commitment to customers. Green was instrumental in the implementation of ISBAH — ensuring the airport follows the highest possible safety standards. She led renovations to the terminal building, including the addition of the Air Elite Welcome Center.
"I knew Jo Atwater and everything she stood for, and it is an absolute honor to receive this award, which is named in her honor," said Green. "I serve the community without a thought of recognition. It's just a way of life for me. It is good to know that I am appreciated by others. I am thankful for the experiences that I have had over the years and glad to have the opportunity to work with a great team at the airport and at the city."
Green grew up in Vinton, Virginia, moved to North Carolina in 1986 and started her journey with the city of Concord Aviation Department in 1994. She graduated from Staunton River High School. She is the daughter of the late Paul and Della DeLancey. Her hobbies include spending time with her family and especially her grandkids, reading, camping trips to the mountains, relaxing on the beach and walks with her dog. Green dedicates her life and focus to her faith, serving at church, volunteering at food pantries and other nonprofits or helping anyone who needs a hand or a little encouragement.
Get local news delivered to your inbox!
Subscribe to our Daily Headlines newsletter.