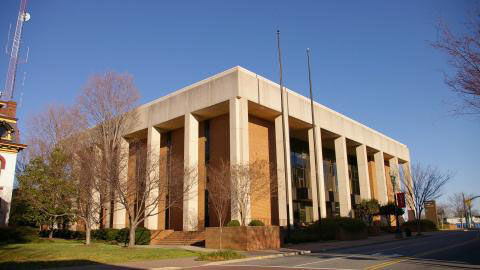 CONCORD – Cabarrus County Court officials announced Sunday a court employee and a Magistrate's Office employee tested positive for COVID-19. The courthouse will close Monday, Sept. 28, to allow for rescheduling of cases affected by a reduction in courthouse staff due to contact tracing.
Officials believe more than a dozen employees may need to quarantine due to potential exposure. The staffing shortage is expected to affect the District Court's calendar through Oct. 9. To minimize disruptions, officials will shift District Court hearings to a virtual platform when possible.
Superior Court cases scheduled after Sept. 28 are not affected.
Anyone with a District Court or Superior Court case scheduled for Sept. 28 should contact their lawyer Monday, or the Clerk of Court's Office at 704-262-5500 on or after Oct. 1 to confirm the rescheduled court date.
Officials will also work to post a new schedule at www.nccourts.gov by Sunday evening.
The Magistrate's Office, which is located in the Sheriff's Administration Building, will remain open Monday.
No other court or Magistrate's Office employees are exhibiting symptoms. The Cabarrus Health Alliance is notifying those who have been identified through contact tracing and informing them of precautionary steps to follow, including a 14-day self-isolation.
Officials with Cabarrus County Courts are working to notify all court personnel, attorneys, law enforcement and members of the public who may have visited the Cabarrus County Courthouse in the last week.
Anyone who believes they are experiencing symptoms of COVID-19 should contact their primary care provider. If you do not have a primary care provider, call the Health Alliance at 704-920-1213.
Sign up for our Crime & Courts newsletter
Get the latest in local public safety news with this weekly email.