It took nearly seven and a half months, 213 days and four Board of Education votes, but students are finally back on campus at Cabarrus County Schools.
CCS moved into Gov. Roy Cooper's Plan B on Monday, and while this is a decision that has been met with disagreement on both sides, educators were happy to see their students once again, even if there was some nervousness with getting back onto campus due to the presence of COVID-19 in the area.
"It was so awesome (to see the kids again), and I am at ease with B," said Concord Middle School Principal Liz Crook Snyder. "Anytime you see these reports, and you see these flashes of what's going on and how it's reported, people get a little bit uneasy, but, you know, you never know the full story.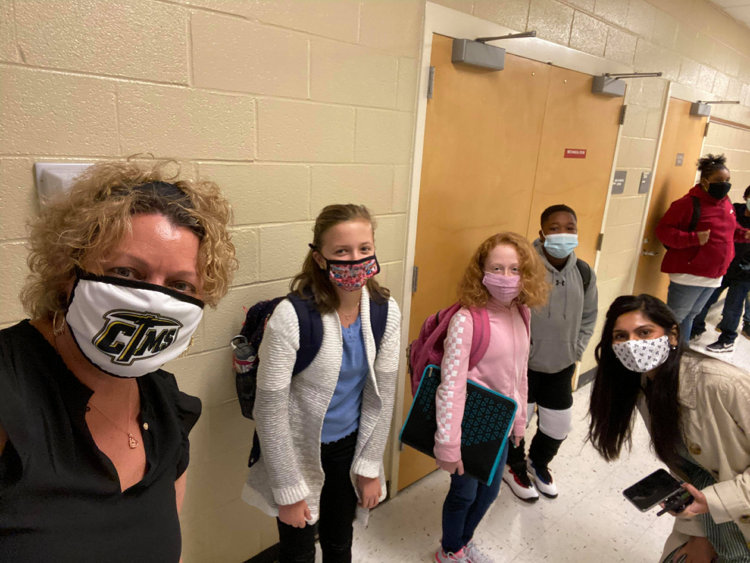 "But I'm going to tell you … B? I like B; I like bringing them in. We've not seen them for seven and a half months. I like the fact that they were in here at half capacity. It felt safe. They followed every guideline we gave them, and they were remarkable. These kids were remarkable today."
Cabarrus County Schools shut down buildings as educational institutions in March under an executive order from Cooper and began the new year under Plan C, which offered fully remote learning.
But after a 4-3 vote by the Board of Education to come back under Plan B — which gives students a chance at both online and on-campus learning — educators were ready to get back to school Monday and see their students again.
Not everything was absolutely perfect. With the district being responsible for some 39,000 students and staffers, there were going to be some hiccups, but getting a chance to give students a face-to-face education again excited 2019-20 CCS Teacher of the Year Emily Wagoner, who teaches at R. Brown McAllister Elementary School.
"I just felt like today was right where we needed to be," she said. "The kids came back, and they were excited, and R. Brown, our admin and our leadership team worked with the county safety team to make sure we had a lot of safety measures put in place to ensure that the students and teachers could return back on campus, and I felt good that we were able to transition back into person where we're going to get to see those kids face to face and continue to build on those relationships."
Back to school
In Plan B, students are on campus in two separate groups for two days a week. While on campus, everyone must wear masks and maintain social distance at all times.
Each school has its own method of guiding social distance, and extensive cleaning procedures are taking place to keep everyone safe.
The transition to Plan B is a complicated one. Crystal Hill, assistant superintendent of curriculum and instruction, said at an August meeting that moving to Plan B from Plan C would require a lot of moving parts as the district built up a solid educational foundation with eight hours of online work a day to start the year.
With the move to Plan B, there was a possibility that would fall off as the face-to-face time had a chance to go down. To combat that, teachers are livestreaming their classes, giving those children at home the same lessons as those on campus.
Wagoner's setup for her classroom is complicated. She has a laptop to present her lessons to her class, an iPad beside the laptop to show the lesson to students online at home on Microsoft Teams, and her cellphone to notify her when someone at home has a question.
The district took three weeks of training to prepare its teachers for this move to livestreaming their classes, but even with that preparation, they are still taking a week without presenting new material to allow the educators some practice time as well as the children a chance to get used to it.
"We're working with the same program in the classroom as we were virtual, so it kind of felt like a little bit of a seamless transition once the overall nerves of the morning went away," Wagoner said. "Once those nerves went away, teachers just do what we do, and it turned out great.
"But I only taught morning meeting (Monday), so it might look a little bit different when trying to manage everything when there are students in front of me, and students at home, but as far as the training, I do feel like the county has done a good job of preparing us to move back into the classroom."
A special appearance
It's going to be a challenge to get back to school for a lot of reasons beyond the livestreaming aspect. Maintaining social distance is still required in Plan B, and with children, that is always difficult. They want to high-five and play on the playground, and even give their teachers hugs, but staff members have to be cautious and monitor everything to make sure that's not happening.
Wagoner said she had to make sure a few of her students paid attention to this, but Snyder said everything went well on her campus. Everyone had their masks, all temperatures were checked when students came in (no one had a fever), and all of her students maintained their distance.
She had a little help along the way though. Superintendent Chris Lowder made his way around to several schools Monday, including Snyder's at Concord Middle.
"You can't match the support Chris Lowder gives his principals and his schools and his students. You just can't match it," she said. "I got here after dropping mine off this morning at their elementary schools, and he was here and he (was like), 'How do I help? Where do you want me, and how can I help?'
"You just can't beat that. He greeted kids; he showed them where to go for the thermometer check; and you just can't beat that support, not only from a point of bringing ease to your staff and your community members, he's just there with you, and that speaks volumes."
A family's perspective
Snyder said Lowder's entire Cabinet was at schools throughout the district Monday. She did not say if he made it out to her husband's school, though. Russ Snyder is the principal at Mount Pleasant High School, and he also was on campus Monday.
Liz and Russ' family is in a unique spot. They are both principals, but they also have two children in the district, with one in second grade and another in sixth.
Getting back into school was a point of contention for a number of people to start the year. The Board of Education got into heated discussions as to whether to bring students back at all in October, teachers and their families expressed concerns with their health at last Monday's board meeting, and some in the community even went so far as to show anger toward board members for voting to come back in Plan B.
The Snyders get to see every level of this new plan, from the standpoint of principals running schools and seeing their staffers on campus, to their children being in the buildings as well. They will get to see every level of the district's COVID-19 protocols and how they work across all levels. But Liz Snyder said she is confident CCS is prepared for what it is dealing with, and her family is ready as well.
"We believe in practicing what we preach, and what we have preached to both of our staffs is, 'If you do the guidelines that have been given to us by the CDC and by Dr. Lowder, then we're going to be OK. If you wear your mask, if you wash your hands frequently, and if you continue to social distance,'" Liz said. "So that is what I've told my staff; we have to come into this and practice those safety precautions and model it. So it's the same for our kids.
"We sat our kids down and said, 'Listen, this is non-negotiable.' We went through several types of masks, we went through and made sure that they understood what it meant to keep it up all day long, we made sure that they had their water bottles and had the things that they needed."
She continued: "We're going to follow every guideline, and that's what they tell me is the safest thing to do, so it kind of eased those nerves as long as you're doing it to fidelity."
The Cabarrus community
Families across the district are having the same conversations with their children. They are making sure to take their temperatures before they get on buses, they are monitoring their health to ensure they don't go to school sick, and they are all reminding them about wearing masks and social distancing.
This is a challenge for everyone at Concord Middle, but Snyder said she has been lucky to have the community of parents, students and staffers around her to make her job much better.
"It's a great community, overall," she said. "We've said since I got to Concord Middle, which was a year and a half ago, this is a complete partnership with parents, students, staff and administration — all of it's a partnership.
"I value (that partnership). I give my cellphone out to every parent because I want them to call me. If they've got an idea that will work, then call me and let me know, so that's why I got two text messages this morning saying, 'Listen, I know you're extremely busy, but we're just wishing you well today,' and then when the parent called, he said, 'Thank you for calling me right back. I'm looking at livestream on this end, and let me tell you some things that can help us out.'
"And we value that. We're not on the other side of that livestream, so to have that kind of partnership and open communication, everybody has one goal in mind, and that's the children and the safety of these children, and you just can't beat that."
Snyder speaks highly of her teachers. When Kate Clardy was named a finalist for Cabarrus County Teacher of the Year last year, Snyder gushed about what Clardy meant to her staffers.
Teachers across the district have this same kind of impact. They worked during their vacations this summer to prepare to educate remotely to start the year, and they worked during their off hours during the year to prepare to move into Plan B on Monday.
Wagoner has seen among her team so many good things and expects nothing less from all of the teachers in Cabarrus County for the rest of the school year.
"Thank you to all of our teachers who have gone above and beyond to first love their students and to treat everybody with an upstanding level of professionalism in Plan C," she said. "I want to thank teachers for everything that they've done to transition and prepare to move into Plan B.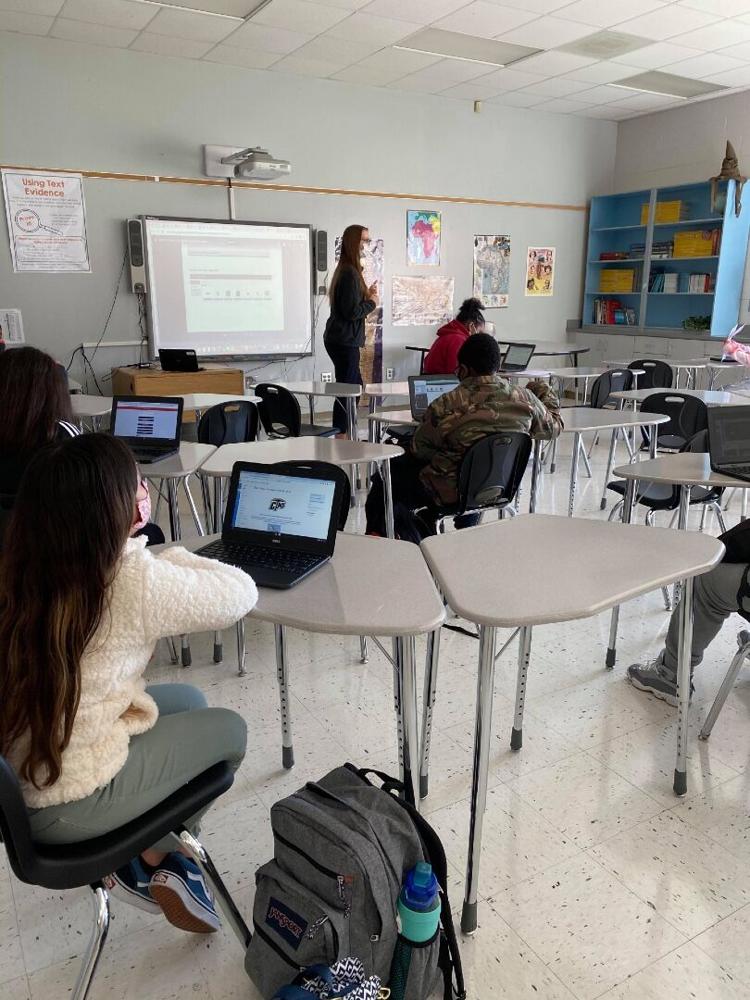 "I know that this is not an easy ask for everybody — people have differing levels in being comfortable with technology, but I just want to say thank you to the teachers for everything that they've done.
"I want them to know that I see them, and we are thankful and appreciate everything that they do. And I want teachers to know that no matter what they hear or what comes out in the news, that teachers are making a huge difference right now, and they're doing a fantastic job."
Be the first to know
Get local news delivered to your inbox!