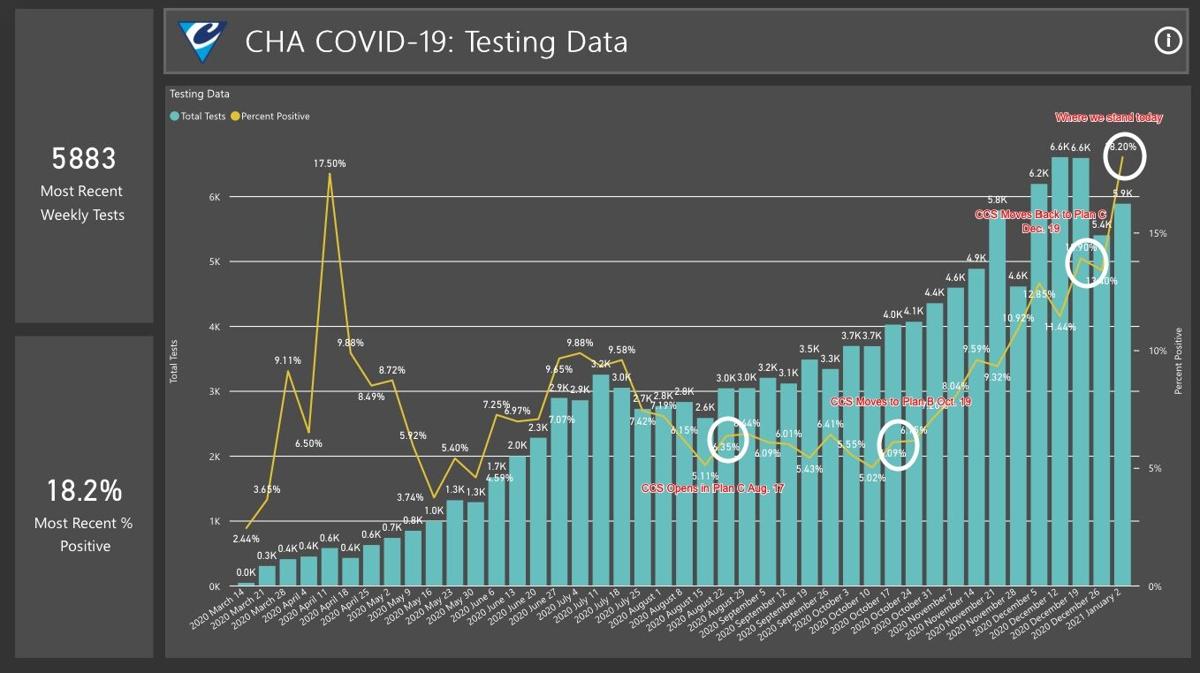 CABARRUS COUNTY — The Board of Education has scheduled a Called Meeting for Thursday at 6 p.m. at the Education Center. Due to COVID-19 restrictions the meeting will be closed to the public but can be viewed live on YouTube.
There is only one item for discussion on the agenda which is "Preparing for Opening in Plan B on January 19, 2021." As of right now Cabarrus County Schools is scheduled to come back as scheduled on that day.
Currently on Cabarrus County Schools' website there is an infographic indicating a return to Plan B on Jan. 19 with two days in-person learning and three days of remote learning. Students and families who elected to remain in Plan C throughout the year will stay there on the scheduled reopening.
CCS started the school year in an all-remote Plan C, but moved into Plan B on Oct. 19. Originally it was voted elementary students in kindergarten through third grade would come back in Plan A as was allowed by Governor Roy Cooper, but a vote two weeks later reversed that and all students had the option to come back in Plan B at that point.
Then in the middle of December, the Board of Education voted 5-2 to move into an all-remote Plan C following rising COVID-19 numbers in the County. Statistics linked to the novel coronavirus have been rising steadily since Oct. 10 in Cabarrus. That week the infection rate sat at a near pandemic low of 5.02 percent. Over the course of schools reopening in Plan B in Cabarrus County, the infection rate rose an average of 0.65 percent per week in a span of 10 weeks. Prior to moving to Plan C for the duration of the first semester and the opening two weeks of the next one, Cabarrus County hit a near pandemic high infection rate of 12.85 percent.
The move to a Plan C was both an effort to keep children and staff members safe and with an option to stay home while infection rates rose, but also there was a hope schools being out could possibly slow the spread of the virus.
Staff and students will have been in Plan C for more than a month when Jan. 19 rolls around, but the infection rate in the County is no better — in fact, it has gotten worse with the holidays and family gatherings likely compounding the problem.
While the infection rate rose on average 0.7 percent per week while schools were in Plan B in Cabarrus County from Oct. 19 to Dec. 19, it rose an average of 1.67 percent per week over the last three weeks while students have been in Plan C and at home for winter break. (The week of Jan. 9 has not yet been updated by the Cabarrus Health Alliance).
The infection rate in the community has not been going down despite the district's efforts which has made some Board Members question whether or not a child's education is being adversely affected by things out of their control.
"Our children are suffering for issues that our community is unwilling to fix," Keshia Sandidge said at a Board Work Session on Jan. 4. "We are at (18) percent now, we were at 13 percent when we left, if we continue to hold our kids responsible for what the community decides to do we are doing them a disservice."
It is unclear if the Board of Education will reverse course and order the district remain in Plan C starting Tuesday when a move is supposed to be made to Plan B, but what is clear is these members want to move away from all-remote learning.
"I think we need to stop making excuses why we can't do it," Denise Adcock said at that same meeting. "We know we have to get our kids back in school and we have to come up with ideas whether it's out-of-the-box thinking, people are trained for two different jobs, whatever that is, we have to start thinking outside the box and come up with some solutions because our kids have got to get back into school."
Check back with the Independent Tribune on Thursday night for more information from the Called Meeting.