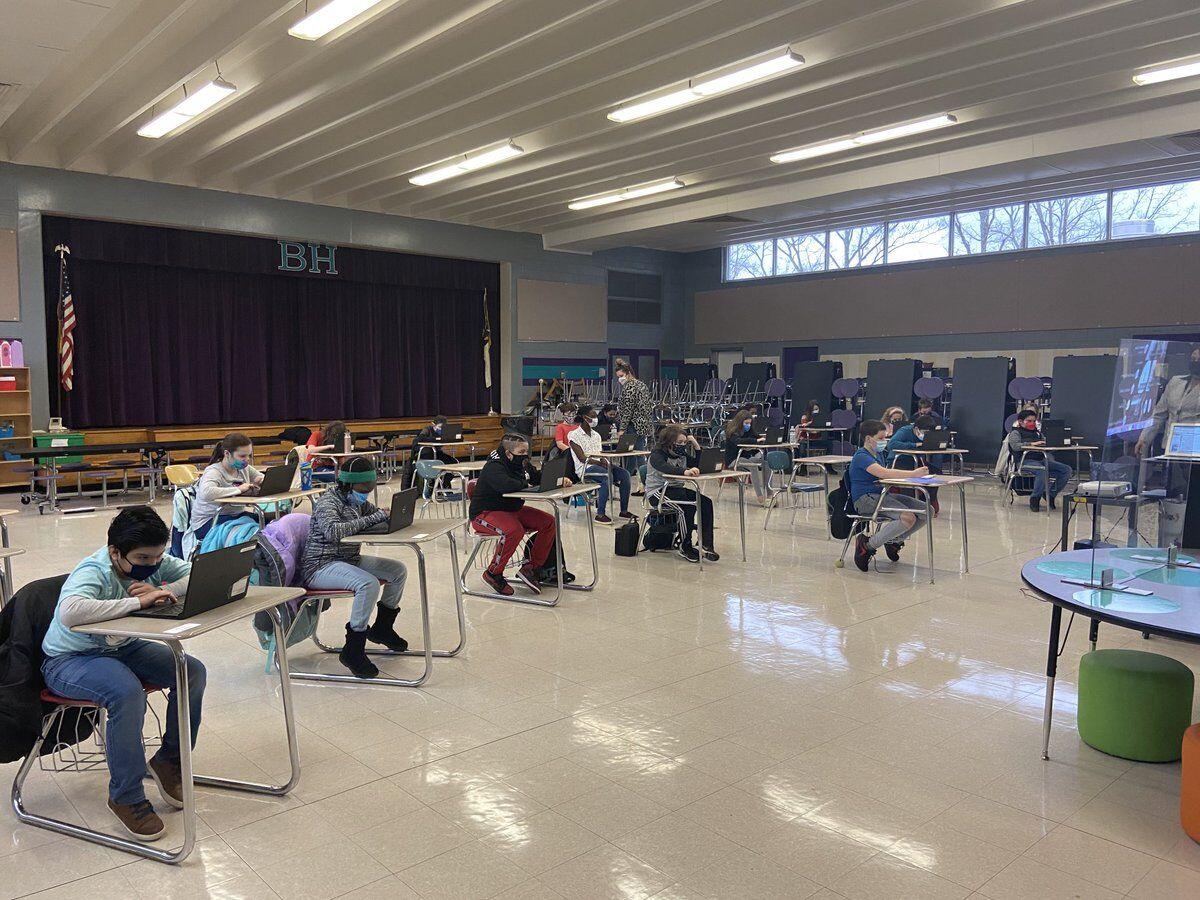 The No. 1 concern for many in the return to Plan A (full in-person learning) Tuesday in Cabarrus County Schools was the challenge of maintaining 6 feet of social distance in classrooms without limits on students. It would appear after one day back that the district is making it happen.
Under Gov. Roy Cooper's Plan A, classrooms have no limits on students, and maintaining 6 feet of social distance is not required. However, social distancing protocols to minimize exposure are. This basically translates to:  "Keep 6 feet of social distance as much as you can, but you will not be forced to do so."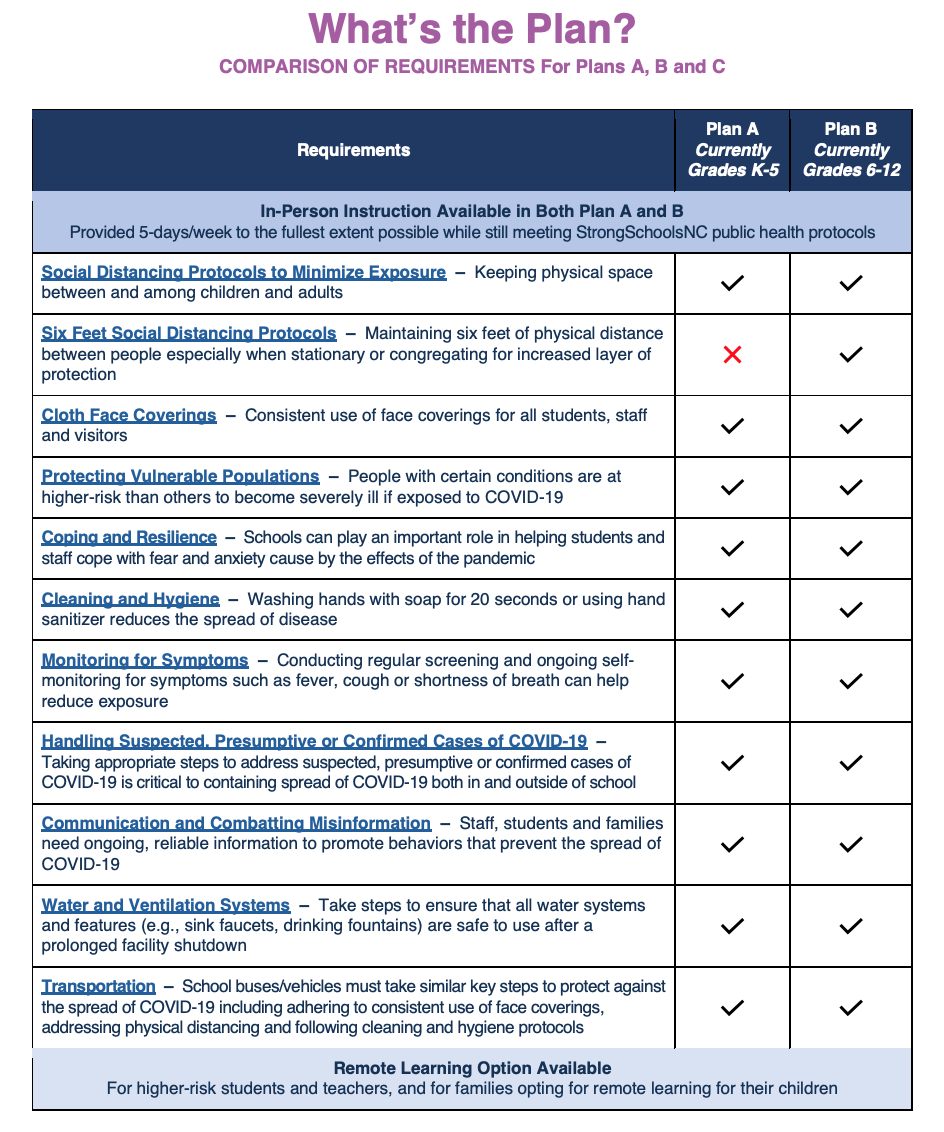 Nevertheless, the CDC is still recommending people follow the three W's: Wear your mask; wait 6 feet apart; and wash your hands frequently. Because of this, parents, staffers and students in the district are still following all of these guidelines whenever they can, but it was much easier to do so in Plan B.
So, when the Cabarrus County School Board voted 5-2 to go into Plan A starting Feb. 16 for kindergarten through third-grade, there was some concern about following social distancing guidelines. Board member Carolyn Carpenter expressed concern over this multiple times during several meetings and maintained she would not vote to go back to Plan A because of this concern.
Meredith Newman is a second-grade teacher at Patriots STEM Elementary. She said she was concerned her classroom would not be able to maintain social distance if she had more than nine students.
These were challenges the district knew it would face, but Superintendent Chris Lowder did say he believed social distancing was doable for kindergarten through third grade in the district. It would appear his optimism was validated in an email he sent out to staffers Tuesday.
"I visited 4 elementary schools and they were all outstanding," Lowder wrote. "I emailed all the elementary principals and they were extremely positive. Only a few schools mentioned some bus issues that had over 22 students for the first day. Transportation is working to address any issues (which are to be expected since we are changing routes for K-3 and adding students). We also worked with the CHA to vaccinate about 75 more self-contained teachers yesterday.
"We have an outstanding group of principals and leaders (which was very evident today). I am very proud of them and the work they have done to get all our schools ready for returning in Plan A.
"A great start to the rest of the year."
One of the biggest concerns coming back in Plan A was one classroom might have more students than another, and if they returned a certain number of children, social distancing would be impossible. But during a few  meetings leading up to reopening in Plan A, Board Vice Chair Tim Furr brought up the possibility of classrooms being moved into auditoriums or cafeterias as a means to maintain social distance when it might otherwise be difficult.
Lowder posted a video to Twitter on Tuesday showing off just how the district was putting that possibility into practice, with the caption: "Mr. Gragg teaching music through body movement to make sure all kids are safe!"
But Lowder wasn't the only staff member posting such an instance. Crystal Hill, assistant superintendent of curriculum and instruction at Cabarrus County Schools, posted a similar photo from Beverly Hills Elementary School.
"Ms. Sloop, Ms. Hogan, and Ms. Anthony are adjusting to their new learning space," she wrote.
Does this correlate to each classroom in the district? No, it doesn't. But seeing these adjustments in action have given Newman "optimism" that  students will be able to maintain social distance in Plan A. Her class returned exactly nine students, so she will be able to keep everyone 6 feet apart in her classroom. And, while another teacher in her school had 14 students and Newman can't speak to her experience exactly, she did see her school getting creative to keep that 6 feet of distance where it could.
In a way, this is just step No. 1 for Plan A at CCS, and there is a long way to go, especially starting March 15.
"I am optimistic about students in grades PK-3 being able to social distance at the recommended 6 feet, and at the same time I worry about bringing 4th and 5th grade students into Plan A next month (On March 15)," Newman wrote in a text Wednesday. "They tend to have larger class sizes and of course bigger kiddos so I imagine distancing would be more difficult."
She continued: "We are very fortunate that nearly all of our classes are currently able to distance at 6 feet across the district. At the same time, the CDC recommendations released last week indicate that counties and districts with the same level of transmission that Cabarrus County is currently experiencing should require a hybrid model for reopening and require 6 feet of distance. The state allows all elementary schools to fully reopen, and does not require 6 feet of distance, regardless of COVID transmission in the community."
There has been some confusion in recent weeks about COVID transmission in Cabarrus County. In a WSOC-TV story released Tuesday, it was indicated that Cabarrus County was a "red" county, meaning the infection rate was higher than 10% among those tested for the novel coronavirus.
That information was incorrect, as the Cabarrus Health Alliance released numbers last week indicating the infection rate to be 8.94%.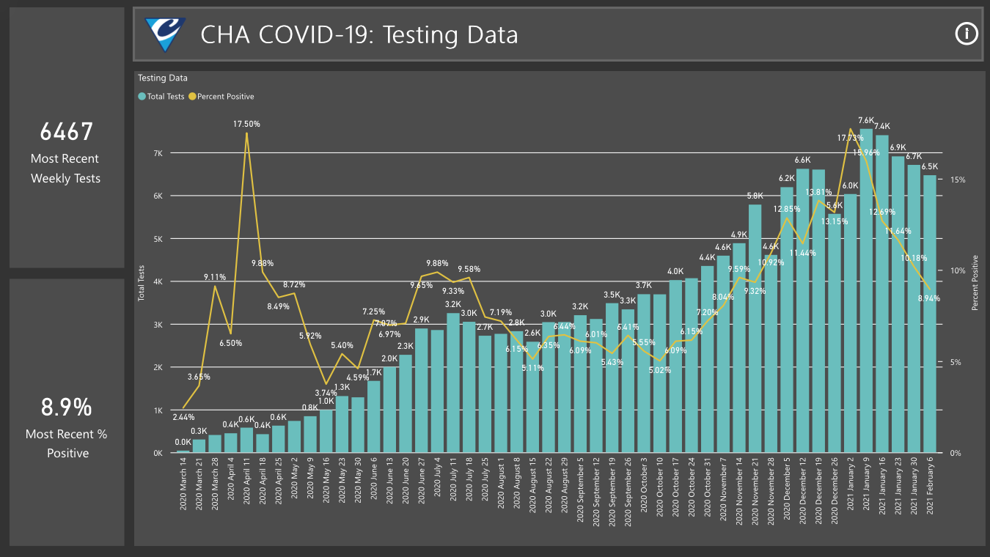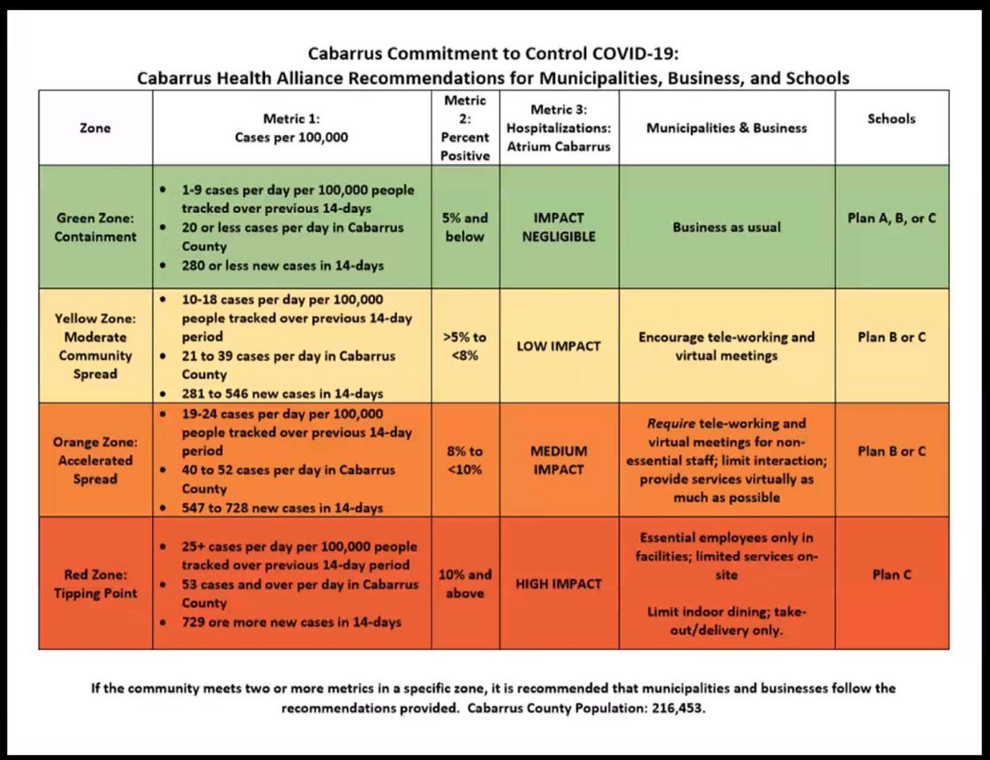 Also, according to Cabarrus County Board of Education Chair Holly Grimsley, who gets advanced numbers from CHA on infection rates, the numbers appear to be further moving in the right direction this week. Those are updated Wednesday afternoons.
"We are no longer a 'red' county," Grimsley said in a phone call Wednesday. "The positivity rate is less than 8.9% now … things are definitely moving in the right direction. The board was challenged with the decision, knowing that it was not the recommendation of Lowder or the Health Alliance, and yesterday proves we can get it done.
"We are very, very happy with the decision we made and we look forward to having kids back in buildings … K-3 now and added fourth and fifth March 15."
Going back to school in Plan A is a challenge, and there are a lot of things to weigh. While the infection rate in the county is the lowest it has been since November, active cases are three times higher now than they were then. The risk of exposure to COVID-19 remains, but according to studies done in North Carolina and Wisconsin, transmission in schools when the three W's are followed is minimal. Additionally, new and reportedly more infectious strains of COVID-19 have been found in the nation, which makes exposure possibly more likely. But according to one Johns Hopkins doctor, it doesn't appear to be more deadly. Also, as vaccinations eclipse 20,000 people (CHA's records indicate 17,593 first doses administered, but Atrium Health and another vendor are also vaccinating) and possibly 30,000 soon in Cabarrus County, those who are most vulnerable have an extra layer of protection from the virus even if it is not a 100% guarantee to prevent a person from getting it. Teachers also have been told they can start to get vaccinated in a week. Currently, only about 275 staff members at CCS have been immunized out of more than 2,400.
Newman said it's how the district takes the facts into account and uses them to work together with parents, staffers and students that's important.
"I sincerely hope Cabarrus County Schools will continue to improve transparency in the data they provide to the community regarding cases and quarantines on campus, and I look forward to greater consistency in quarantine procedures for positive cases and possible exposures," she wrote.
She continued: "As we continue in Plan A with our schools fully reopen for students in Pre-K through 3rd grade, the most important piece of this puzzle to me is community buy-in. We understand how important it is for kids to be in school and at the same time, it is crucial for parents and families to keep their children home if they are sick or have possibly been exposed to COVID-19."
Grimsley said she always enjoys hearing feedback from teachers like Newman and wants to hear everything that everyone has to say. She believes working together with the community will give CCS the best path to eventually getting all students back to school in Plan A.
She knows there will be challenges and that expecting everything to run perfectly across 20 elementary schools, eight middle schools, 10 high schools and five non-traditional schools might not be logical, but she hopes everyone can work together to get it done. She said she knows none of what they are doing would be possible without the great staff members in the district.
"We knew going back into Plan A after almost a year in Plan B and Plan C that there would be challenges, but we were happy to report — per Dr. Lowder — that things were very successful," Grimsley said.
She continued: "The teachers, custodians, bus drivers, all of the staff and everybody that played a part in that made that very successful yesterday. We really appreciate the hard work and the effort from the teachers and the staff that made that work and made that successful."