Cabarrus County Schools seniors will get the chance to walk across the stage this year for graduation at Charlotte Motor Speedway, the district announced Friday in a Facebook post.
"CCS is pleased to announce that graduation ceremonies at Charlotte Motor Speedway will include a processional and graduates walking across the stage to receive their diplomas!" the post reads. "A limited number of guests will be allowed to attend the ceremonies in person."
In recent weeks, the district's website only indicated graduation would be held at Charlotte Motor Speedway. There was no announcement as to whether students would get the chance to walk across the stage. While there had been no indication about the nature of the graduations, there was a feeling from some in the community that graduations would be held in a drive-thru fashion, much like last year.
Then, at a recent Board of Education meeting, several community members, including parents and a student, called for the district to allow students to walk rather than requiring them to have their diplomas handed to them through a car window.
"Walking across the stage for graduation is a rite of passage for every senior," said Sam Cochran, senior class president at Concord High School. "Many of you can probably remember yourselves walking across the stage to receive a diploma. It is a physical action, a walking to a different phase of life, an iconic experience, a rite of passage that everyone should experience.
"Sitting in a car and being handed a diploma does not replace it."
"Cabarrus County students are the only kids in the surrounding area that are not being allowed to have an in-person graduation," added Lisa Aldorasi, mother of a Northwest Cabarrus senior. "Mecklenburg County, Rowan County, Iredell County and Guilford County are all having in-person graduation on their football fields. Montgomery County is surveying families to see what they would prefer. Mooresville High School is even willing to hold two ceremonies in order to have in-person graduation. Cabarrus County high schools had football this spring, so clearly there is a way to work it out and stay within COVID guidelines and mandates."
Charlotte-Mecklenburg Schools, Union County Public Schools and Rowan-Salisbury Schools are all planning on hosting graduations on football fields this fall. Cabarrus County Schools is scheduled to hold theirs in a drive-thru fashion at Charlotte Motor Speedway.
It was unclear what the graduations would look like after their comments as Board of Education members do not address community members during public comment sections of meetings. However, Friday's announcement shows the district at least somewhat agrees with the community.
Gov. Roy Cooper recently lessened some COVID-19 restrictions in the state to allow larger mass gatherings and removing the mask mandate when people are outdoors. Additionally, he has said in recent weeks that he hopes to remove the mask mandate entirely by June, which is when all 11 of Cabarrus County Schools' graduations take place.
According to the Cabarrus Health Alliance, numbers due to COVID-19 have been rising in recent weeks as active cases and the percent positive of those tested has risen. But CHA also announced it has vaccinated nearly 19,000 people in the county (11.2%) and more than 64,000 (38%) have been vaccinated in total through other outlets.

The goal is for the community to reach 80% vaccinations. Additionally, while CHA has not announced this on its Facebook page, after five straight weeks of an increase in the percent positive rate in the county, the infection rate fell from 9.03% to 6.96% from the week of April 17 to April 24. These numbers are roughly two weeks removed from spring break.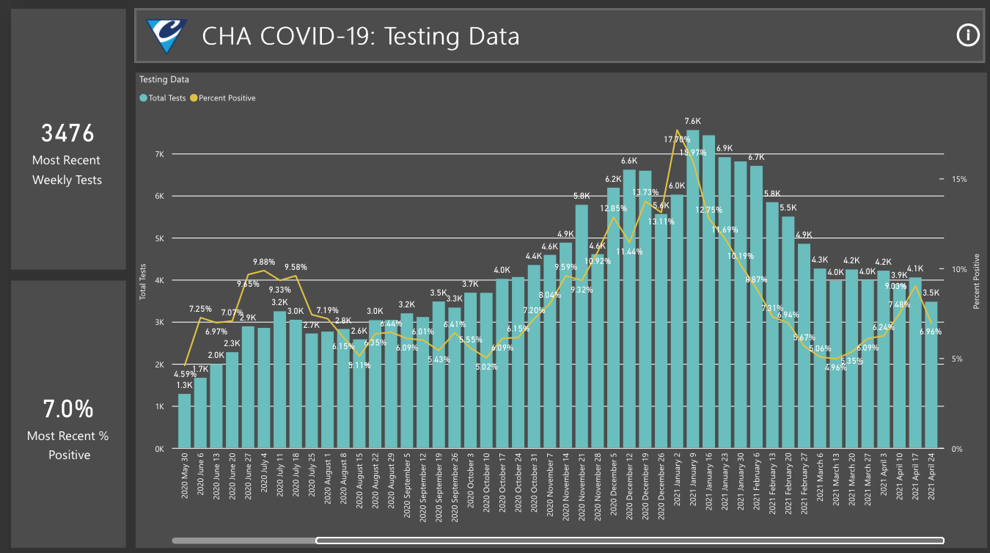 Cabarrus County Schools' announcement about graduation was met with overwhelming support on Facebook.
"Way to go Cab Co schools!" one commenter wrote. "I've given y'all a hard time about this and I'm so happy you guys rose to the occasion! These kids deserved it!"
"Thank you for listening to students and parents!" another added. "Glad we can make it work!"
As of now, Concord, Early College High School, Central Cabarrus, Performance Learning Center, Cabarrus Virtual Academy and Cox Mill will hold their graduations in two-hour increments Friday, June 11, with Central Cabarrus' starting 2½ hours after Early College High School at 1 p.m. and the Performance Learning Center also starting 2½ hours after Central Cabarrus.
Hickory Ridge, Cabarrus Early College of Technology, Jay M. Robinson, Mount Pleasant and Northwest Cabarrus will hold their graduations at 8:30 a.m., 11:30 a.m., 2 p.m., 5 p.m. and 7:30 p.m. respectively on Saturday, June 12.