The sun hadn't even risen when teachers and community members gathered in front of the Cabarrus Education Center on Saturday to demonstrate to the Cabarrus County Board of Education they are not happy with the way school re-entry has gone to start 2021.
The last several weeks have been particularly polarizing in Cabarrus County with the Board of Education confirming the vote to return to Plan B (a combination of virtual and in-person learning) on Jan. 19 at last week's business meeting, a group of teachers contemplating a "call-out-sick" day in response, which prompted the school board to consider possibly punishing these educators at a special-called meeting, a response from a local organization opposing the return to Plan B, and an answer to that statement from the board itself a couple of days later.
All of that culminated with the demonstration Saturday morning as educators and parents alike greeted board members on the way into their annual retreat where they would be discussing upcoming issues for the year like budgets and a new task force created to gather community input on how to approach everything surrounding COVID-19.
"There's a large sentiment of 'We need to listen to teachers, listen to teachers, listen to teachers,' but really, the reason we've gotten to the point of 'listen to teachers' is because we haven't listened to the experts," said Meredith Newman, a second-grade teacher at Patriots STEM Elementary, who was in attendance Saturday. "(Superintendent) Dr. (Chris) Lowder and the Cabarrus Health Alliance have dedicated their lives and careers to education, public safety and public health, so we need to listen to their recommendations.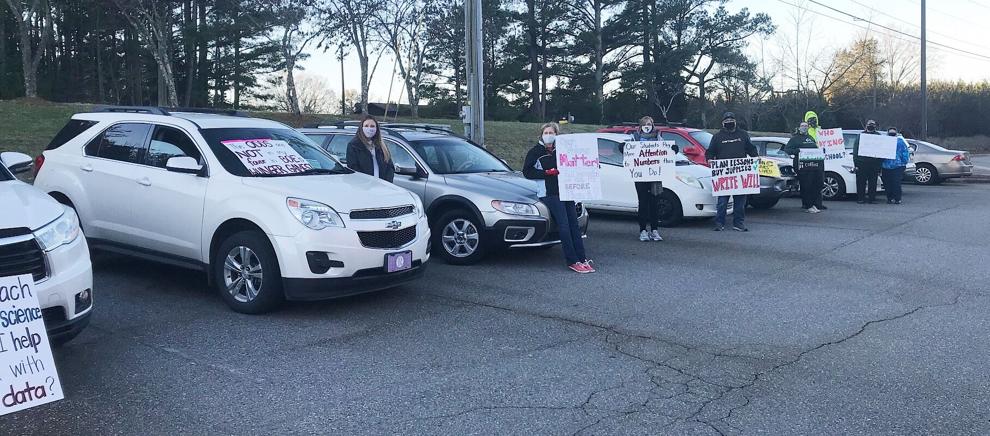 "I think all of us as teachers, if Dr. Lowder and the Cabarrus Health Alliance were advocating for Plan B or advocating for Plan A, I think we could feel a little more at ease with those decisions, knowing that our educational leaders and our public health leaders have endorsed that decision."
Lowder recommended a move to Plan C (remote learning) in December after the Cabarrus Health Alliance said that move would be prudent considering the rising COVID-19 active cases, hospitalizations and infection rate in the county.
In the last few weeks, numbers of positive COVID-19 cases have started to fall, with the infection rate hitting 13% for the week of Jan. 16. That is down from 16.17% for the week of Jan. 9 and 17.65% for Jan. 2. That is also with the second-highest number of total COVID-19 tests being done in the county for a week since the start of the pandemic.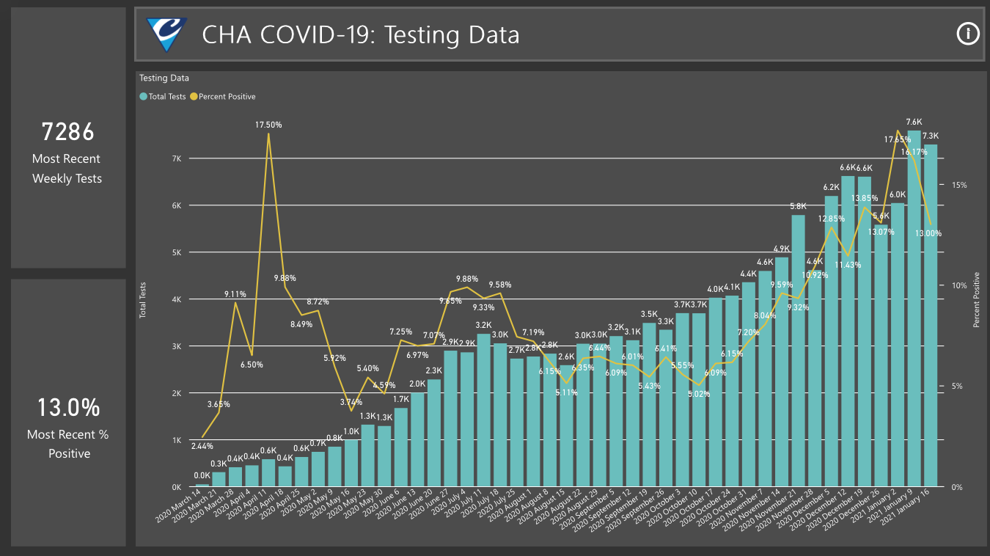 Numbers like that were part of the reason the Board of Education stuck to its plan of going back to Plan B on Jan. 19 as it planned to do at the December meeting, when members voted to go back to Plan C with the caveat they would return after Martin Luther King Jr. Day.
But there are still complaints with how the Board of Education, and Cabarrus County Schools in general, have handled the return. At-risk teachers still do not have an option to teach from home, and several teachers Saturday spoke about the lack of adequate personal protective equipment for a potential move to Plan A, which has been discussed by the board as well. Several people Saturday spoke about the desire to get children back in school, but to have logistics for topics such as this to be figured out before that happens.
"I have several friends who are teachers in Cabarrus County, some of them who are high risk, some of them who are not, and I feel like the board is making very hasty decisions about considering sound fact and science coming from Cabarrus Health Alliance," said Ashley Price, a mother of three children in CCS. "Also, they did a teacher survey and are ignoring 60% of their results in favor of 40%, so I'm here to try to understand why that is."
Cabarrus County Schools polled its staff members for the first time three weeks ago, and 63% of them voted to return in Plan C. A lot of that sentiment has to do with the difficulty of operating in Plan B and having to educate both remotely and in person, but health and safety, personal protective equipment issues and potential social-distancing problems have to be taken into account with that vote as well.
An issue the school board runs into, though, is that the same survey went out to elementary school parents, and for the second time when asked if they wanted to come back in Plan A, B or C, around 70% voted for A or B.
Making everyone happy is going to be a challenge, if not entirely impossible, but some of the teachers in attendance Saturday believe there is a way to make choices more equitable and acceptable for everyone involved.
"I think that where a lot of this discontent is coming from is our board doesn't seem to be taking any kind of deliberation seriously," said Kim Biondi, a 10th- and 11th-grade teacher at Central Cabarrus High School. "They've made up their mind and they're prepared to ignore other people's opinions that don't align with theirs, data that doesn't agree with their preconceived opinion. I think if we could see cool, reasonable deliberation, not everybody would be happy, but we would understand. What we're seeing here is a sense that nothing we say or do matters."
The school board has started a task force with the hopes of getting more opinions from the community and educators on the best way to approach re-entry. The task force was discussed at Saturday's retreat. That discussion can be seen on the Cabarrus County Schools' YouTube page.
Multiple people have called this effort a step in the right direction, but there is a sentiment that this is just a step and there is a long way to go in truly achieving the transparency and communication everyone keeps talking about. Coming up with a plan where everyone feels like they have input, and that input is listened to, is what so many want.
"Use the data, make very specific goals about when we get 'here,' this is what we want to do," said Terri Griffith, a sixth-grade teacher at Northwest Middle School. "If we want to go to Plan A, first we've got to make Plan B the best that it can be. How do we need to fix that? Then, once we get Plan B to where we're in good shape, how can we get to Plan A? Let's be specific about how we get to that.
"Just make sure that you follow those steps. Don't be guided by emotions or emails, use the data, and then parents can't be mad at you, teachers can't be mad at you because you used the data that you can."