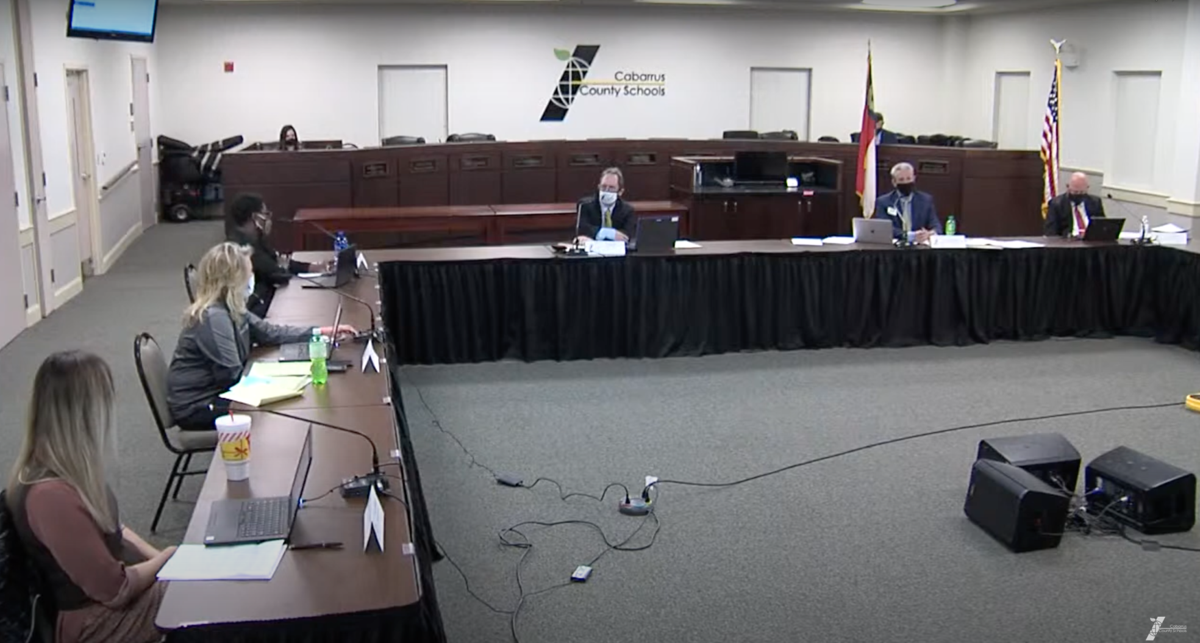 CABARRUS COUNTY — A statement from a local association of educators has been met with a response from the Cabarrus County Board of Education after the group called into question the district's return to Plan B this week.
"The Cabarrus County Board of Education is not familiar with this group," Board Chair Holly Grimsley said in a phone conversation Thursday. "We've had numerous calls from other teachers stating that it is a very small group of teachers that do not represent the system as a whole and should not be speaking for them."
The statement in question came from an organization called the Cabarrus Association of Educators. It read, in part: "The board requested survey data from their employees, and employees would like their concerns acknowledged and addressed as part of the solution of returning students to schools. Cabarrus County teachers and parents have been working harder than ever, doing work in ways they have never been previously called to do. We remain united in our desire to educate children and keep them safe as best we can in a raging pandemic."
Cabarrus County Schools (CCS) polled its employees for the first time since schools closed in March due to the COVID-19 pandemic two weeks ago asking how educators would like to come back Tuesday, Jan. 19, when the district was scheduled to return in Plan B. More than 60 percent of teachers responded they wanted to come back in Plan C. However, while there was a space for comments on the survey, there were no clear options given for a teacher to give a reason for coming back in Plan C which initially created a few more questions.
Did they choose the option out of fear of contracting COVID-19 and possibly suffering adverse effects from it? Or, did many teachers feel safe but didn't want to see other at-risk educators who don't have the option to work remotely in Plan B put themselves in a compromising position?
In recent days though a clearer picture has come out, according to Grimsley. There was a general consensus that educators preferred Plan C over Plan B due to the fact the mixed learning plan was too difficult for students and teachers. This was a scenario Assistant Superintendent of Curriculum and Instruction Crystal Hill warned of before the district went into Plan B initially in October.
"Once we've gotten into C and C is going so well, our students have access to their teacher four days a week, so right now students are getting more synchronous, live, face-to-face interaction … than they ever would if we go to Plan B," she said. "It's going to be taking a step backwards in terms of the experience that students are going to be getting with their teachers."
Teaching is a challenge right now in a blended learning plan and that is across city, county and state lines. Another challenge is the situation that remains with the at-risk teachers and the safety of all educators in general.
"With rampant teacher shortages across North Carolina projected to worsen, this is certainly an interesting time for the board to act as if educators are disposable," the statement from the CAE read which prompted a response from the Board. "We hope our Board of Education will soon listen to objective data from experts, follow their recommendations, and focus their efforts on supporting CCS in implementing the recommended plan."
School board members have repeatedly brought up in recent weeks the need to address these educators not having the option to work from home though it has not taken action yet to present an alternative.
Grimsley has expressed a concern with this exact scenario both during board of education meetings and in phone conversations, but while she and her fellow board members work to address this, she also pointed to Gov. Roy Cooper's statement at a press conference last week emphasizing that having students on campus has been shown to be safe as long as health and safety guidelines are maintained.
"We did not remain in Plan C because we knew the Governor had already told us that we could open up schools," she said Thursday. "We had been out of school a month, schools had been closed, the numbers were continuing to go up, it has nothing to do with school campuses.
"Every organization, every doctor, every entity has said schools are safe. Schools are safe, teachers and staff and students alike are safe on campus, they're safer there than anywhere else they could possibly be."
Cooper stood by his decision last week to allow elementary schools to remain in Plan A and all other levels of middle and high school education to be in Plan B at that press conference.
"We have left options for schools — Plans A, B or C — which all require strong safety protocols in the schools," he said. "There was a recent study done by Duke and I think UNC that showed there was very little virus spread coming from our public schools which is a good thing, which shows us that many schools are abiding by the safety protocols.
"We're continuing to leave that as a school option as to whether the school is in Plan A, B or C."
CCS requires masks to be worn, social distancing to be maintained, temperatures to be taken before either taking school transportation or walking onto campus, and strict cleaning procedures to be done every day.
The study done included 11 districts in the state and analyzed data from the first nine weeks of instruction. In conclusion it found: "In the first 9 weeks of in-person instruction in North Carolina schools, we found extremely limited within-school secondary transmission of SARS-CoV-2, determined by contact tracing."
To this date no incidences of spread in schools has been reported in either Cabarrus County Schools or Kannapolis City Schools since instruction began in August.
Other similar studies done in Sweden and Norway came to similar conclusions. Results like this are why the Board of Education wants to do all it can to move to Plan B and eventually Plan A, according to Grimsley.
Grimsley does not believe teachers in the district agree with the statement released earlier this week and they want to get back into schools and educate children. That is why she and her fellow board members want to start the process of moving to Plan B and eventually even beyond.
"The reason the Board of Education made the decision that they did for Plan B was because we can't put everyone in Plan A (at the elementary level) because we had to figure out transportation issues and substitute issues that were going on," she said. "We know that Plan A is where all kids need to be — in Plan A. But we can't get there until we have a plan.
"We can't stay in Plan C, we've got to get to Plan A, we've got to get those kids back in school and that is a challenge, but that is the job that we have to do."