The Cabarrus County Board of Education voted 4-3 in favor of bringing students back to school starting Oct. 19. The vote was taken at a special called meeting Monday.
The move will allow students in grades kindergarten through third grade to come back under Plan A, and children from fourth through 12th grades to return under Plan B.
Board members Holly Grimsley, Carolyn Carpenter, Rob Walter and Laura Blackwell voted in favor of the motion. Barry Shoemaker, Cindy Fertenbaugh and David Harrison voted against it.
This comes after Gov. Roy Cooper announced Thursday that elementary students could come back under Plan A with no classroom restrictions. Schools did not have to go forward with this option, but before this, no school in North Carolina could come back in anything less restrictive than Plan B.
The meeting got heated at points, as this has been a hot topic of conversation since schools shut down in March due to an executive order from Cooper in response to the COVID-19 pandemic.
Cabarrus County elected to come back under Plan C to start the year under a recommendation made in July by Superintendent Chris Lowder.
Need for face-to-face learning vs. state of the county
The board has been discussing a potential return to Plan B in recent meetings, but with the infection rate at higher than 6% for the last month, the district had set nothing in stone regarding a return date.
Monday's meeting lasted nearly 3½ hours as board members went back and forth discussing balancing the need to return to classrooms for face-to-face learning as well as concern for the safety of students and staffers.
"I just feel like it is time that we get back to a Plan A for the elementary kids," Holly Grimsley said. "We talked about it the last meeting."
She continued: "They're sitting there in front of that laptop … for all that length of time and that bothers me. I can't do it. If I had to sit in front of that (screen) for that amount of time, just consistently looking at that screen that entire time with just minimal breaks, that is hard no matter how we crank it out."
Lowder revealed the numbers across the state in reference to COVID-19, with the infection rate sitting at 5.6%. One report from WBTV had the number Sept. 19 at 5.1%.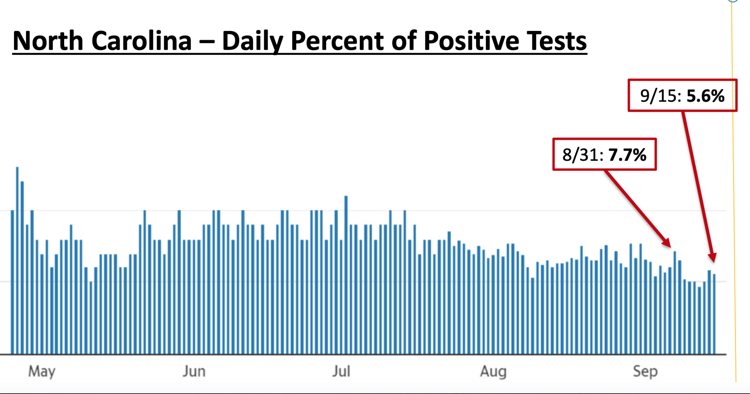 Numbers are going down in the total of new cases as well as hospitalizations, and cases are now doubling every 66 days rather than every 44, as they were in recent memory.
Cabarrus County is above the state average in infection rate and is higher than Mecklenburg County as well. That is part of why board members have been as cautious as they have over the last few months, especially considering the district is responsible for more than 39,000 people, between students and staffers, which makes up a large portion of the county's population.
"I, personally, have been tracking (the COVID numbers) using a map of the counties in the state of North Carolina," Fertenbaugh said. "If you look at many counties … there are so many districts that are in very, very low numbers. In fact, there's a few districts that have single-digit infections since March.
"So I took Gov. Cooper's announcement as, 'It's OK for the districts that are in those situations to open up in A if you want to.' Because (they're) a very small district, oftentimes one middle school and one high school and maybe a handful of elementaries, a little bit like Kannapolis.
"But also, we're not there yet. I'm hoping we'll get to a lighter shade on that map, but we're not there yet."
Cabarrus County is one of 16 in the state with more than 3,000 confirmed cases of the novel coronavirus, according to NCDHHS.
A challenging move
CCS has been planning for the possibility of bringing students back on campus in recent weeks. It conducted a survey asking parents if their students would be riding buses or if they would elect to keep their child in Plan C if the district decided to come back in Plan B.
According to the survey, 36% of families intend for their children to remain in Plan C, and of the students who will come back in Plan B, only 48% will need transportation.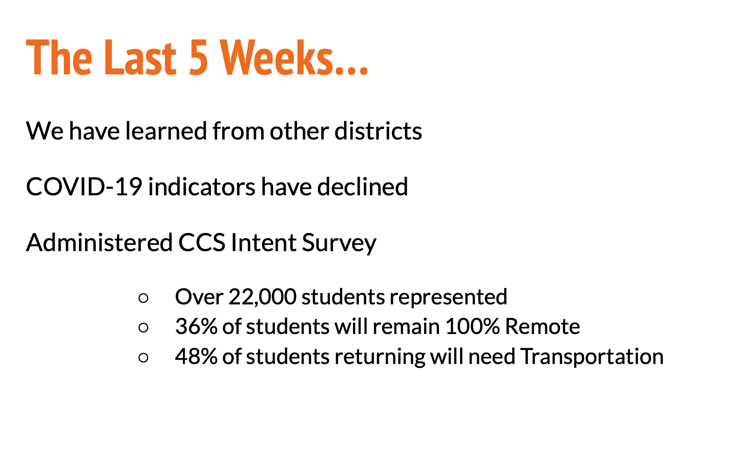 The governor's executive order requires buses to remain at 33% capacity if a school sends elementary students back under Plan A.
With CCS voting to bring back elementary students in kindergarten through third grade in Plan A, the district has a new challenge. Social distancing won't be easy, even with smaller classroom sizes at those levels.
"If this board votes to put it in A, can it be done? Yes, it can be done,"  Lowder said. "But I will just tell you there will be pockets of, again, 30 students in a classroom where they cannot social distance. (With K-3) We'll still have sometimes 21 students in a K through 3 classroom that we still can't get in social distance that are there."
Synchronous learning with some students in a classroom while others would be at home is another challenge.
With some students electing to stay in Plan C no matter what the board voted, there must be livestreaming from classrooms. Teachers have to learn how to livestream and educate children both in person and online.
That will take some time to prepare for, and Crystal Hill, assistant superintendent of curriculum and instruction for CCS, has done her best to lay out what that preparation would look like.
Starting Sept. 25, teachers will get a look at a model classroom. They will then have training for each of the next three weeks before getting back to in-person and livestreaming instruction Oct. 19.
This is not as simple as just bringing students on campus and continuing teaching as normal. Teachers will have to prepare and adjust.
"Once we've gotten into C, and C is going so well, our students have access to their teacher four days a week, so right now students are getting more synchronous, live, face-to-face interaction … than they ever would if we go to Plan B," Hill said at a meeting earlier this month. "It's going to be taking a step backwards in terms of the experience that students are going to be getting with their teachers."
The vote
Voting to go to Plan B for grades four through 12 and Plan A for kindergarten through third grade took a lot of discussion. Considering the vote was 4-3 in August in favor of starting in Plan C, this has been a split conversation.
Some wanted to have face-to-face instruction for students the entire time, while others wanted to wait. The same goes for the community.
This has been a contentious discussion at times — especially in Monday's meeting — and there was back-and-forth once again.
"I think, regardless to what we do, it's going to be complex; it's going to be something that everyone has to get used to, just like everyone had to get used to virtual learning, now everyone's going to have to get used to this," Laura Blackwell said. "I don't see any problem with people doing that.
"I went to the roller skating rink on Saturday with my son. People are still going out; they're doing things; they're socializing. At this point, we have gone months without these kids being in school. In my opinion, teachers are just as important as health care workers, they're essential workers. These kids need to be in school. Some kids are failing where they've never failed before because they don't do this virtual school well."
Lowder said during the meeting that they have had positive feedback about operating in Plan C, but they have received negative responses as well.
Additionally, it is clear many parents are challenged by their current situation, with many working from home while making sure their elementary-aged students are online and understanding their work.
But there is still concern about going back to school for the safety for their children, an opinion expressed by board members as well, not to mention the safety and retention of employees.
"I'm very concerned about the staff members in this scenario," Fertenbaugh said. "We do not know what number of teachers and other staff may choose to take early retirement, take a long-term leave, whatever other options are available to each personally if we jump back in to full.
"We have the chance to move to Plan B, re-evaluate as the numbers hopefully continue to decline, and then, knowing that, we can go in Plan A. I do like the staggered approach, just not yet."
Grimsley said she has been inundated with emails from teachers saying they were concerned about going into Plan B, and that some believed they would have more problems going to that than Plan A.
"We have got to do something to get the kids back in class," Grimsley said. "We are going into October here. We're being the eight ball of the other districts. They already are far ahead of us; they're all in pretty much Plan B, moving on to other things.
"We're behind that. We have got to make some changes to get kids back in, otherwise they're going to be up to a year behind."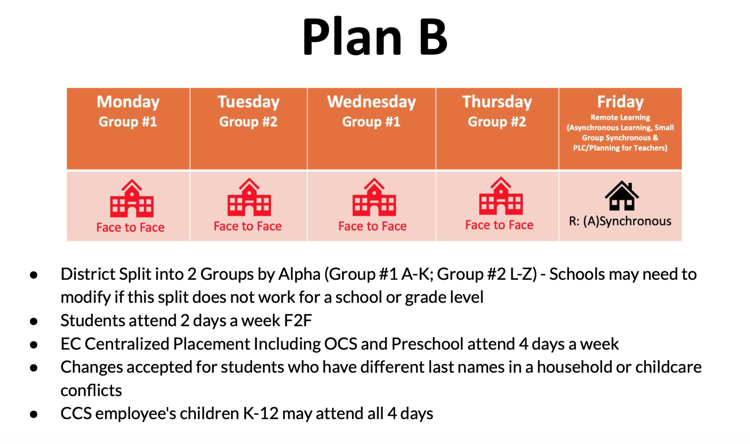 Be the first to know
Get local news delivered to your inbox!