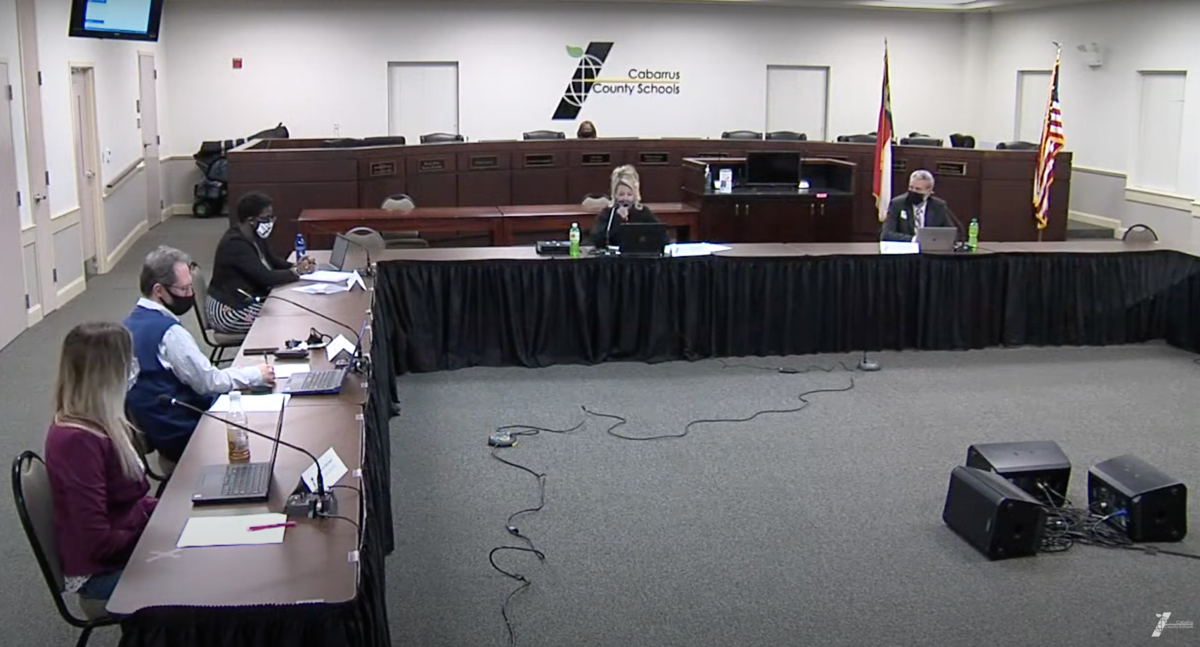 The Cabarrus County Board of Education will send out surveys to elementary school parents and all CCS teachers in the next few days in the hope of gaining a better grasp on who wants to be in school, when they want to get there, and how it will be done.
The decision to send out the survey came at the Cabarrus County Board of Education work session Monday, and this will be the first time the district's teachers will be asked for their opinion on the potential opening of schools.
CCS currently is operating under Gov. Roy Cooper's Plan C until at least Jan. 19 due to the COVID-19 pandemic in the state. If the Board of Education makes no changes before that date, all students will return in Plan B that day.
A long time coming
Teachers with Cabarrus County Schools have complained about not having a say in how schools have reopened in the district since re-entering Plan B in October.
Christin McDowell was teaching at the time at the Performance Learning Center but decided to apply for the Family and Medical Leave Act due to a health condition that would put her at risk of serious complications due to COVID-19.
She has since moved on to a job at the Cabarrus Virtual Academy so she can teach remotely. Still, she said she was not pleased when schools opened and she was not only refused the chance to teach from home due to health concerns but that teachers in the district were never asked their opinion on how to approach reopening.
"They could have started by surveying their staff like other districts did, such as CMS, to determine the percentage of teachers who fell into high-risk categories, and that would have been a starting place that they could have done in the summer even," she said in an interview in October.
Teachers have not been asked what they think the district should do yet, but in the survey to be sent out this week, the plan is to ask if they want to come back in Plan A, B or C and to make any comments they would like.
Board member Keshia Sandidge emphasized selecting Plan C means she believes the decision to do that would be due to health concerns, though the survey will not ask any employee to be specific with any conditions they may have. Sandidge took her seat on the board in December and has been insistent since then that teachers need to have a say.
"I'm really big on us being able to survey teachers," she said. "Because there are teachers who do not belong in a school for varied health reasons, and I heard some troubling things during our COVID task force conversation … about teachers being denied leave and the reason for those denials."
Have their say
Board member Tim Furr has also mentioned on multiple occasions since being elected in November and taking his seat in December that teachers need to have a chance to be heard when it comes to any changes in learning during the pandemic.
He also wants the community to feel like decisions are being made with them in mind. Board Chair Holly Grimsley echoed those sentiments.
"I think it's really important that we do understand where parents are right now and where teachers are," she said. "I don't know how we're going to make decisions if we don't know where parents are and where teachers are.
"I think from that information we do need to figure out where we go from there, but to me, the first piece is finding out where they are."
The district has done a couple of surveys since the discussion to move back to Plan B started in September. One survey revealed that when it was initially voted on to return in Plan A in kindergarten through third grade (that decision was moved back to Plan B two weeks later) that more than 70% of parents in that range intended to send their children to school.
Another survey in December, when COVID numbers were rising in the region, revealed numbers in elementary schools went from 65% capacity down to 61%, and from above 50% in high schools to below 50%.
No numbers have yet been revealed as to what teachers in CCS want. Who is OK with going to Plan A? Plan B? Plan C? It's unclear. But the hope is to get a better grasp on that with this week's survey, which will ask what the plan is for two dates.
First, for parents and students, who will be willing to come back in Plan B starting Jan. 19 when students are scheduled to return to campus? And second, which teachers are comfortable with how things have been, and which ones might want to see changes?
Additionally, the survey will  ask who would be willing to come back (in elementary school) in a potential Plan A at a later date.
That later date proposed by Superintendent Chris Lowder would be Feb. 16, which would be the day after a teacher work day and six weeks out from New Years Day, which would give the district time to plan for transportation, classroom organization and classroom size, as well as giving COVID-19 numbers a chance to go down in the community.
The hope with the survey was to send it out either Tuesday night or Wednesday morning to give the district enough time to have all the data back for Jan. 11's Board of Education meeting.
Get kids back to school
This survey is an important step in the discussion of getting students back into school. Furr and new Board member Denise Adcock talked multiple times at Monday's meeting about the importance of getting children on campus and finding solutions to the problems they have been presented.
"At some point in time, we need to visit this, whether it's now or later," Adcock said. "I think we need to stop making excuses why we can't do it. We know we have to get our kids back in school, and we have to come up with ideas, whether it's out-of-the-box thinking — people are trained for two different jobs, whatever that is — we have to start thinking outside the box and come up with some solutions because our kids have got to get back into school."
Adcock put up for discussion at Monday's meeting the possibility of bringing all elementary students back in Plan A on Jan. 19. This was never put up for a vote, but Board member Laura Blackwell supported the idea, saying, "Let's do it."
Blackwell added she wants children back in schools as soon as possible in a safe manner.
"Our goal is to really get the numbers and the information so that we can make the best decision for the county, not for the health alliance, not for the administration," she said, "we are trying to do what is best for these children."