Cabarrus County Schools will go back to a normal five-day school week for all students for the 2021-22 school year, the district announced in a Facebook post Sunday.
No Plan C will be offered, but the Cabarrus Virtual Academy will enroll students and give a remote-learning option with certain qualifications.
"Cabarrus County Schools offered students a fully remote option (Plan C) during the 2020-2021 school year in response to the COVID-19 pandemic," the post reads. "We are seeing decreases both nationally and locally in the number of COVID cases – with only 16 positive cases reported throughout our school district for the week of May 10th. The increased availability and the expansion of vaccine eligibility to anyone 12 years old and older also are positive indicators that will allow us to return to normal school operations.
"Cabarrus County Schools will no longer offer students a fully remote learning option at each school. Students interested in a remote option will be required to enroll in the Cabarrus Virtual Academy, the district's primarily remote K-12 school. This change is effective for the 2021-2022 school year."
Cases in Cabarrus County Schools have been decreasingly week to week for several weeks now with 16 cases reported this week, 36 reported the week previous and 43 the week before. Since hitting 59 cases on the week of April 25, numbers have both fallen in the school district and in the county at large.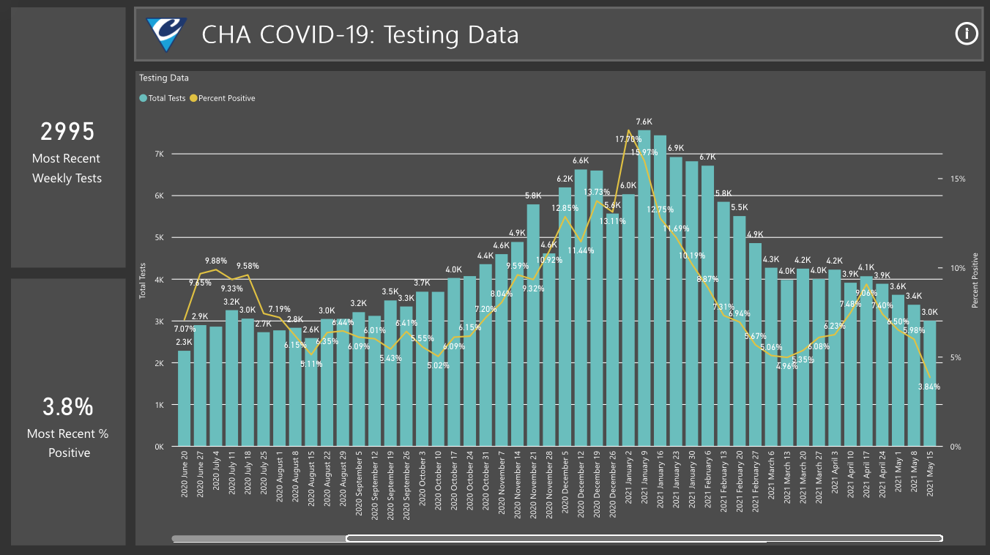 According to the Cabarrus Health Alliance, the infection rate of those tested for COVID-19 in the County was at 3.84 percent for the week of May 15. The rate has gone down from 9.06 on April 17 to 7.40 percent April 24, 6.50 percent on May 1 and 5.98 percent on May 8.
While CHA has not updated its COVID-19 vaccinations since May 7 on its website, its numbers indicate more than 44 percent of all residents in the County have received at least one dose of the novel coronavirus vaccine.

The lower infection rate, total cases and vaccinations in the nation resulted in the CDC removing the mask mandate for vaccinated individuals May 13.
"There's been an accumulation of data showing the real world effectiveness of the vaccines," White House chief medical advisor Dr. Anthony Fauci said. "It's even better than in the clinical trials, well over 90 percent protecting you against the disease.
"Even though there are breakthrough infections with vaccinated people, almost always the people are asymptomatic, and the level of virus is so low, it makes it extremely unlikely, not impossible but very, very low likelihood they are going to transmit it."
Athletic venues across the country have begun to once again open to vaccinated individuals while others have opened to entire communities. With the moves back toward normalcy and the positive trends due to the virus improving in the community, Cabarrus County Schools made the decision to go back to normal school activities starting next school year.
"It is an understatement to say this past year has been extremely challenging for teachers, parents and students," Cabarrus County Board of Education Chair Holly Grimsley said in a text message Monday. "We believe with removing the burden of dual teaching and returning to a normal five-day school week our teachers will be able to focus on optimizing the educational opportunities of in-person learning where students are much more successful. Also, for those parents who need the option and have students that meet the qualifications our Virtual Academy will still be offered for the 2021-2022 school year."
The district's announcement was met with overwhelming positivity on its Facebook post Sunday having accumulated 240 likes and 118 shares. The comments were mostly positive as well though there were some opposed to the decision.
"Sad for the students who will be forced to choose between their health, or giving up their Program Choice program/academy track," one commenter wrote.
"What about kids with breathing trouble and on top of that your schools are not clean(?)," another added.
But of the 74 comments on the post there were a large number applauding the decision.
"Thank God to be getting back to normal and thank you Cabarrus County for giving parents an opportunity to stay remote if thats what they choose," one comment reads.