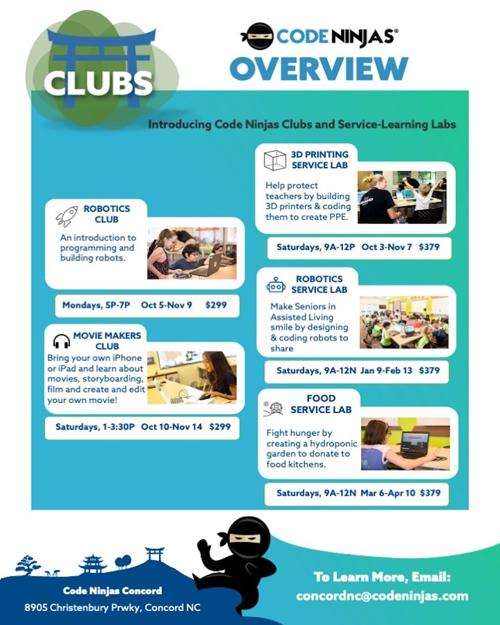 Code Ninjas in Concord is offering five six-week clubs and labs starting in October focusing on robotics, 3D printing, food service and movie making.
Code Ninjas provides students ages 7-15 with a unique resource to enhance problem solving, critical thinking, mathematical and logic skills, while having fun creating and building games and learning how to code, according to its Facebook page.
The first program, starting Oct. 3, is a 3D Printing Service Lab that focuses on one of the key challenges facing our nation right now with COVID-19. This program helps protect teachers by building 3D printers and coding them to Personal Protective Equipment.
The second program is an introduction into programming and building robots that starts Oct. 5. The third, starting Oct. 10, is a Movie Makers Club where students can bring their own iPad or iPhone and learn about movies, storyboarding and film while allowing individuals to create and edit their own movie.
Finally, two more programs are set to begin in the new year. A Robotics Service Lab starts Jan. 9 and a Food Service Lab begins March 6.
Code Ninjas believes coding has become a necessary language and skillset in the digital age as the impact of technology has grown to nearly every sector of the global business environment.
"It is important for kids — both boys and girls — to start learning the language of code at an early age so they begin thinking about problem solving in a more fluid manner that empowers them to work in team environments that encourages community learning and collaboration," said Anjali Dighe, owner of Code Ninjas Concord and Ballantyne. "The majority of students today have access to smartphones, tablets and/or laptops as part of their education. Putting our kids in control over the technology through coding allows them to understand problem solving, logic, sequencing skills and cause and effect.
"Allowing them to express themselves in a creative manner through the creation of games, apps and websites gives them the power to build using their incredible imagination all the while empowering them to understand the critical thinking skills of coding in a fun way. The earlier we introduce coding to children, the more comfortable they will become with computers and technology and the more successful they will become when presented with more challenging learning opportunities."
Dighe points out the popularity of gaming and how it has begun to affect students' lives in recent years and how that can be used to help them learn coding and use that to their advantage in their careers.
"Gaming helps students learn, it motivates students to solve problems, learn conceptually and increase memory retention — all through adventure," she said. "So, let's take that passion at an early age and turn it into a fun way of learning a skill."
Dighe suggests coding should begin to be incorporated into schools even more now with programs such as Scratch, which is for children ages 8-16.
Scratch is a project of the Lifelong Kindergarten Group at the MIT Media Lab. It can be used as part of a math, technology or language arts classes in an assortment of ways.
But the main thing Dighe wants is for students to bring the power of coding into the classroom. Students can do that in school or in any of the weekend programs Code Ninjas offers in Concord.
"Creating teams of students to work together on projects allows them to solve problems, create new projects and use their creativity in a fun and safe environment that keeps school fun," she said.
Be the first to know
Get local news delivered to your inbox!