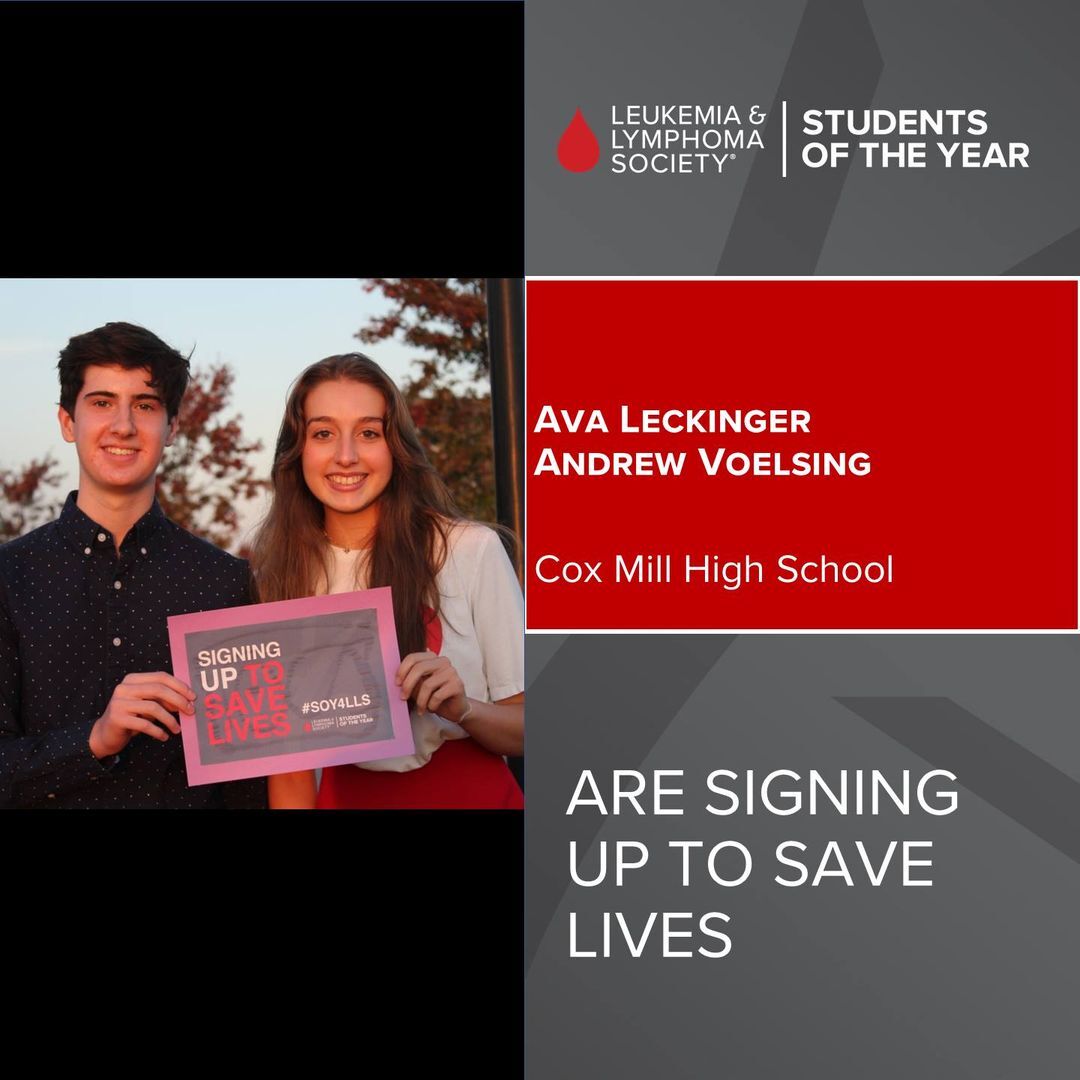 CONCORD — Ava Leckinger and Andrew Voelsing want to make an impact on their community. That impact will hopefully amount to more than $100,000 in the beginning of 2021.
The two juniors at Cox Mill High School were nominated this year to compete in The Leukemia and Lymphoma Society's 'Student of the Year' campaign, which seeks to raise funds for cancer research in honor of children who are blood cancer survivors. Whoever raises the most money over a 70-day period at the beginning of the year will be named the organization's Student of the Year. Leckinger and Voelsing have committed to raising more than $20,000 but their sights are set much higher as they hope to earn more than $100,000 in the coming months.
"Everybody has been affected by cancer in some way," Voelsing said in a recent Zoom call. "So it's a universal cause, and we really want to get that cause out there and make as big of a splash as we can."
According to the CDC, cancer is the second-leading cause of death in the United States, behind only heart disease. More specifically, the American Cancer Society reports more than 60,000 new cases of Leukemia every year and more than 23,000 deaths, while there are more than 77,000 new cases of Non-Hodgkin Lymphoma and nearly 20,000 deaths.
One poll done by CBS in 2017 showed 54% of Americans have had someone in their family diagnosed with cancer. Leckinger and Voelsing would be included in that percentage.
Leckinger's father was was diagnosed with Non-Hodgkin Lymphoma in 2017 — he has since gone into remission — while Voelsing's great-grandmother died of cancer two years ago. Raising money for cancer research is very personal for both of them.
"This was definitely super close to our family and my dad, and I definitely think because of L.L.S.'s research and all of the stuff like 'Students of the Year,' I think that's why he was able to go into remission and that's why so many others are able to do that, too, because of the great work that they're doing," Leckinger said. "That's definitely the motivating factor for me to go and help all these other people because of what L.L.S. is doing."
Voelsing also saw the tragedy of childhood cancer when he was growing up.
"One of my classmates in elementary school, one of my good friends, he passed away from a rare form of cancer, so that was my 'why' for joining," he said. "It was for them. And to help other kids so they don't have to go through this."
Elijah Aschbrenner was a 10-year-old in Concord who contracted Epithelioid Sarcoma when was 8 years old, a type of cancer so rare only 500 young adults have been diagnosed with it since 1970. Elijah was diagnosed with Epithelioid Sarcoma in his neck at age 8. According to the family's nonprofit organization 'the Prayers for Elijah Foundation' he was the only child to have ever been found with this form of cancer in his neck.
He died at 10 years old after battling it for 18 months. But now his family's nonprofit organization is dedicated to advancing research and supporting treatment options for pediatric cancer patients with a vested interest in Epithelioid Sarcoma.
"He will forever be the beautiful, vibrant, happy, selfless, courageous 10-year-old we all knew and loved," the organization's website reads. "He made a difference in so many lives.  The Prayers for Elijah Foundation will work to keep his spirit alive and help those traveling down the same path."
Organizations like the Prayers for Elijah Foundation and The Leukemia and Lymphoma Society are doing all they can to protect people from having to go through the pain of losing a family member to this disease, and Leckinger and Voelsing want to do all they can to help with their Students of the Year campaign.
"We're working to use our community contacts, business partnerships, getting sponsorships, donations, really just trying to bring in as much money as we can to hopefully one day end all cancer," Voelsing said.
The Lymphoma and Leukemia Society's 'Student of the Year' campaign, "is a philanthropic leadership development program through which highly motivated high school leaders embark on a journey of professional growth, ensuring that they stand out when preparing for college and beyond."
The 2021 campaign officially begins Jan. 17 and runs through March 5, giving participants 70 days to raise funds that will go to cancer research across the nation.
Last year's winners — Forbes Wallace, Lexie Hinshaw and Charlotte McDonald — raised more than $176,000, and everyone combined to collect more than $900,000.
To get to Voelsing's and Leckinger's committed goal of $20,000 and even loftier top-end amount of $100,000, they will need some help. That is why they are hoping to build a team of around 30 people who will also commit to raising money, which will then be pooled together at the end of the campaign.
Voelsing and Leckinger have set a goal for each individual team member of raising $1,000 to $5,000. They have also reached out to local businesses as well as prominent community members in hopes of raising as much money as they can individually, as the entirety of Charlotte has set a goal of eclipsing $1 million in donations in 2021.
"This is no little campaign," Leckinger said. "This is a really big thing."
The Cox Mill students have already started their work, though they can't officially take any donations until the Jan. 17 start date. At that point, the pair's website will be open for donations. It is active now, but nothing can be accepted yet per competition rules.
While this is a cause worth supporting and something hitting very close to home for each of them, it's hard to ignore the competitive side. Leckinger plays tennis for Cox Mill while Voelsing is a cross country runner. They would be lying if they said they didn't want to win.
"I'm a very competitive person, and that's part of what's driving me right now, is it's a lot of pressure now trying to put all of the pieces together," Voelsing said. "But I'm excited to see as soon as that Jan. 17 date hits when everything starts falling in place and the number starts going up. And we're not capping ourselves at $100,000; if all goes well, we'll go well beyond it."
Voelsing's parents were both in the Navy, as well, while he also has competed in competitions for DECA. Competition is a big part of his life, and he wants to win.
That might not be quite as much the case for Leckinger, but she is excited to see what they can do as well.
"I'm not as competitive as Andrew, but definitely excited to see the money  start to come in and see our numbers go up when we start our campaign," she said.
Leading up to Day 1 of the campaign, the pair is looking to fundraise in four ways: 1. Donations from family and friends. 2. Corporate sponsorships. 3. Team members. 4. A grand finale with a silent auction with prizes such as signed items from NASCAR drivers.
The grand finale is normally a large banquet at the end of the 70-day campaign, but due to COVID-19 restrictions in the state, it will be held virtually this year.
The entire event will be a challenge for all the students in the Charlotte area, but they are all prepared. While it may seem like raising $100,000 would take a lot of salesmanship and cold-calling, that is hardly the case for Leckinger and Voelsing.
"Right now we're focusing on warm connections, so working through networks," Voelsing said. "My dad is a recruiter, he has like 9,000 connections on LinkedIn, so we're trying to filter through those and see where we can connect, but we're really trying to focus on people we know because people are going to give money to people they know before they give it to random high school students, no matter how prepared they are."
Anyone who wants to donate can. Leckinger and Voelsing will do all they can to connect with community businesses, leaders and individuals as much as they can both leading up to the start of the campaign and throughout the 70 days they can officially accept money.
Students who want to partner with them and help their fundraising can do so as well. They have said they are open to new teammates and would love to add more. Whatever they can do to make a difference in an area where so many people are affected, they will do.