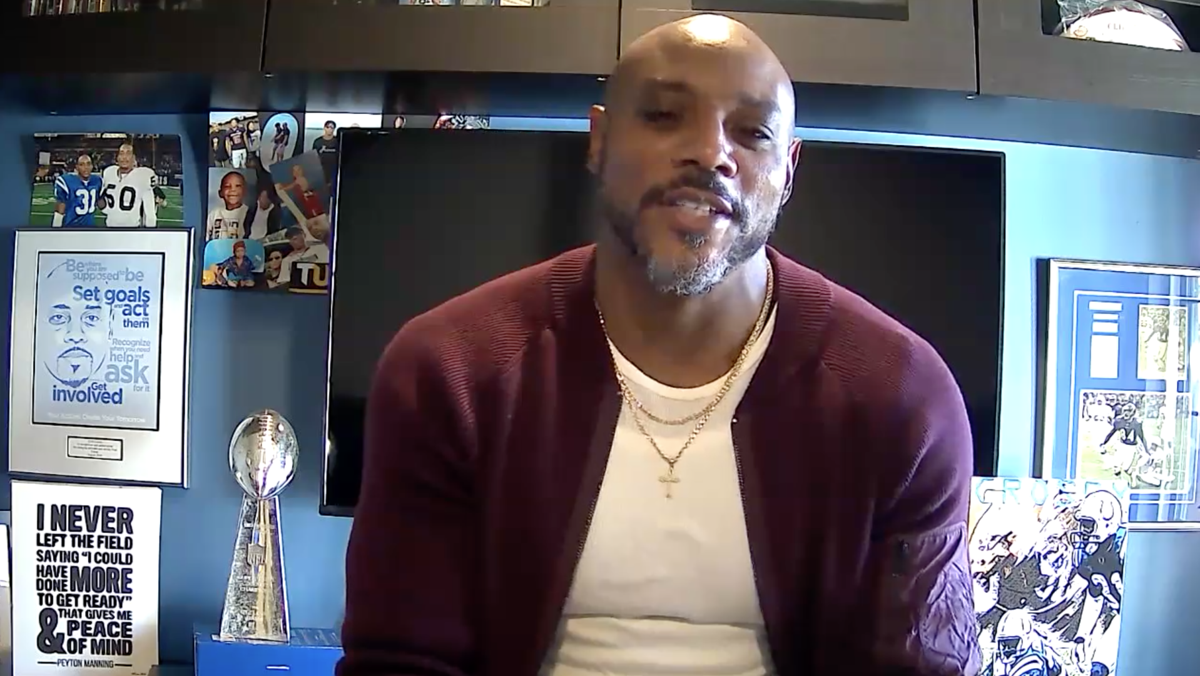 When Cliff Crosby was a freshman in high school, a friend asked if he wanted to cut class. Cliff said no. Had he said yes, he might have been in prison alongside his friend today.
Crosby, 46, is a former NFL defensive back who played four seasons in the NFL with the Colts and the then-St. Louis Rams. Today, among other things, he speaks to groups around the nation about the importance of setting goals and being accountable.
He took some time last Friday to speak to students at Cabarrus County Schools.
"Today, coming to you all to share some of my story … is just merely about having a game plan and understanding that, you know what? My actions create my tomorrow," he said. "So what you do today (determines) your tomorrow, so don't allow bad decisions to affect your future."
Crosby grew up in Erie, Pennsylvania, where he was the oldest of a family of five. He never met his father, and his mother raised his brothers and sisters on her own in a community "infested" with drugs.
It was a challenge for his entire family but one his mother struggled to overcome as she battled drug addiction for much of Cliff's life.
He recalled one time when he noticed his mother was disappearing for the day and he wasn't sure where she was, so he followed her. He found out she was slipping away to use drugs.
This drove Cliff to really understand that if he was going to succeed, he was going to have to figure things out on his own.
"When my mom was strung out on drugs, there were some moments in growing up that I was just like, 'Wow, I can't believe my mom is choosing to do this drug versus being with me and my siblings,'" he said. "Now that I'm older and understand a little bit more, she wasn't choosing it. She didn't choose to get strung out on drugs; she didn't choose to get addicted to drugs; it was something that she got introduced to. She took a risk and that risk didn't go well for her."
Crosby has taken risks in his life as well. When he was starting high school, he took a chance to go to East Cathedral Prep, which was a prominent all-white Catholic school in Pennsylvania. He had to leave his friends and found out quickly this wasn't the best decision for him as he would have to pay for lunch every day, which his family could not afford.
So he made the decision to go back to his old high school, East High School, and build himself up from there. But one decision at that school was the difference between his eventual NFL success and another, very different end result.
A friend of Crosby's suggested they cut class on the first day of school, and Cliff said yes. During the ride, though, he found out his friend was using and dealing drugs and had a gun in his car. This wasn't a situation Cliff wanted to be in. So when his friend asked Cliff two weeks later to cut class with him again, he said no.
That one decision was possibly the difference between the NFL and jail.
"On this particular day, as he was riding and smoking his weed, he had his drugs in the car; he had that gun," Crosby said. "As he skipped school that day, he ran a stop sign. And as he ran the stop sign, he got pulled over by a police officer. As he gets pulled over, the police get out of the car; my friend pulls up and as the police officer gets out of the car and approaches his car, he puts him on a high-speed chase."
He continued: "It went from a stop sign and him probably getting a ticket … to now the police are trying to figure out, 'Why is this young person putting me on this high-speed chase?' … Finally, my friend ends up pulling over really fast, getting out of the car and now he's running, and as he starts to run, remember that gun he had in the car with him? Well, he took that gun with him.
"And as he's running, the police are chasing him, telling him to stop, and they're trying to figure out what's going on. Well, my friend pulls out that gun and he starts shooting at the police. And as he starts shooting at the police, one of the officers was shot in the face and died that day."
Crosby's friend was eventually arrested and spent 30 years in jail. Had Cliff been with him, who knows what his future would have looked like?
That decision changed Crosby's life, but there is more to the story. While Crosby was "scared to death" when he initially got into his friend's car and found the dangerous elements, had he not had his own goals and purpose, he might have joined him again despite his misgivings.
But the day his friend asked him to cut class again was the day Crosby was set to try out for the basketball team, which was his first love, before football. He wasn't going to miss tryouts and wanted to stay accountable to the team rather than take time to cut class.
In a way, basketball saved his life. Accountability saved his life.
But it wasn't basketball that was his future. As a junior, he decided to join the football team. He talked about how he wanted to keep himself busy with sports as much as he could to stay in a positive environment that was away from the challenges he faced every day at home.
He found out he had a knack for football, and it was actually a coach of another team who saw him and gave his name to recruiters. That led to the University of North Carolina and the University of Maryland reaching out and asking to speak with him. But there was a caveat to that — they also wanted to meet with his mother.
The second Cliff heard that was what UNC and Maryland wanted, he broke down and cried. That was one of the first moments he really needed help from someone else in his life. He had found a way to make things work on his own through his first 17 years, but this time, he needed someone to understand and someone to help. He got that help from his coach, but first, he had to tell him what was really going on at home.
"Let me tell you what happens when I go home, Coach," Crosby told his coach that day. "When I go home, this morning I was getting ready for school, my mom was in the kitchen next to me getting a belt out of the drawer and she had a needle in her arm shooting up heroin. That's what it looks like in my home.
"He couldn't believe it. His jaw dropped and he just said, 'Wow. What can we do?' I said, 'I don't know. That's why I'm coming to you.' I said, 'I need help. I don't want them to meet my mom, and I need some help around this problem.'"
Crosby's coach asked if the schools could simply call his mom, but Cliff said there was no working phone in his house and his mom wasn't going to pay the bill.
That day Cliff saw one of the first moments where he could trust an adult in his life. His coach told him to bring him the phone bill and he would pay for it.
"The next thing my coach did was he stopped by my first period class every single day for about a week straight and he just wanted to know (if) I was OK," Crosby said. "I bring that up because sometimes we don't think other people can help our problem or our situation because we don't think they can relate to us."
He continued: "I can tell you this, drugs and alcohol affect all communities, all races, all creeds. You can't escape it; it's going to be here no matter what. But you do have to learn where you can get help from."
Crosby got his help from his coach and went on to play college football at Maryland, where he played wide receiver and defensive back. He later joined the Rams as an undrafted free agent and also played for the Bengals, Colts and Chiefs over a four-year career.
Several years later, Crosby was asked to speak about his struggles with a group of high school students, and his mother was in attendance. She sat in the audience as he told their story. As she sat and listened from her seat in the front row, she began to cry.
"My mom came up to me after I spoke, and she said to me, 'I'm sorry,'" Crosby said. "'I'm sorry for everything that I did, everything that I put you through.' And she said she had no idea that her issue was my issue.
"She assumed her drug problem was just her problem, and that's the reason I'm here today, is to share that, you might have a loved one, or you might know someone that's going through some of these similar situations. It might not be drugs, it might not be alcohol … but there's going to come a time when you (might) need help, but you've got to identify when you need help before it's too late."
Crosby's presentation was given virtually due to the COVID-19 pandemic, but that gave him the chance to show one photo he had by his side throughout his talk. He has a photo from that day when he told his story for the first time at his old high school. The photo is of him and his mother, who has since given up drugs.
She asked for help and she got it. She made a decision to move on from that time in her life and her future was better because of it. "What you do today (determines) your tomorrow."
"We're all going to make bad decisions at some point," Crosby said. "Just don't make it bad enough where it affects your whole future."