With the Cabarrus County Board of Education's decision to bring students back to campus starting Oct. 19, there also were some important changes made to the district's plans.
Before Gov. Roy Cooper announced schools could not come back to school in anything less restrictive than his Plan B on July 14, Cabarrus County Schools had laid out a plan for a recommended return to educational buildings.
That plan was described in detail during a meeting July 13. It was put to the public again in a special-called meeting July 23, but on that day the board voted 4-3 in favor of coming back in Plan C due to the infection rate, number of new cases and hospitalizations in Cabarrus County at the time.
Since that day, the Board of Education, as well as those working on a plan for getting back to school — Brian Schultz, deputy superintendent of administrative services, and Crystal Hill, assistant superintendent of curriculum and instruction — have been looking at the Plan B presented at the July 13 meeting and working to modify it to the current needs of students, teachers and staffers in the district.
It has been a fluid situation, and one that has gotten confusing over the last three months as changes have come not just from the BOE but also Hill and Schultz.
This is what Plan B looked like at the July 13 meeting:
July 13's Plan B
At the time, the recommendation from the planning committee had children returning onto campus one day per week.
Students were to be on three separate tracks, "A, B and C," and teachers would be on campus two to three days per week.
There were two asynchronous learning days in which everyone would be learning remotely, on Mondays and Fridays.
There was a contingency in the plan to begin bringing students onto campus on Fridays after a few weeks so students would have been in school for two days a week.
Everyone on campus would have his or her temperature checked before entering school buildings as well as when leaving their homes to get on buses; masks were required; and social distancing would be enforced on campus.
Extensive cleaning would also be implemented throughout the district to maintain cleanliness.
Since then, Plan B has been modified.
This is what the planning committee recommended at Monday's special-called meeting.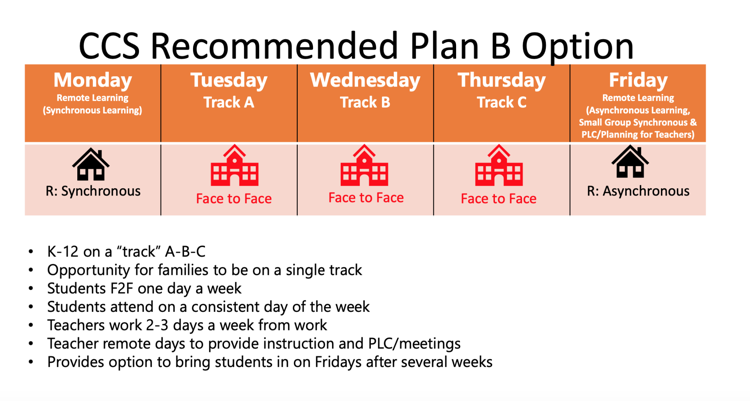 Sept. 21's Plan B
The district is now split into two groups instead of three, "1 and 2," with students whose last names start with A through K in Group 1 and those with last names starting with L through Z in Group 2.
The split can be modified if there are more students in one group than the other so social distancing will be possible.
All students will be attending school two days a week for face-to-face instruction.
In this plan, EC Centralized Placement, including OCS and preschool, will attend school four days per week.
In this option as well, CCS employees' children can attend school all four days.
Under this option, every student will be learning remotely on Fridays.
In both plans — both in July and September — families can choose to keep their children in Plan C. Thirty-six percent of families responded they would like to do that in a survey the district did in recent weeks.
This plan also includes required mask wearing, temperature checks, social distancing and enhanced cleaning procedures.
This was the plan put forth by the planning committee.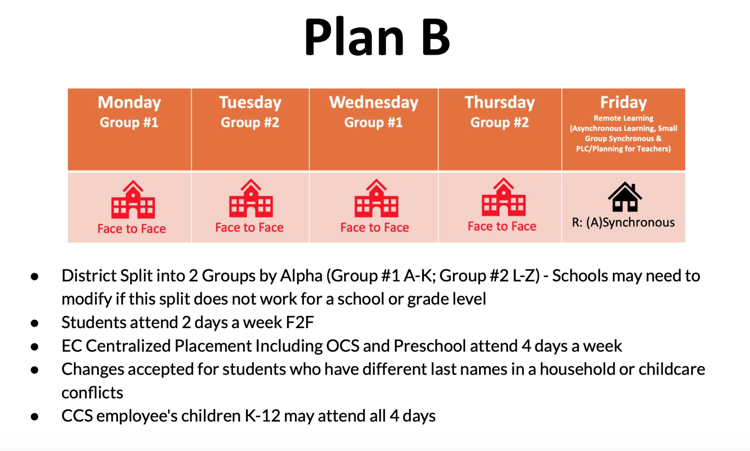 Monday's vote
The Board of Education voted 4-3 Monday in favor of moving to Plan B for students in grades four through 12. The second recommended plan is what those grades will be operating under starting Oct. 19.
There is some confusion with what will happen for students in kindergarten through third grade. In the Board of Education's vote, it was decided those children would come back under Cooper's Plan A.
The governor announced in a news conference Sept. 17 that elementary schools could come back under Plan A starting Oct. 5.
CCS will not start its Plan A on Oct. 5, but it will begin to institute it with the start of the second nine weeks on Oct. 19.
So what is the difference here? First, it should be noted that the district had a plan to institute a Plan A with four days of face-to-face learning for students in kindergarten through third grade at the July 13 meeting.
This was not the option recommended, but there was a plan in place for four days a week of learning before Cooper said students could not be on campus more than two days per week the next day.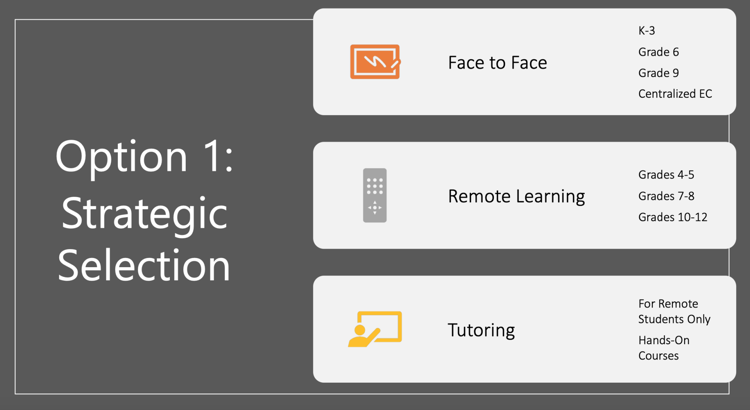 The only real difference between the plan presented July 13 and the one approved Sept. 21 was the additional day on campus for children in kindergarten through third grade. And, in that plan, students in sixth grade, ninth grade and centralized EC would have been on campus four days a week as well, which was not an option approved Monday.
That option was decided against at the time, but the important distinction there was that a plan had been discussed by the planning committee, so the option voted into place Monday would not completely catch them off guard.
Discussion
This doesn't mean there wasn't discussion about the vote Monday. Superintendent Chris Lowder was hesitant to get back to Plan A for kindergarten through third grade because of the possibility that it would be tough to maintain social distance for students and staffers.
"If this board votes to put it in A, can it be done? Yes, it can be done,"  Lowder said. "But I will just tell you there will be pockets of, again, 30 students in a classroom, where they cannot social distance. (With K-3) We'll still have sometimes 21 students in a K through 3 classroom that we still can't get in social distance that are there."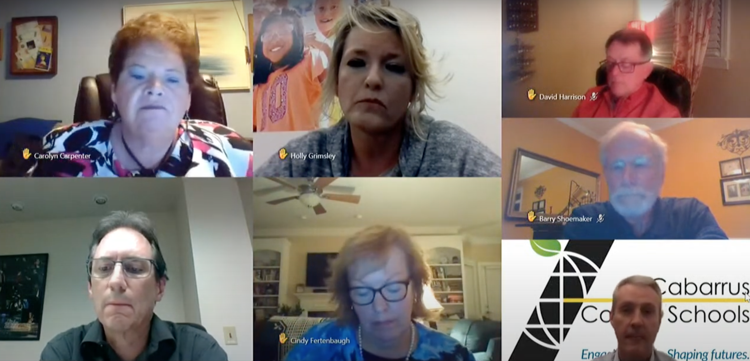 CCS still has some things to figure out before moving to Plan A. For example, if the infection rate goes back up and cases and hospitalizations rise, the Board of Education could vote again and change its mind about going to Plan A.
The Board of Education has repeatedly said it will evaluate things as they happen, and if the situation gets bad, plans will be re-evaluated.
But while the district has conducted a survey and found that 36% of families will choose to come back in Plan C no matter what the board decides, that leaves the question of how many students in kindergarten through third grade are included in that percentage.
If it's a large number, then things will be a lot easier when it comes to social distancing. But if most of the students in those grades decide to come back, things could be tougher.
Lowder said class sizes in those grades range anywhere from 17 to 20 students, which would make social distancing tough. But if five or six students per class elect to come back in Plan C, it becomes doable. That is a number the district still has to figure out exactly, though, and CCS has about a month to do it.
"My concern would be that — I use this as an example — in Ms. Perry's building, because again, new building (I've) been there recently, the maximum that she can put in her K-3 classes is 12 students," Lowder said. "So if we're putting 20 in that class, half of the class will not be social distanced, so that's the concern.
"It doesn't mean that we won't have some classes that will be fine … we might have 30%, we might have a kindergarten class that has 11 and 12, and that won't really be a problem; she'll be able to social distance that. But certainly can't guarantee that we won't, and we pretty much can guarantee that there will be numerous classes K-3 that will be larger than 50% and won't be able to social distance.
"So that's going to always be my concern until we know what the numbers are and can move on those because, right now, we guess on those, and we know that pockets will be significantly bigger."
Be the first to know
Get local news delivered to your inbox!