Students, parents, educators and community members swarmed Northwest Cabarrus Drive and Dovefield Lane on Tuesday as the Class of 2021 took the "Senior Walk to Boger."
This is a tradition the senior class at Northwest Cabarrus High School does every year, but this one was special. The school was forced to take a one-year hiatus for the event last year due to the COVID-19 pandemic, and it was clear the community missed it.
Kelly Mavropoulos is the graduation coach at Northwest Cabarrus, and she said that on any given year, they could have 35 to 350 students who participate in the walk. Some years they have more, others they have less, but this year the line of students was a sight to behold, stretching almost the entirety of Northwest Cabarrus Drive.
As amazing as their attendance was, the community came out in force as well, as did the elementary school, whose students and staff members greeted the graduates in front of their school at around 9 a.m. Tuesday morning. This was a truly special event for Northwest Cabarrus Principal Chris Myers.
"Obviously we're biased, but this is the best that it's been to this point. Just (an) amazing turnout," he said. "The kids, the parents, the student body, it could not have gone any better.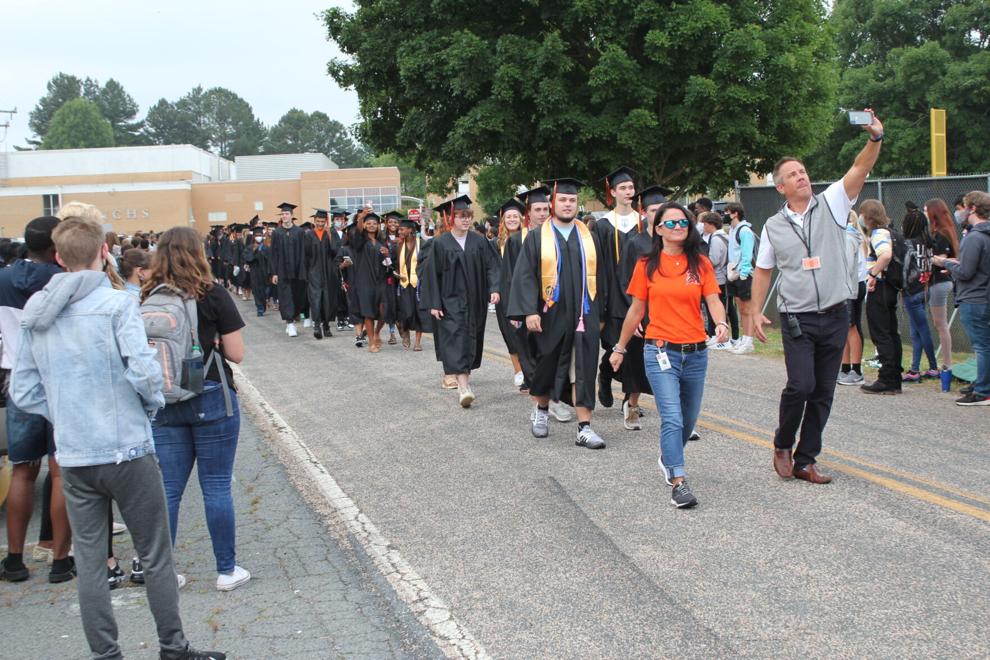 "Just seeing kids smiling and seeing them interact beforehand and the whole way down. At one point I just got goosebumps, it was just amazing to see the pure joy in everybody, and then the little kids down there, the Boger students, and the support they gave us to do this today. This is why we do what we do, and it could not have gone any better."
This senior class has gone through things no other class has in the last 100 years. That was true last year as well, but this class has gone through far more changes than the others. They started the year in all-remote learning, moved to Plan B in October, back into a full Plan C in December, back to Plan B in January and finally to Plan A in April. All the while, many students were away from their classmates in Plan C due to either medical concerns of their own or in their family. This was not an easy learning environment for students Hannah Davis and Joshua Hernandez.
"It's been really hard adjusting with learning how to learn online," Davis said. "Personally, I don't like the online school, but once you get the hang of it, it's a lot easier. But I would like to go back to normal soon, hopefully."
"In person, it is weird having to wear your mask, having to social distance and everything, you can't be up and close with the teacher or tutoring and stuff like that," Hernandez added. "In person, I can concentrate more. I prefer that over being on virtual, that's why I chose to come back to school to concentrate on my work. That's all I've got to do here is just to work, and it really pushes me to do work."
Students and teachers had to persevere through hardships all year, and that's not even taking into account the possibility of relatives contracting the virus or losing jobs due to shutdowns. The Class of 2021 did not have it easy, and having an opportunity to celebrate their success through so many challenges with events like Tuesday's have been welcome.
"I'm thankful they're helping us to plan stuff our senior year," Davis said. "Second semester of this year has been really great."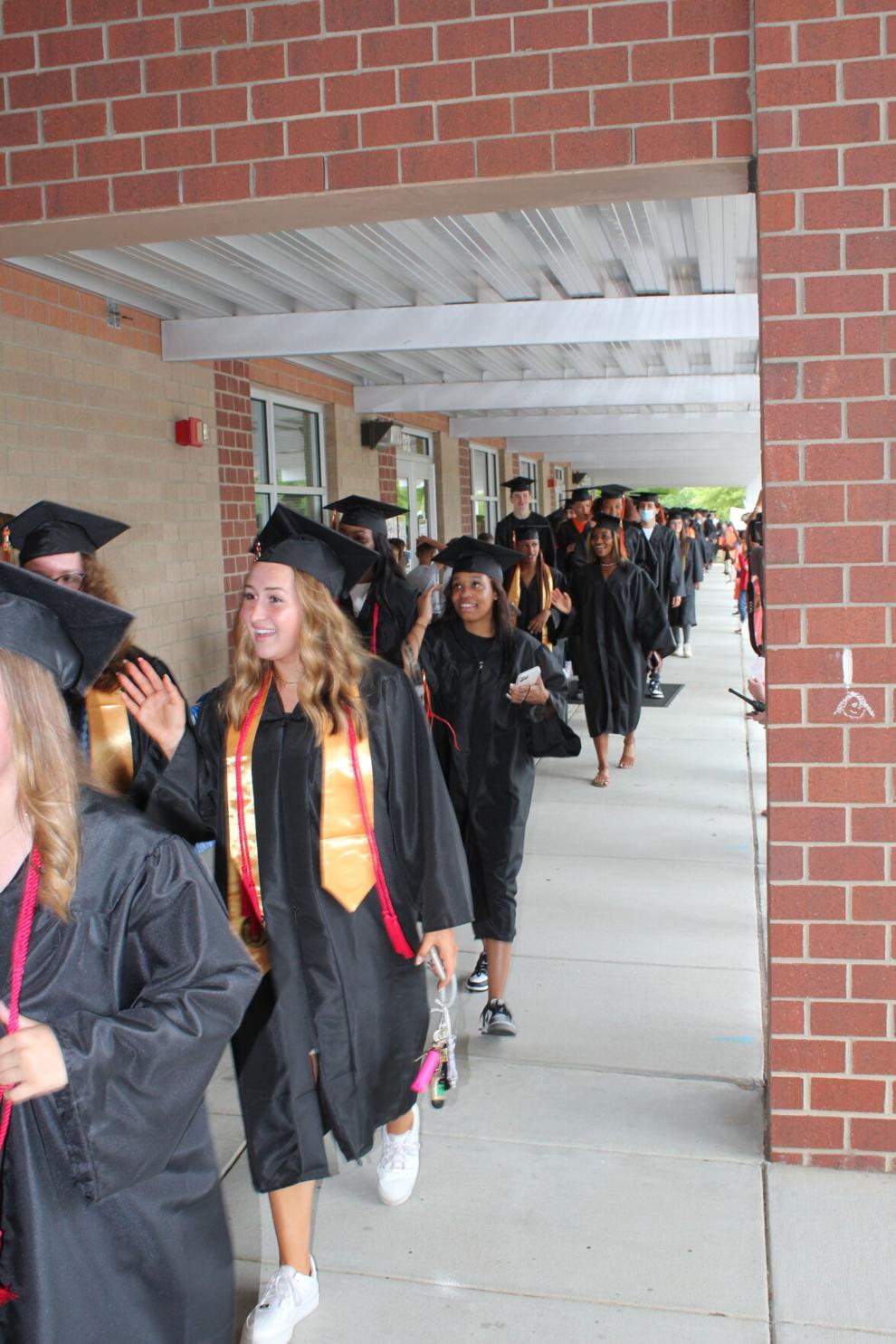 Getting the chance to show younger students what can be achieved is important as well.
"It's just cool to just inspire the kids," Hernandez said. "Seeing kids like them (see seniors) graduate is just really inspiring. I remember seeing stuff like that, and I was inspired by that."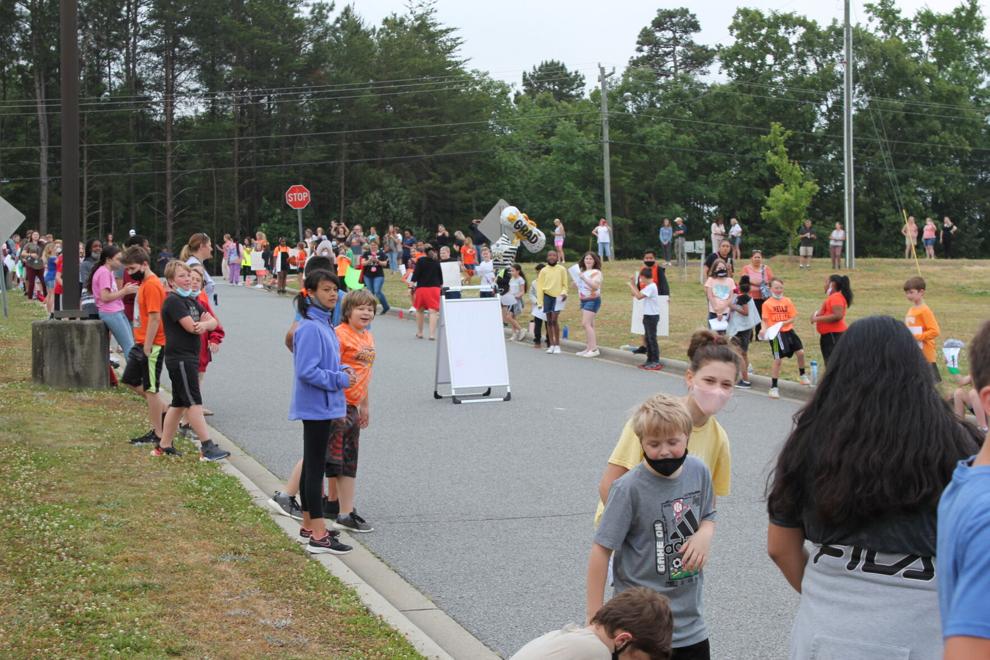 The "Senior Walk to Boger" is Mavropoulos' event. She plans it every year and was at the head of the line leading the way Tuesday. It went exactly how she wanted.
"I want to say we're surprised, but we're not because our senior class is amazing. This class has always done amazing things, and to see the amount of kids that we had turn out — and like Mr. Myers said — they were smiling," she said. "And then just to see these teachers who haven't seen these kids in a year and a half running up to them to hug them, that's what this is all about. I'm telling you what, mic drop, my day is done, this was wonderful."
Now it's on to what's next. The seniors will head into the next step in their lives, whether further schooling or the career field, but first they have graduation. And this year, they will get to walk across a stage, unlike last year's graduating class.
Davis and Hernandez were thrilled when that news was announced.
"I was so excited," Davis said. "I was texting all of my family (saying), 'I don't know if you get to come, but we get to walk this year.' It was so exciting."
"I was so excited," Hernandez added. "I've got a huge family, so it's good to see them all, and they get to see me."
Myers gets to see students graduate every year, so this isn't new to him, but giving these students the chance to walk is something he wanted to do.
"Whatever we can do to give these kids — whether Northwest students, CCS students or students everywhere — just that sense of normalcy," he said. "High school is such a rite of passage, and unfortunately for so many of them, they didn't get to enjoy what makes high school fun. So now we're starting to bring that back, and that's great. We get to give the kids what they've wanted to do for 13 years. We get to give the kids that, we get to give the parents that, and we get to give the community that as well."
If Tuesday's walk is any indication, the community will be out in droves to support their students at graduation at Charlotte Motor Speedway in June. The support Tuesday was beyond anything Myers could have imagined, and he said he is grateful for everyone who has been there for his students during an eventful senior year.