The Cabarrus County Board of Education voted 4-3 Monday in favor of bringing all elementary students back under Plan B rather than Plan A starting Oct. 19.
Two weeks ago, the board voted 4-3 in favor of bringing students in kindergarten through third grade back under Plan A, but after re-evaluation over the last week, another vote was called at Monday's work session and a new vote was called.
Students in fourth through 12th grade will still be coming back in Plan B. Nothing has changed for them.
Carolyn Carpenter, Cindy Fertenbaugh, David Harrison and Barry Shoemaker voted in favor of the new motion, while Laura Blackwell, Holly Grimsley and Rob Walter voted against it.
"It was not on the agenda, but any board member has the right to amend an agenda or offer motions at any official board meeting if they can get a second from another board member," said Walter, the board chairman, in a statement. "I don't believe that is best practice when the public, school system staff, and other board members were not aware or really prepared to discuss the reopening of schools decision."
Why the change?
Carpenter changed her vote from the last few weeks, and she did so due to concerns over social distancing in classrooms in the kindergarten through third-grade levels.
Cabarrus County Schools recently sent out a survey asking parents if their children would attend school under Plan A, and 68.84% in those grade levels said they would. CCS has 21 elementary schools in the district, and 13 of them will have more than 70% of families coming back under Plan A, according to the survey.
A.T. Allen, Bethel, Mount Pleasant, Royal Oaks and Beverly Hills would all have more than 80% returning.
"With that in mind, there is no way we could possibly — with these numbers that we got — that we could social distance," Carpenter said. "That was one of my biggest things, because the safety of the teachers and the children … I had to have that available for us to go into Plan A."
She continued: "I cannot, with a clear conscience, say that this is wonderful."
In the Cabarrus Health Alliance's most recent data, the county has an infection rate of 6.6%. That number is subject to change with time, either up or down, as the week of Aug. 15 originally showed a 4.98% infection rate, but subsequent tests have shown it to be 5.28%.
The Health Alliance released COVID-19 numbers Monday, announcing that there were 374 active cases in the county, with 77 deaths and 3,738 recovered.
The active cases have been fluctuating lately. With Labor Day in early September, there may have been a spike in cases as a result, according to CHA via the Board of Education — but since the middle of July, Cabarrus County has had no more than a 7.55% infection rate and no less than 5.28%.
The county hit 449 cases on Oct. 2, though, which was concerning to Carpenter. That's why she asked to amend the agenda and vote to not bring back students in kindergarten through third grade under Plan A.
COVID-19 numbers
In recent weeks, the Cabarrus Health Alliance has released updated fatality numbers for the county. Recent research by the American Academy of Pediatrics has shown children who contract COVID-19 are more likely to have mild symptoms and less likely to infect others.
The numbers released in the county show zero deaths for children under the age of 20. But there have been 672 cases of the novel coronavirus during that time.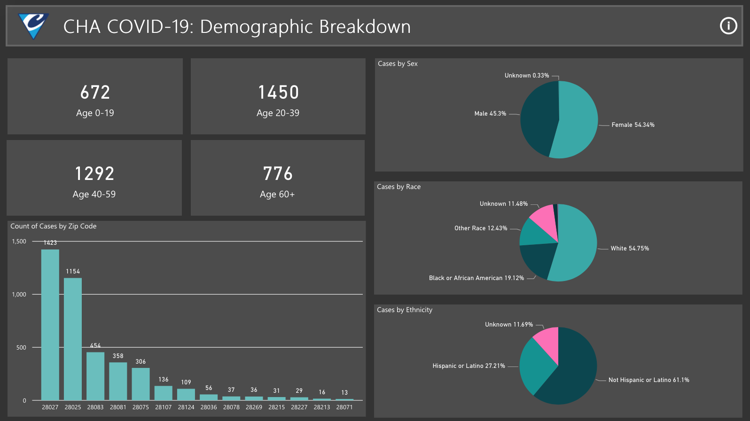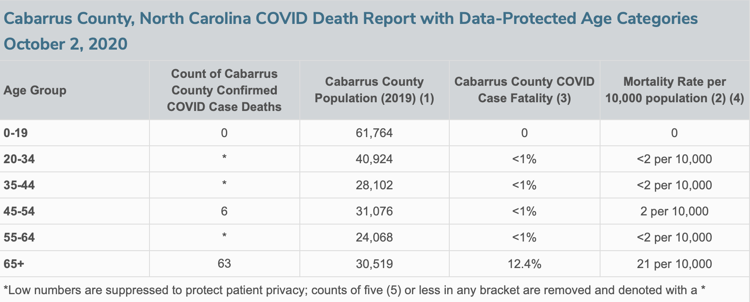 Blackwell pointed out those numbers in the meeting as well as those from the survey that showed 17 of the 21 elementary schools in the county had more than 60% of parents wanting to send their children back to school under Plan A. Thirteen of the schools had more than 70% willing to do so.
"Based on the numbers, and we continuously talk about numbers, and what the numbers are showing is that children are not transmitting this virus in the same way that adults are transmitting it to each other," she said. "I think that going backwards is a detriment to these kids' education.
"I've seen them do the virtual learning, and not every child thrives with this. This is not ideal for most children, and that is evident based on the almost 70% of K through 3 parents that want their children to go back to school."
Shutdowns across the nation brought attention to the many side effects of such actions. The United States hit an unemployment rate of 14.7% in April — higher than it had ever been over the last 70 years — while cities like Charlotte also saw a rise in domestic violence calls during the pandemic.
The Board of Education often talks about protecting a child's social/emotional well-being. This is a priority for wanting to get children back in school, along with the educational side.
On the educational side, though, it isn't easy to judge progress online. Grimsley isn't sure how well they can even monitor who is getting the most out of class while also possibly dealing with a more difficult home life.
"I want to know how we are addressing truancy in this process," she said. "I want to know how we are monitoring those kids that do not have any advocates or a voice in our system, and how they are being taken care of."
Business meeting
The Board of Education will meet next week for a business meeting at 6 p.m.
It will once again review COVID-19 numbers while discussing other business.
Walter said he would like to give the public a chance to comment on the vote at next week's meeting rather than the one Monday, but with the subsequent vote, it is unclear if that will happen.
"Our governor has allowed for Plan A," he said. "The medical experts for the state of North Carolina tell us in a press conference that 'the current science shows younger children are less likely to become infected, have symptoms, experience severe disease or spread the virus.'
"There was nothing in that press conference that said kids had to be socially distanced, and they said K through 5 would be fine going back to school, and that's what they've encouraged us to start doing, and that's what we were trying to do on a smaller scale."
Be the first to know
Get local news delivered to your inbox!