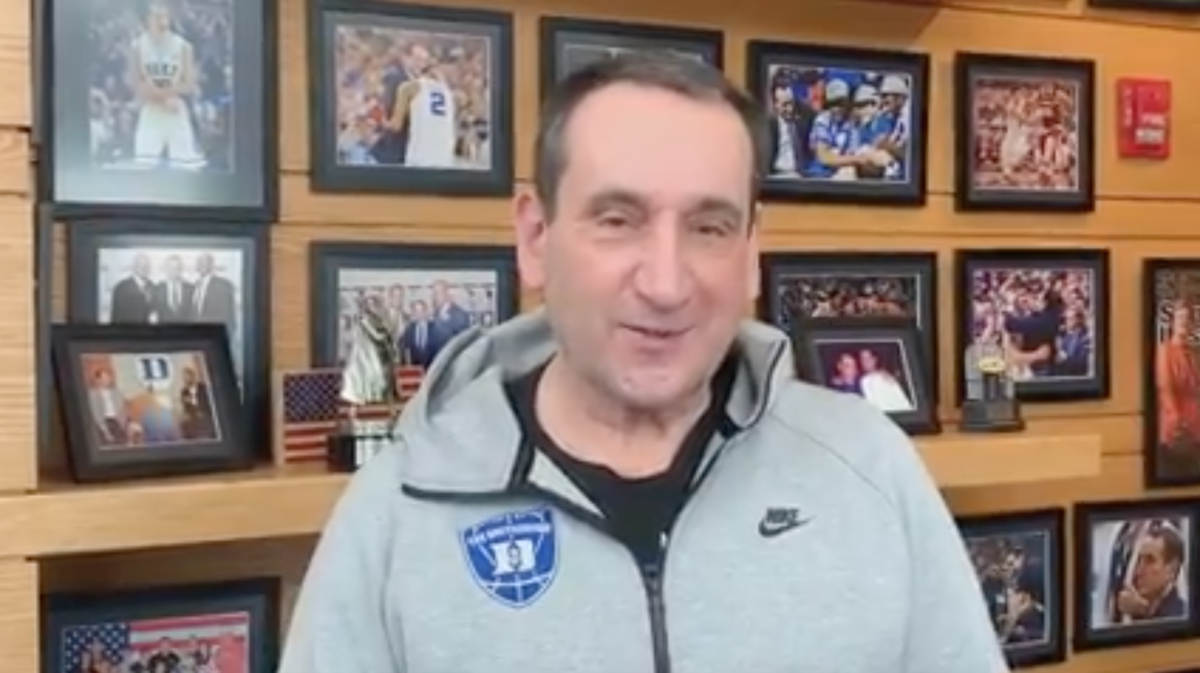 Chris Lowder got a surprise from a national champion Tuesday.
The superintendent of Cabarrus County Schools received a video message from none other than the head coach of the Duke Blue Devils, Mike Krzyzewski, during a morning meeting.
"Hey, Chris, this is Coach K and I want to interrupt your huge meeting today — a very important one — just to say thanks for the great job you've done with leadership in your county as superintendent," Krzyzewski said. "To keep education going at the level that you guys are doing it and all the leaders in the room with you, you've worked together as one.
"They respect the heck out of you and hope today you find even more answers to this crazy environment that we're in."
The video call was arranged by Concord Middle School Principal Liz Snyder with a little help from her friend Josh Humphrey. She said Krzyzewski is Lowder's idol, and she wanted to do something special for him this week.
She shared the video on her Facebook page with a little message of her own.
"A simple email, a genuine request and boom ... a response from Coach K," Snyder wrote. "Nobody loves this guy as much as Dr. Lowder, and as my evaluator this year, he's sat with me more times than I can count to see our vision for Concord Middle. He's helped me with data, resources and all things good for kids and staff. Thanks Josh Humphrey for helping me make this happen. Still a Heel, but a Devil as well!!!"
Krzyzewski is the all-time winningest coach in college basketball history, with 1,167 wins. He has won five national championships and the Naismith College Coach of the Year three times. He was inducted into the Basketball Hall of Fame in 2001 and the College Basketball Hall of Fame in 2006. He also was the head coach of the Men's Olympic Basketball team, winning gold in 2008 in Beijing, 2012 in London and in 2016 in Rio de Janeiro.
"I want to thank you for the support you've given our program, and I want you to know I really appreciate the love and support you give us every day," Krzyzewski said. "Just like the people in this room appreciate the love, support and leadership you give them every day.
"Congrats on a great job, and keep it going, man."
Lowder was named the interim superintendent of Cabarrus County Schools on March 19, 2015. He was officially sworn-in as the district's 10th superintendent on Dec. 7, 2015.
He has been a part of Cabarrus County Schools for more than 25 years, beginning as an English teacher at Central Cabarrus in 1992.