KANNAPOLIS — After missing out on Senior Signing Day in 2020 due to the COVID-19 pandemic, students, staff members and parents were excited to celebrate their graduates and their future plans in front of the entire class in the Performing Arts Center at A.L. Brown High School on Tuesday.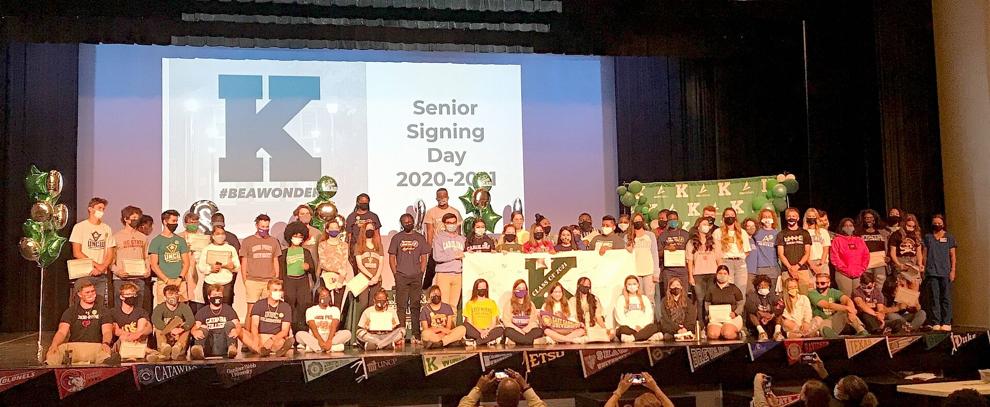 Senior Signing Day is a tradition started five years ago at A.L. Brown High School by Assistant Principal Sara Newell and AIG Coordinator Michelle Pitts. Athletes have a signing day every year where family, friends and classmates find out where they're going to pursue their careers. Newell and Pitts wanted students to have the same chance.
Missing out on last year's event was not what Newell and Pitts wanted, but giving the students and families a chance to celebrate Tuesday was another step in getting back to normal.
"I think it's really what they needed," Newell said. "When you go virtual, everything gets taken away from them and they don't get to celebrate these opportunities. So just having them here today where they can celebrate each other … it's just that honor for them, and I think it's important to remind them that we're proud of them."
Tuesday's event was organized by school staffers, but a good portion of the work went to A.L. Brown's Junior Marshals. The organization consists of the Top 15 students by GPA in the junior class, and they took on the responsibility Tuesday of emceeing the event.
"I'd say it's a humongous challenge," Junior Marshal Trent Thompson said. "It's something that takes a lot of preparation; something that they start on in January. The Junior Marshals, we found out in January that we were picked, and basically it's a whole five-month process. I would say it takes a lot of commitment, but it's a lot of teamwork and camaraderie between everybody, so it's a good experience."
The Junior Marshals help with a lot of senior events toward the end of the year. They helped host a senior breakfast and field day recently and will help with senior awards Wednesday as well as graduation. Last year the Junior Marshals did not get the opportunity to help like this year's group has, and that is not lost on Thompson.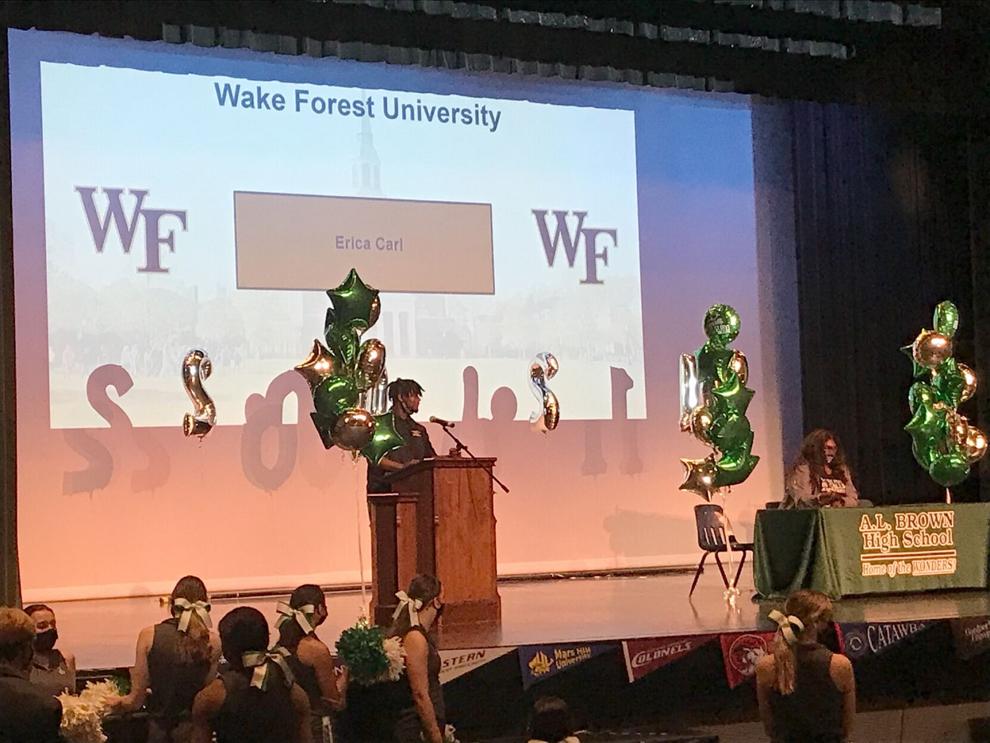 "I think it's a relief," he said, "but it also goes to show we did our job as a community to follow the mandates of the governor to make all of this happen. There's a lot of people that lost their lives, but through this we've all connected and grown better as a community and as a school, and it's a great accomplishment and it's a great achievement to see people that I've known my past three years get to go off and start the next step in their lives."
Students are taking all kinds of steps after they graduate from A.L. Brown High School. Some are going to four-year colleges while others are aiming for an associates degree. Some are going into the military or workforce.
Jackson Rodgers is going to High Point University, where he plans to major in advertising, public relations and strategic communications. He's excited to take that next step, but he also liked seeing what his fellow classmates were planning.
"I like seeing where a lot of my friends and my peers are going and what they're doing after school. It makes me feel good for them," he said. "But it's also overwhelming because I'm like, 'Oh, my gosh, this is getting real. We're all about to leave.' But it was fun. I really enjoyed it."
This was the first time A.L. Brown Principal Angelo DelliSanti got to experience Senior Signing Day. He started as principal at the school in 2019 and the school was unable to hold the event last year due to COVID-19 restrictions.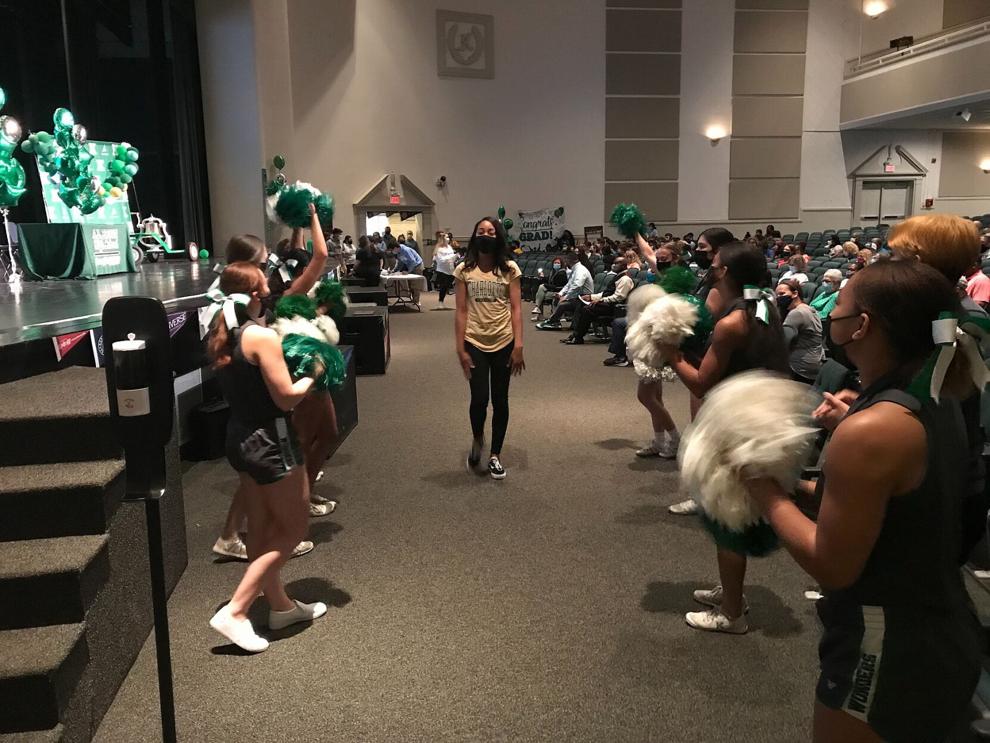 Getting to see the event this year — even if it was a bit pared down due to some students being in Plan C and others not coming out due to the pandemic still being active in the county and state — was everything he wanted it to be.
"It's 13 years worth of work for these kids, and so I think that taking the opportunity to celebrate them and all their individual paths is what we have to do," he said. "And so I'm glad that they took the opportunity this morning. I'm glad to see so many parents, and as I'm looking at all of them now, they're smiling, they're happy. This is what life's supposed to be."
This is just one of the things A.L. Brown will be doing to celebrate its seniors this week. They've already had a senior breakfast and a field day, but there will also be a Wonder Walk on Thursday where seniors will board buses and return to their elementary schools to greet the students.
That type of interaction is important to the district, just like graduation in June will be and how Tuesday's Senior Signing Day was.
"We're made for community; we're made for relationships; we're made to be with each other," DelliSanti said. "I was talking to a parent, and one of them said this group got so much closer because they had to support one another through it, and I'm just so glad that over the course of the past month everything opened up to allow us to do this in a safe way, and we really didn't feel like we were jeopardizing anybody's health. And the families and kids were great today about wearing their masks, and I thought it was a fantastic opportunity."