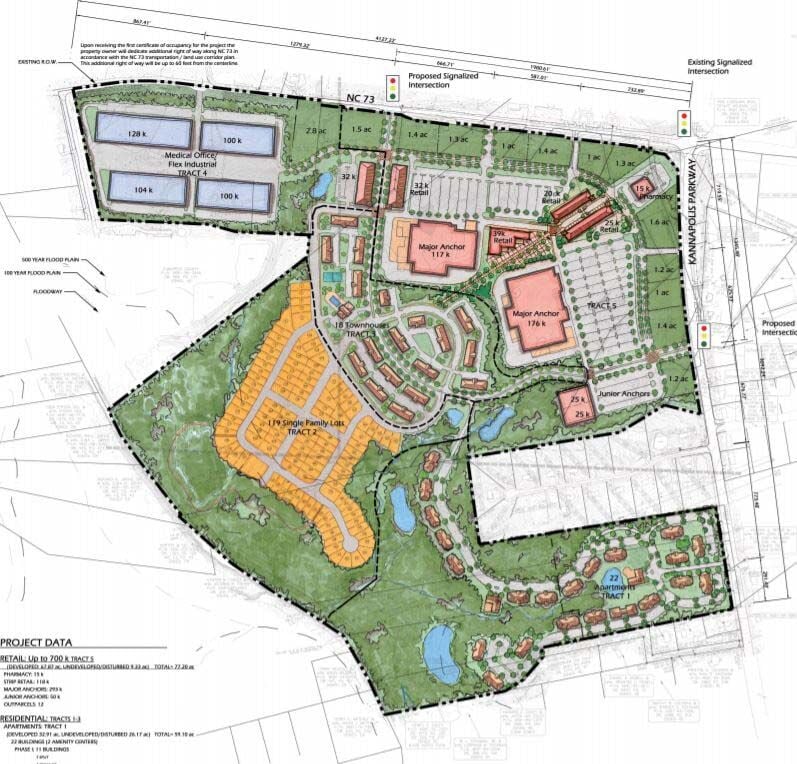 A long-awaited development at the intersection of N.C. 73 and Kannapolis Parkway took a major step forward in March.
Mill Creek Crossing gets approval. The City of Kannapolis Planning and Zoning Board approved a change from Planned Unit Development to Planned Unit Development Conditional Use, clearing the way for MPV Properties. The development will be called Mill Creek Crossing.
The property is 229.44 acres. Plans included in the rezoning show a mix of residential, retail and office/industrial.
Two major retail anchor stores are planned for middle of the property. The corner of N.C. 73 and Kannapolis Parkway shows a pharmacy. Several other clusters of retail development are shown around the anchors.
Four large buildings are planned for the property off N.C. 73 (across from the giant Amazon center). All are shown as 100,000 square feet or more. They are labeled medical office or flex industrial.
But there will be more houses. The development will bring a lot more residential development too. Single-family homes could add up to 283 between townhouses and single family detached houses. Plans also show 22 apartment buildings that could have up to 300 units.
The developers also say there could be senior adult housing.
According to the Charlotte Business Journal, MPV has several partners in the project. MPV bought the property for $5.4 million 2012.
The land previously was going to be a mixed use development by Crescent Communities.
Developers expect construction to begin in a year to 18 months. Some of the development may not happen until the widening of N.C. 73 is complete.
Dick's is reopened at Afton Ridge. As expected Dick's Sporting Goods reopened its Afton Ridge (Target shopping center) location last week as a clearance center.
The sign says Dick's Sporting Good Warehouse Sale. I strolled through the store the other day while I was waiting to get my haircut. (My stylist said my sideburns had gotten as long as Elvis'.)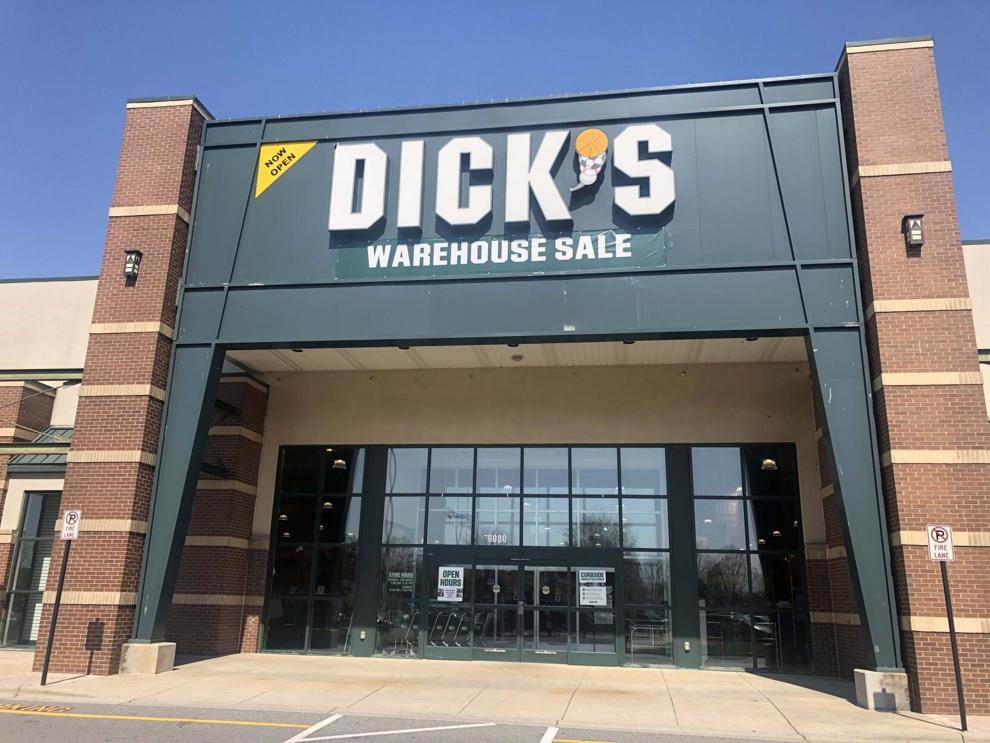 The store looks a bit different inside.
The primary merchandise is clothing and shoes but there are other odds and ends, including backpacks. There is no outdoor, golf or team sports area with bats and balls etc.
I like the way they've got their shoes arranged by size. I can go straight to the 13s and see if they have anything I like for a price that I would be willing to pay (cheap).
I didn't buy anything, but I did see some prices that were promising: for example a Prince golf/tennis shirt for $9.95 and a couple of NIKE tank tops for less than that.
If you want to pay full price or need something they don't have at the warehouse sale, the regular Dick's inside Concord Mills Mall is open. I was there a few days ago and it was packed with both merchandise and customers.
Maybe before I head to the beach, I might see if the warehouse has any cheap bathing suits.
Are you ready to travel? Kim asked me the other day when I was going to take her to the beach. Both she and Jordan have gotten both their COVID-19 shots. I'm driving up to Salisbury next week to get my first shot. I had to wait a couple of weeks because of had a cortisone shot in my shoulder and you have to wait two weeks after that.
"We'll go to the beach when I get my second shot," I told Kim. She was good with that. We're neither anxious to go the beach with all the yahoos running around unmasked and unvaccinated.
I have been traveling some. I called Charlotte 49ers women's basketball this season and traveled with the team. Boy that was a lot of fun and good group to work with. We went to Texas, Kentucky Alabama and Virginia. We didn't leave the hotel except to go to practice or the arena for the games.
AAA Carolinas recently completed a travel survey of North Carolina residents. Here are a couple of the highlights:
• 61% of North Carolinians expect to travel in 2021
• 36% of travelers will take their next 3-day trip before June
• 69% of North Carolinians say they would be traveling more if there was not a pandemic
• 45% of North Carolinians say they will feel more comfortable traveling when they are fully vaccinated
North Carolinians appear to be more willing to fly and stay in a hotel or resort. According to the survey:
• 54% of North Carolinians are comfortable staying in a hotel/resort (14 percentage-points more than in a first quarter survey)
• 36% are comfortable taking a flight (13 percentage-point more than Q1)
The most popular vacations for second quarter travelers are:
• Beach destinations (46%)
• Resort vacation (all-inclusive/multi-amenity hotels) (19%)
• National/state parks (18%)
If they asked me I would have said anywhere except this dang living room chair, hammering away at a laptop.
A more controversial survey. Elon University did a survey on how North Carolina residents feel about removing Confederate monuments.
The survey of nearly 1,400 N.C. residents conducted March 30 through April 2 found that 58 percent say Confederate monuments should remain in these public spaces while 42 percent say they should be removed.
Jason Husser, director of the Elon Poll and associate professor of political science, said that the poll repeated many of the questions it asked in November 2019 on this topic to see if recent events, such as the death last year of George Floyd and the removal of monuments from some locations, had caused a major shift in what North Carolinians think.
"We found only a modest shift in North Carolinians' attitudes," Husser said. "Those in favor of removing monuments from public spaces increased from 35 percent to 42 percent."
I understand. I am torn on the subject. I am from Asheville. The Vance Monument stood in Pack Square my entire life. Not once did I think it had anything to do with slavery or the Confederacy. Zebulon Vance grew up poor and became one of the best known lawyers and politicians in North Carolina. We were taught that he was a hero and someone who made something of himself despite humble beginning. He did own slaves and he is on record making racist statements. His granite obelisk is coming down.
Are we going to take down the Washington Monument? That is a serious question. George Washington owned more slaves than Vance, though I don't know of any documented racist statements made by "The Father of Our Country."
However it is a head-scratcher to me as to why Vance High School was ever named for Vance. That is changing this year and it will become Julius Chambers High School for the Charlotte native and civil rights leader. That will be a much more appropriate name.
The Southern Poverty Law Center reported in February that more Confederate monuments were removed in 2020 across the United States than during the five previous years combined. The report found that 168 Confederate symbols were renamed or removed from public spaces throughout the year, including 94 Confederate monuments. In North Carolina, 24 Confederate symbols were renamed or removed, second only to the 71 in Virginia, according to the Elon report.
Maybe moving monuments to private sites and showing them in their historical context is appropriate. Then we get to argue what the proper context is.
Oh yeah and what about that big Jefferson Memorial? He not only had slaves but evidence indicates he had children by at least one of the slaves.
While we're at I guess we ought to look back at all those Old Testament heroes. David and Solomon would give Washington, Jefferson and Vance a run for their money.
This really makes my head hurt. Men (women too) are flawed but can they still be good or redeemed?