Originally I thought today's Friday Five might be like "What did you do for your summer vacation?" You all remember having to do those in the first few weeks of school.
A Reader's Digest version. Well we've got so much to share that I'll hold off telling you in detail about the past week's adventures trekking up a dusty red mountain in Sedona, riding a gondola up to 11,500-foot elevation of the San Francisco Peaks, watching the moon rise over the Grand Canyon, visiting the Lowell Observatory where the planet Pluto was discovered, and most importantly and the reason for the trip – watching my wonderful wife, Kim, walk across the stage to commemorate her doctoral degree in nursing from Grand Canyon University. Let me say this: dang it's hot in Phoenix and (gasp) the air is thin and cool in Flagstaff.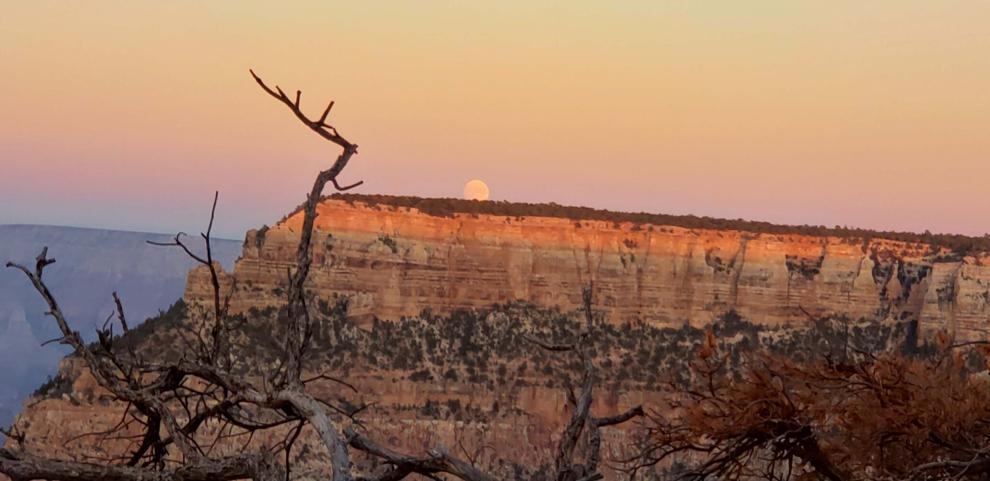 Hey wasn't that five things? A mini-Friday Five if you will.
A response to NCDOT's changes to Lane Street. We told you the N.C. Department of Transportation is going to make changes to Lane Street. Not everybody is happy about the changes, which will cut down the number of lanes, increase pedestrian and bike access and limit some of the intersections. NCDOT and traffic engineers call it a "road diet."
Jimmy Barrett of Kannapolis responded: "You may like the idea of a two-lane Lane Street, but no one who lives there does. It's ironic that the reasons the DOT is giving for narrowing the road are the same reasons that we're given for widening the road!
"Also the rep said that a two-lane road will have the same capacity as a four-lane…then why did they spend millions to widen I-85??"
I've been skeptical of NCDOT's methods too, but things like the diverging diamonds and some of the round-abouts have been pretty successful.
I don't think volume is the real problem with Lane Street. You have a four-lane street running through a neighborhood (some businesses but mostly residential). I think it would be good for the neighborhood to slow down some of those motorists blasting through the area.
We'll see. I know one thing is for sure: it will take time for drivers to get used to the new road when it is put in place.
Laptops and a local legend. Livingstone College in Salisbury will be holding its first indoor assembly since February, 2020 at 10 this morning (Friday, Sept. 24). Livingstone has many connections to people in Cabarrus County and for those who have listened to radio in the area over the years there is another.
William Reid "Bill" Rollins is on the program. He will be presented with an honorary degree. Rollins was one of the leaders and the owners of the Suburban Radio Group, which at one time included WEGO-AM 1410 and WPEG-FM 97.9 (now called Power 98) here in Concord, and WCGC-AM in Belmont.
Rollins recently donated $200,000 to the college's proposed communications program.
In-person attendance is limited to the freshman and senior classes; faculty; staff; and invited special guests. Others may watch the event live via the college's official YouTube channel: Livingstone College Official YouTube Channel.
All those attending in person are required to wear masks and social distancing will be in place. Student program participants were tested for COVID prior to the event.
Immediately following Fall Convocation, freshmen will meet on the front lawn to be issued their free laptop computers.
Livingstone announced in May that all incoming freshmen and new transfers who were fully enrolled and registered, completed their 2021 FAFSA, cleared the student health services office and satisfied all related fees will receive the new laptop.
"An area of concern for the college is closing the digital divide," said Livingstone President Dr. Jimmy R. Jenkins, Sr. "We have discovered that as a result of this pandemic, many students do not have the necessary tools to render their matriculation successful. A critical tool is having access to a laptop computer, which is compatible with the upgraded campus network."
Charlotte is the Number 7 football city in America. Really, that's what Apartment Guide found in a recent survey it conducted. They are talking about pro football.
Factors include affordability to live in the city, stadium and stadium access, recent success, Super Bowl victories, fans and ticket affordability.
"…Charlotte has embraced the team like it was a century-old gridiron staple," Apartment Guide said. "The city built what is now the seventh-largest stadium in the league in the heart of Uptown. And in return, the fan base mobilized, ranked in the league's 10 best. That loyalty has been rewarded with seven playoff berths since 2000 and two Super Bowl appearances."
The study notes the Charlotte metro area has grown from about 500,000 people when the Panthers were founded in 1993 to more than 2 million people today.
It's funny that the picture on Apartment Guide's website with the Charlotte information shows a half empty Bank of America Stadium. It must have been taken early in the third quarter when the fans were still stuck at the concession stands or in the bathrooms.
Sorry Packers fans, you only got Number 2 from Apartment Guide. Number 1 was Indianapolis. Cost of living and stadium accessibility appear to be where Indy scores most of its points. Pittsburgh is Number 3.
The worse cities for football are: Los Angeles, Washington, San Francisco and New York. It looks like cost of living and ticket prices got them.
Another successful litter pick-up. E.L.K. (Eliminating Litter in Kannapolis) held another clean-up in the Kannapolis Parkway and N.C. 73/Davidson Highway area Saturday, Sept. 18.
A hearty group of volunteers from Edward Jones picked up litter and debris.
"We got one HUGE pile and another smaller pile of litter off of Kannapolis Parkway and Highway 73," E.L.K. leaer Rita Bliven said.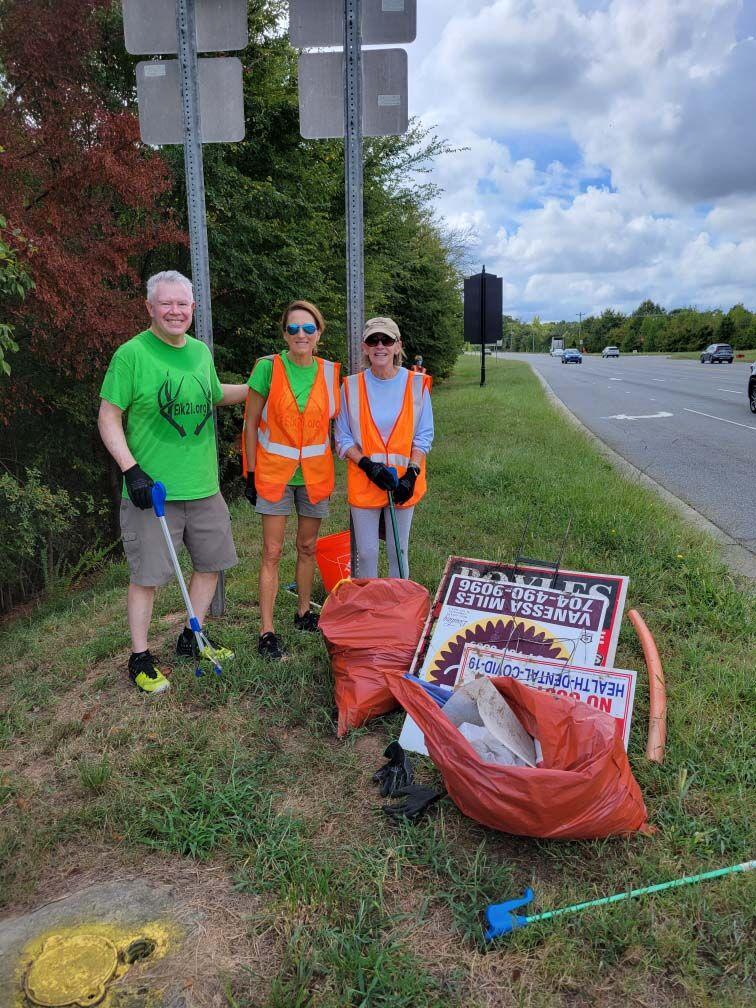 One thing I noticed from the pictures: Signs are turning into litter. Those metal frames/stakes don't hold the signs long and eventually they come loose or bend over.
And real estate agents and Realtors, how about keeping up with your signs? I believe I recognize at least one Allen Tate sign in the pile. Maybe we could get a real estate clean-up day.
Warning! Rabbit hole rant ahead:
There's always a bunch of signs for people wanting to help you sell your home quick for cash.
Don't get me started on the people who want to buy my home – I don't want to sell and I wish these vultures would quit calling, texting and emailing. Now I'm not talking about legitimate real estate professionals. I am talking about every Tom, Dick or Harry who thinks they can be the next TV house flipper. They generally want to lowball you on the value and then do a little work and stick a big wad of cash in their bank account. Another rant for another day – the banks think you are a criminal if someone wants to deposit cash in your account.
Meanwhile back to litter clean-up. The core E.L.K. group will be cleaning up their adopted street West 8th Street from 10 a.m. to noon Saturday. It is also the last day of the NCDOT fall litter sweep campaign.
Saturday, Oct. 2, will be the Brantley Road clean-up co-hosted by New Hope Lutheran Church and Charity Baptist Church.
"All of this is possible because of our hardworking volunteers, our partnership with the City of Kannapolis, Margaret Young, and the NCDOT, Nicole Austin, and of course the business and churches who host events. We are extremely grateful to ALL involved," Bliven said.
Another sign in the pile "Jesus Saves" reminds of a question I have for the economists and theologians in the audience: If Jesus saves, does that mean that the devil spends?