Early, in-person voting officially got underway Thursday morning at four sites across Cabarrus County. People have been voting by absentee ballot since Sept. 4.
It's all leading up to the Nov. 3 official Election Day.
No. 1
Lots of space, lots of voters. Campaign workers told us there were long lines early Thursday. I went out to Northern Plaza in the early afternoon and the parking lot was full but there was not a line. I haven't seen that parking lot that full since Bi-lo grocery store was there. That's been a long time ago.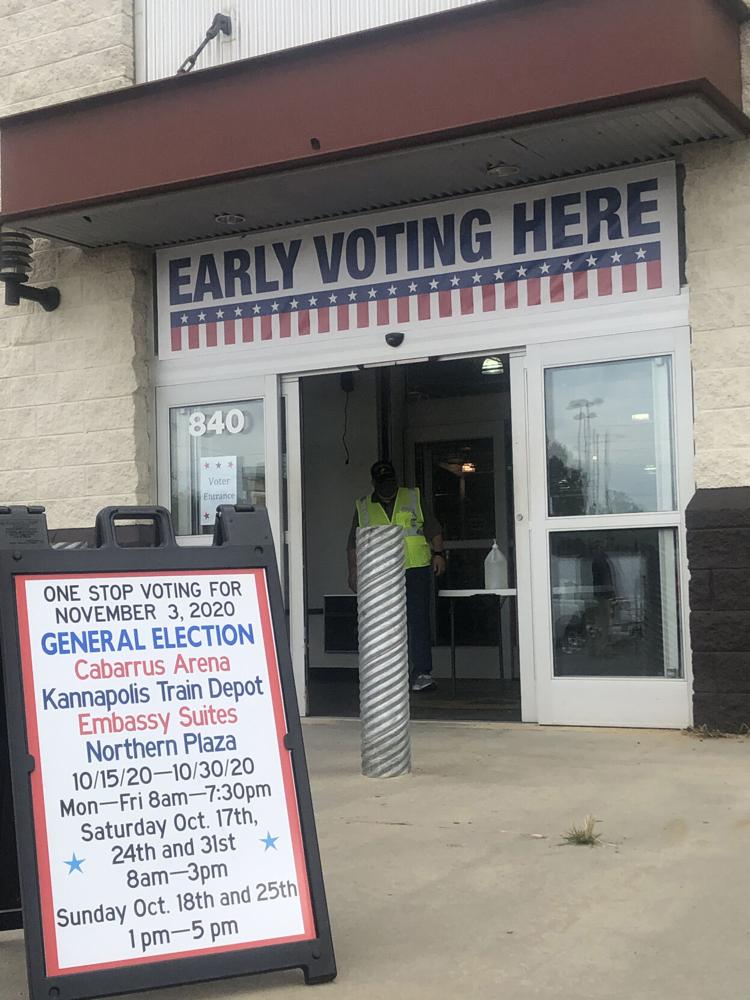 Here are the early voting sites and hours for voting:
Cabarrus Arena & Events Center: 4751 N.C. 49, Concord.
Embassy Suites: 5400 John Q. Hammons Drive NW, Concord.
Kannapolis Train Station: 201 S. Main St., Kannapolis.
Northern Plaza (old Northern Tool): 840 Concord Parkway N., Concord.
Voters can request an absentee ballot online through the state's Absentee Ballot Request Portal, https://votebymail.ncsbe.gov, or by calling the Cabarrus County Board of Elections at 704-920-2860.
The hours are: Mondays through Fridays, 8 a.m. to 7:30 p.m.; Saturdays, 8 a.m. to 3 p.m.; Sundays, 1-5 p.m. The last day for early voting is Oct. 31. Spooky huh?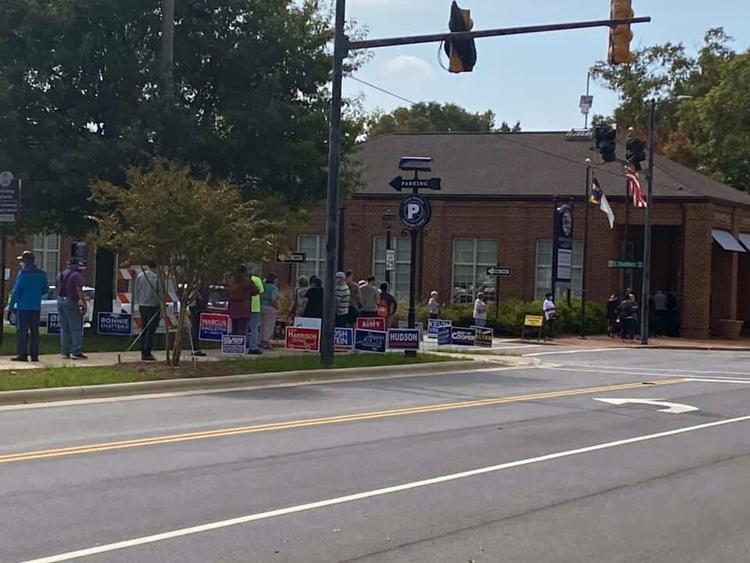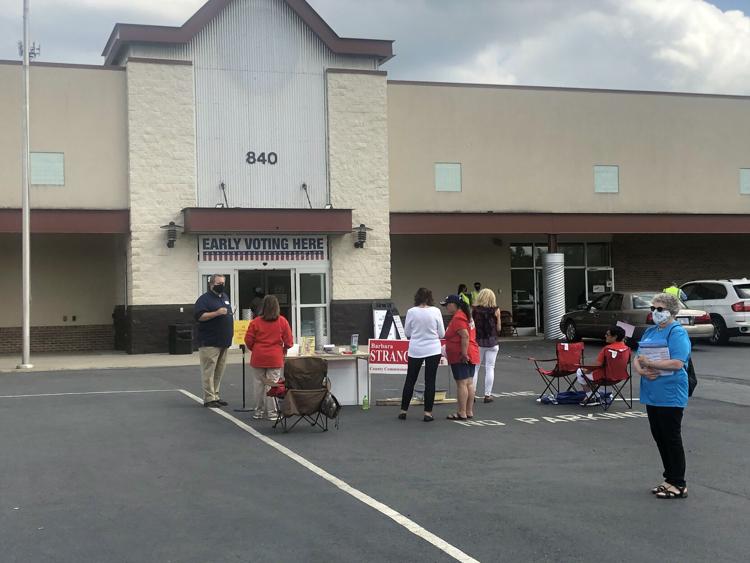 No. 2
The unaffiliated voters will decide many races. An angry new subscriber, Mike Davis, claimed that the Independent Tribune is 80 percent Democrat and 20 percent Republican and that we were trying to be the New York Times or the Washington Post. I would have fell out of my chair laughing if that didn't make me so mad.
Mr. Davis said we should do more Republican stuff and he particularly complained about the Cabarrus County School Board story about a member using the "R-word" and this week's Harrisburg Town Council story about "code words" and "redshirts." Both those political bodies are non-partisan.
One figure that he used jumped out at me — 57 percent of Cabarrus County voters are registered as Republican. I need my game show buzzer — aaaaakkk — wrong.
According to a report on the Cabarrus County Board of Elections website (dated Oct. 8), this is the breakdown: 34.9 percent Republican (51,454); 34.6 percent unaffiliated (50,890); 29.7 percent Democrat (43,765); and less than one percent Libertarian (1,051).
In the partisan races, the difference will likely be which candidate is picked by those unaffiliated voters. In recent history, those folks have gone largely to the GOP. It will be interesting see how it shakes out this time.
I did find out one detail about absentee ballots: the date on the website shown as date mailed is the date the mailing label was created. It is possible that the ballot didn't hit the post office for a couple of days after that.
No. 3
I used to love politics. My parents and grandparents taught my brother Luke and me that it was important vote and to be active in the community. I can remember going to precinct meetings as a small child. Nobody was shouting or calling each other names.
I went to Board of Elections on my 18th birthday to register to vote and when I got a job at The Concord Tribune back in December, 1983, I got to see politics up close. I was in hog heaven.
One of the first big interviews I got was with Lt. Gov. Jimmy Green, who was running for Governor. It was after he spoke at the weekly Cabarrus County Democratic luncheon at the Holiday Inn in Concord. It's called something else now.
Mr. Green was shaking so bad that he knocked the fire off his cigarette. That was back when people could smoke indoors. He later was charged with tax evasion after a federal investigation into his tobacco warehouse burning down East.
No. 4
Little name dropping. Through this job I've met dozens of politicians, big names like Sen. Jesse Helms, Pat Buchanan, Sen. Terry Sanford, Gov. Jim Hunt, Gov. Jim Martin, Congressman Robin Hayes (in some trouble now). I've seen President George Bush (the first), President George W. Bush and President Bill Clinton all in person. I shook hands with Clinton. My daughter, Jordan, shook hands with George W. twice when he came to Concord Middle School. I saw President Donald Trump before he was President, back when he was calling an opponent "Lying" Ted Cruz. Now they're big buddies.
I could keep listing names - Bill Hefner, Larry Kissell, Zeno Ponder, and don't let me forget current Congressman Richard Hudson. Some of you might not know Zeno Ponder. He was on the N.C. Board of Transportation and a close ally of long-time N.C. Speaker of the House Liston Ramsey, from tiny Marshal, N.C. In the late 1970s and early 1980s the pair were among the most powerful men in North Carolina. Western Carolina University's basketball arena is named for Ramsey.
My daddy, Wiley, knew Zeno's brother, E.Y. Ponder, who was Sheriff of Madison County. One day we got home from school and mom and dad loaded us up in the car and we headed off to Hot Springs Mountain. E.Y. had called daddy and told him we ought to come and see the still they had found before it was destroyed.
No. 5
It turned hateful. I don't remember exactly when I started hating politics. Probably after Facebook, the Internet and social media started to make lies acceptable. If you repeat the lie often enough it becomes the truth.
It was probably sometime when big corporate money dumped millions into campaigns and into their own propaganda to fill the air waves – mostly on TV.
Even before then Helms and talk radio's Rush Limbaugh had made it okay to be hateful over the airwaves to your opponent. Helms transformed politics. He repeated the attack ads like one ever had. I still remember: "Jim Hunt – a Mondale liberal."
It's funny because in person, one on one, Jesse Helms was one of the nicest people you could meet. I got a tour of his office once with Cabarrus County Commissioners Jeff Barnhart and Arne Fennel. He posed for pictures with us. Doug Marlette of The Charlotte Observer used to draw lots of cartoons about "Senator No" as Helms became known. Helms had many of them enlarged and framed on his walls. He had a giant "NO" rubber stamp on his desk.
Everything is mean now. I don't like it. In fact I'm sick of it. I'll be glad when the election is over.
Please vote if you haven't already. And if you can sort through all the lies and other crap to pick good representatives.
Get local news delivered to your inbox!
Subscribe to our Daily Headlines newsletter.