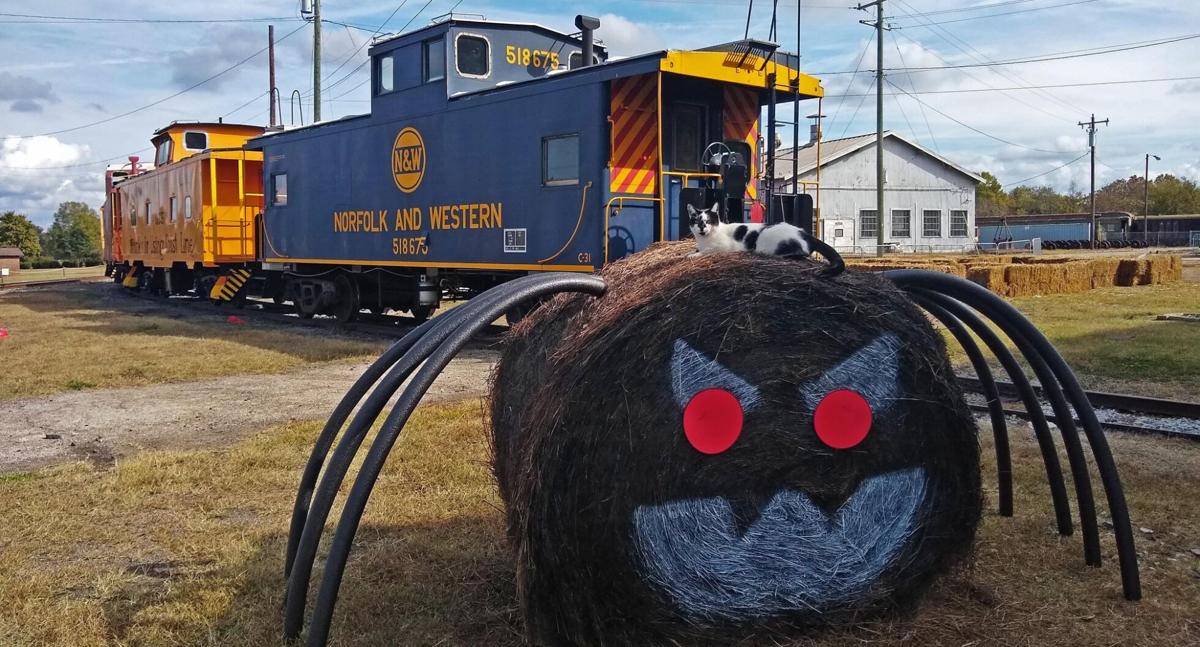 The N.C. Transportation Museum is hosting some seasonal fun this fall, with a Halloween train rolling around the historic grounds for the remainder of this weekend and next weekend. The Halloween Train will be offered today, Oct. 25, and again Halloween weekend, Oct. 30-31. The best part is that it is all being offered at the museum's regular admission rates.
Kids and adults are encouraged to get into the spirit, with Halloween costumes welcome on both weekends. The train ride will be decorated for Halloween, with music to match. Each child will receive a ticket for a Halloween treat bag.
The museum is committed to making your Halloween Train ride a fun and safe experience. Train cars will be limited to 30% capacity, and cars will be sanitized between each ride, including seats, windows and handrails. Passengers will board their car through one vestibule door and exit on the opposite side, to limit or eliminate contact between passengers. Cloth face masks are required.
There will be much more to enjoy after the train ride. Hayrides will be offered from 10 a.m. to 4 p.m. next Friday and Saturday, and on Sunday from 12:30 to 4 p.m. The hayrides will offered at a limited capacity to allow for social distancing.
As you tour the museum, kids will enjoy a Halloween scavenger hunt that will have them searching for pumpkins, skeletons and tombstones. Museum buildings are open at 50% capacity, allowing families to enjoy all of the museum's regular exhibits, plus temporary exhibits like "Blackbeard's Queen Anne's Revenge" and "Navigating Jim Crow: The Green Book and Oasis Spaces in North Carolina."
The Scarecrow Stroll is also being offered at the museum, featuring more than 25 scarecrows across the museum's 60-acre grounds in Spencer, decorated by local businesses, civic groups, community organizations, colleges and individuals. It is yet another fun addition to your visit at no extra charge.
Admission only is $6 for adults, $5 for seniors and military and $4 for children ages 3-12. Admission including the on-site train ride is $12 for adults, $10 for seniors and military and $8 for children 3-12. Ages 2 and younger are admitted free. Due to capacity limitations, visitors are strongly encouraged to purchase tickets in advance.
The museum offers online, contact-free ticket purchase at www.nctrans.org. Tickets can also be purchased on-site at the Barber Junction Visitor Center, where social distancing markers and plexiglass shields will separate staffers from visitors.
Turntable rides can also be purchased upon arrival for $1 per person, ages 3 and up.
The N.C. Transportation Museum, located in historic Spencer Shops, the former Southern Railway steam locomotive repair facility, is just five minutes off Interstate 85 at Exit 79 in Spencer and about an hour from Charlotte, Greensboro or Winston-Salem. The museum is home to the largest remaining operational roundhouse in North America, and numerous structures that represent what was once Southern Railway's largest steam locomotive repair facility in the southeast. The museum is part of the Division of Historic Sites and the N.C. Department of Natural and Cultural Resources. Learn more at www.nctrans.org.
Get local news delivered to your inbox!
Subscribe to our Daily Headlines newsletter.