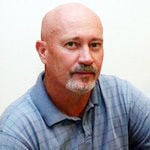 During a Sunday morning broadcast of the "Today" show after President Donald Trump's rally in Oklahoma last week, NBC reporters spent four minutes gleefully reporting how the arena was not filled to capacity. It doesn't require a large investment of time to see the obvious bias at that network. Notice, for example, the obvious contempt NBC reporters use when asking questions at a Trump news conference. A few decades ago, CBS, during the Dan Rather era, was known for its blatant bias in reporting the news. NBC regularly sets a new standard.
Even with his obvious personality flaws, President Trump is far and away a better choice than Joe Biden to lead the country.
Speaking of NBC bias, Chuck "Chucklehead" Todd, quite possibly the biggest buffoon on television, was speaking on Sunday about what a second Trump term would look like. That message, he maintained, has not been articulated by the Trump campaign. How about a campaign with demonstrated finesse handling the economy, a campaign with strong regard for the military, and one with respect for law and order? The values that resonate with much of America, in other words.
By the way, Chucklehead, here's what a Biden presidency would look like. The economy would take a gut punch — over and above the setback wrought by the coronavirus — and businesses large and small would be stymied. Plus, the middle class would get soaked with higher taxes to fund a federal government spreading like cancer. And a general malaise would envelop the country, much like when Jimmy Carter was president.
Television reporters standing in front of cameras wearing masks look foolish, and that's being kind. It is no more than a stupid, pointless display of social consciousness.
Whenever I see a typical NBC newscast — particularly on Sunday morning — I have to remind myself that I'm not watching an episode of "Saturday Night Live." The line between satire and news reporting gets murky on that network. Having said that, Lester Holt is an excellent newscaster, one who doesn't wear his opinions on his sleeve.
My wife and I are beginning our 16th month of an extended spring cleaning at the Cothren home. Nineteen years at one location generates a lot of "artifacts," especially for a pack rat. I dug into one box of old newspapers and magazines and uncovered a photo card autographed by Richard Petty in 1971. The card, given to me by my brother-in-law, was from an appearance by "The King" at a Ray's Kingburger in North Wilkesboro. Ray's was a regional fast-food joint, and Petty was a spokesperson for the Mount Airy-based chain.
There is probably little value to the card, other than the sentimental value for someone who was quite the NASCAR fan in the 1970s. There are, no doubt, many collectibles bearing Petty's autograph, as he was known to stand for hours and greet fans. More than any single person, The King was responsible for the success of NASCAR. He was, and remains, a true Southern gentleman.
The autograph card led me to recall a story that epitomized Petty's nature. Brad Daugherty, a former standout basketball player at UNC who spent eight seasons in the NBA, wore No. 43 in high school and the pros in honor of Petty. Daugherty told Sports Illustrated in 2007 that he didn't wear the number at UNC because he lost a coin flip with his UNC roommate, who wore the number.
Daugherty said that when he was a youngster, he met Petty at Daytona and the two spent time talking, leaving an impression that Daugherty, who is Black, never forgot.
We could all stand to be more like Petty — and Daugherty.
I've often wondered in recent years what Thomas Sowell would have to say about this or that issue in society. Sowell, one of the clearest and deepest conservative thinkers of the last 100 years, retired in late 2016 from writing a weekly column. I've mentioned Sowell frequently in this space, and he remains my favorite columnist.
Fortunately, he has an active Twitter account.
Below, I've selected six of his recent tweets that succinctly capture the madness that our country is experiencing. The date of each tweet is listed as well.
First, however, it's important to note that Thomas Sowell is a Black man. That makes not one whit of difference to me, but it may be useful information to prevent a knee-jerk reaction from those who continually sniff around looking to make trouble because of perceived racism.
June 4: "If you have always believed that everyone should play by the same rules and be judged by the same standards, that would have gotten you labeled a radical 60 years ago, a liberal 30 years ago and a racist today."
June 11: "Have we reached the ultimate stage of absurdity where some people are held responsible for things that happened before they were born, while other people are not held responsible for what they themselves are doing today?"
June 17: "If you were to give reparations to everyone whose ancestors had been slaves, I suspect that you would have to give reparations to more than half the entire population of the globe. Slavery was not confined to one set of races."
June 17: "If you want to see the poor remain poor, generation after generation, just keep the standards low in their schools and make excuses for their academic shortcomings and personal misbehavior. But please don't congratulate yourself on your compassion."
June 19: "The principal impetus for the abolition of slavery came first from very conservative religious activists — people who would today be called 'the religious right.' Clearly, this story is not 'politically correct' in today's terms. Hence it is ignored, as if it never happened."
June 21: "Our children and grandchildren may yet curse the day we began hyping race and ethnicity. There are countries where that has led to slaughters in the streets, but you cannot name a country where it has led to greater harmony."
Get Government & Politics updates in your inbox!
Stay up-to-date on the latest in local and national government and political topics with our newsletter.