I have been communicating with Mr. Alex Porter, who is the Chair, Preservation Committee, Historical Cabarrus Association, Inc.
I have sent him some old pictures of Oaklawn taken in 1942. I will include them with my article this week.
I have been trying to remember some interesting things to share with you readers about Oaklawn.
Oaklawn was also once a way station between Charlotte and Salisbury and this made me wonder if the travelers were going to visit relatives for Thanksgiving? I would like to think that they were and stopped at Oaklawn for a rest for the horses as well as themselves. The huge Oak trees that were there as I was growing up, probably provided them shade as they rested.
Oaklawn has many interesting features and one is the handrail going upstairs. This was made from one piece of wood. I remember sliding down it many times growing up. The doors are also called Bible and Cross doors and when you look at them you can see the open Bible with the Cross in the center.
I remember the doors had layers of paint on them and my Mother and Daddy had them, stripped down to the beautiful Oak wood that is there today. The back door was in very bad condition and could not be restored. The door at the back of the house came from Odell School when it was being remodeled. It is an oak door and is very heavy, but it also has a lot of history to tell.
If the old walls in the house could talk, what a wonderful story they could tell us. The walls are plaster with horsehair mixed in the plaster. I remember when some of the walls were redone, we found slats spaced about an inch apart and the plaster was applied to these slats and left to harden to make a wall.
I have done some research on what we called slats are Laths and are spaced about an inch apart, the plaster was made of lime, sand, and mixed with either Ox hair or Horse hair. Ox hair is stronger, but horse hair is longer and this is why they were mixed.
I was thinking of the long wooden front porch, where I used to play with my toys and also the animals. I remember that there were splinters and I had to be careful and could not scoot across the floor.
I remember having two cats that I would hitch to a small cardboard box and get them to pull it across the porch. I also remember many hot summer nights that Daddy and I would make a pallet out of quilts and sleep out there where it was cooler. I have told you before that my Mother would not sleep on the porch.
Those wonderful memories will always be in my heart and my Grandsons love for me to tell them some of my tales.
My Colonial Dames Chapter Fort San Juan met via Zoom and our program was on the Mayflower and included this Thanksgiving Prayer by William Bradford, Plimoth, 1621
(note the spelling during those times of Plymouth)
"Oh give thanks unto the Lord; sing unto Him; sing praises unto Him, for the precious things of heaven, for the dew, and for the deep that couches beneath, and for the precious fruits brought forth from the sun, and for the precious things put forth by the moon, and for the chief things of the ancient mountains, and for the precious things of the everlasting hills, and for the precious things of the earth and its fullness. Let everything that has breath praise the Lord, Praise ye the Lord."
The Virus is spreading everywhere, my Grandson and family all have been very sick with this horrible disease.
When you readers and your family have your Thanksgiving next week, please be safe and very cautious.
I am including a photo of Oaklawn taken in 1942, which will give you an idea of just how the original Oaklawn looked about four years after my parents purchased the land.
Thank God every day that we live in this wonderful country and have the freedom that so many of our forefathers fought to preserve. Be safe and God bless.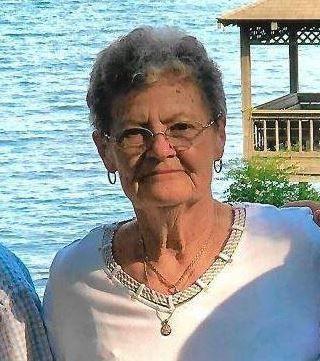 Bobbie Cannon Motley's family lived at Oaklawn, in the Cannon Crossroads community, for generations. These are memories of days gone by, before all the development in western Cabarrus County.