I heard it thunder on Thursday, Feb. 11, and according to folk lore it should snow in seven days. I am anxious to see if this will come to pass.
Thank you to all the readers that have called about the photo in last week's paper of our fourth grade class. We have been able to identify almost all of the group. The other teacher is Mrs. Swaringen.
We also discussed the fact that our clothes were our best school clothes, but not our Sunday clothes. I was not allowed to wear my Sunday dress or shoes to school. I have also had some readers that told me they had a magnifying glass out trying to find their picture. It is just amazing that some of us have changed so much over the years we do not recognize ourselves and others look just like they did in the 1949 photo.
I have included a photo of our fifth grade class in 1950 and cannot wait to find out how many can be recognized. I also have a photo of Mr. & Mrs. Benson at one of our reunions along with Mrs. Jean Allen, this was taken in 1988.
If I remember correctly our fifth grade teacher was Mrs. Lillian Benson, who lived near Odell and would walk to the school every day that weather permitted. I for one just loved Mrs. Benson and her values that she taught.
Valentine's Day was Sunday and I did some research to find out how this was started. It goes back many years and was started as fertility celebrations. I will not go into that in this article, but if you are interested just Google.
In 1913 Hallmark Cards of Kansas City, Missouri, began mass producing Valentines and it has been a popular card-giving, and chocolate indulging holiday ever since.
I remember that my Mother would take me to Concord to the five and ten cent store and help me select a package of Valentines. We would always have a decorated valentine box in our classroom. My Mother always made sure that every person in my class got a valentine, including my teacher. It was very important that no one was left out.
I just read the article about the mural in the Concord Library. It just amazes me that I have lived in Cabarrus County almost all of my life and have never seen this mural. How in the world does someone start such an uproar over a mural? In my opinion they have too much idle time on their hands that could be put to much better use, such as helping feed the folks that are out of work, helping with furnishing warm clothes for the Winter. I could go on and on about more important things to be concerned about than the mural.
My Great-Grandfather was captured by the Yankee soldiers and put in Fort Delaware where he died. I just wonder if I need to start a campaign to have this part of history erased?
Andersonville, Georgia is where the Yankee soldiers were held. Should it also be erased from our history?
Both the North and the South lost many loved ones during a war that we read about in our History books. This does not change the fact that it is HISTORY and should not be erased. We are still ALL Americans and have the right to have our opinions and heritage. This is the reason all the wars have been fought to give us FREEDOM.
I will get off my soap box and write about more pleasant things in my life. I received a wonderful Valentine from Mrs. Brown, who told me she enjoyed the article about doodle bugs and how this brought back wonderful memories of her childhood.
I for one cannot wait to show my Great Grandson "G" how to take a stick and hunt for doodle bugs this summer. Take a moment and show the younger generation how much fun we had doing these things.
Hope all you readers are doing well. Be safe and God bless.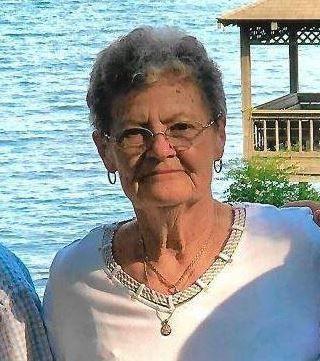 Bobbie Cannon Motley's family lived at Oaklawn, in the Cannon Crossroads community, for generations. These are memories of days gone by, before all the development in western Cabarrus County.