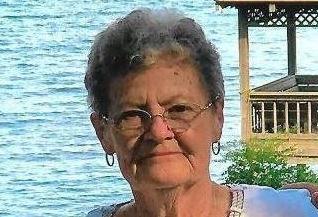 When I was about 8 years old, my daddy was taken to court for stealing his own cow.
I remember Daddy and Mother talking about the summons he had gotten to appear in court for cow theft. I was so scared that Daddy was going to jail and remember crying, and Daddy trying to tell me everything was going to be fine.
This all started when Daddy bought a cow at Godley's sale barn in Charlotte. He hauled the cow home and put her in a stable. She was kept confined for a few days, and Daddy let her out in the pasture with the other cows. She still had the sale barn sticker on her hip.
That cow was so wild she jumped the fence and headed down the road. Daddy jumped in his truck and headed her off, and she jumped back into the pasture. She stayed there for a few days and then disappeared.
Daddy and the farm hands hunted for her everywhere and finally found her in Mr. Street's pasture about a mile from the house. They got ropes and finally caught her and loaded her in a trailer and brought her home.
Daddy was served a summons to appear in court for stealing Mr. Street's cow. He was to contact a lawyer by the name of Llewellyn to either pay for the cow or go to court.
Daddy said he was not going to pay for his own cow again and hired a cousin of ours that was an attorney named Hugh McAuley. Cousin Hugh, as we called him, was a very prominent attorney in Mecklenburg County. Daddy always said that he could curse in court and get away with doing this.
They set a court date and Daddy and cousin Hugh appeared with the Godley brothers who would testify that Daddy had bought this cow and gave proof of the sale ticket and number along with the date.
I do not remember who was the judge, but he weighed all the evidence in daddy's favor and issued a ruling that the cow was indeed my daddy's cow. On top of that, the judge made Mr. Street sign a peace bond, never to say anything bad about my daddy.
This would have been around 1948, and I wonder if there are still such things as peace bonds existing today.
The Fourth of July will be on Saturday, and when I was growing up, Daddy always wanted to go to the Catawba River (now Lake Norman) and camp.
I remember going to an area that had huge rocks across the river, and we could walk on the rocks for a long way.
Daddy did not swim, but would hold my hand, and we would go across the river. My mother was not fond of all this camping as she had to cook on an open fire. We had no place to use the restroom except for a bucket in the tent. Daddy always managed to have firecrackers and sparklers to celebrate. I remember burning my hand with a sparkler that was still hot. I learned not to touch them the hard way.
I would ask all you readers to say a prayer for our leaders and our country before it is destroyed.
The Declaration of Independence was signed July 4, 1776, and this was the birth of the United States of America as an independent nation.
I wonder what our ancestors would think of our nation during these times?
I would also like to end with this article that I received from a friend. It says everything that needs to be said in these trying times.
"History is not there for you to like or dislike. It is there for you to learn from it. And if this offends you, even better, because then you are less likely to repeat it. It is not yours to erase, it belongs to all of us."
God bless America, land of the free.
Bobbie Cannon Motley's family has lived at Oaklawn, in the Cannon Crossroads community, for generations. These are memories of days gone by, before all the development in western Cabarrus County.
Get local news delivered to your inbox!
Subscribe to our Daily Headlines newsletter.