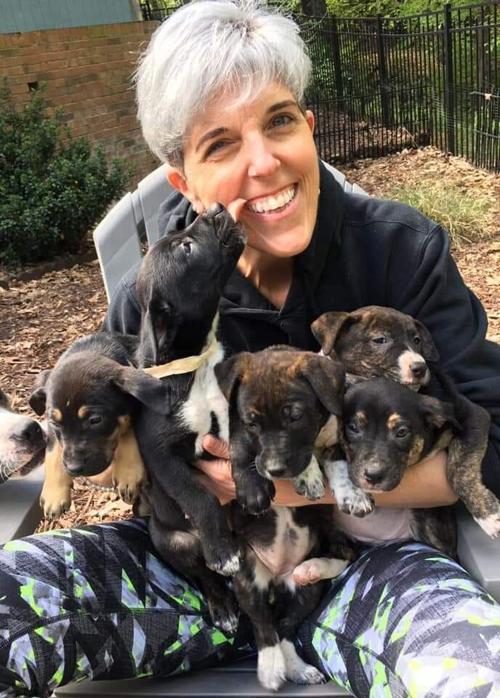 CONCORD — The Cabarrus Pets Society lost its beloved president, Judy Poler, due to a house fire that occurred Tuesday morning. Friends stated that Poler fought during the fire to get her foster animals out of the home.
Nancy Payne, a member of the pets society, stated in an email Tuesday that Poler dedicated her life to helping others.
"Cabarrus Pets Society suffered an enormous loss today. Our president, Judy Poler, lost her life after a house fire destroyed her home in the early morning hours. She fought to get all her personal pets and the fosters out of the home."
The email continued: "She was an angel sent from God, and she was always helping others. The rescue world will not be the same without her."
The fire broke out at the Poler home on Forestcliff Court in Concord early Tuesday.
Concord firefighters arrived at the home around 4:20 a.m. and found the home engulfed in flames.
Poler's husband was treated on scene for smoke inhalation and taken to a local hospital. It was announced on the Cabarrus Pets Society Facebook page on Wednesday that he was safe and out of the hospital.
The Cabarrus Pet Society is foster-home-based and runs completely off of volunteers. When Poler went to retrieve her animals from the fire, that included her foster animals. According to the society's Facebook page, only one animal needed veterinary attention but had been released after treatment. The society also updated Wednesday that Poler's animals were being cared for.
After the fire, a post went up on the Cabarrus Pets Society's Facebook page made in part by Poler's husband updating the community on the fire and Poler's condition. At the time, she was at the hospital but not doing well. Several hours later, it was announced on the page that Poler had died due to complications from the fire.
The message read in part: "We are all so very sad. You are so loved and already so missed. Please consider donating to the Go Fund me posted previously. We want to help Judy's grieving family. It doesn't seem real, and yet here we are. Please know that our rescue is going to take the time to grieve and regather. We may be slow to responding to messages and are halting any intake. Thank you."
Comments swarmed in from those in the community and those who knew Poler.
One commenter wrote: "Judy led us to such life-changing blessings. She was a pinnacle of humanity, and we are collectively at a loss for her absence."
Another stated: "This is beyond sad. No matter what kind of day Judy was having, she was always a ray of sunshine. She will be missed by so many."
While Poler had been active in the animal community for years, she was also a nurse in the Atrium Health system for over 20 years. Fellow nurse Trish Baise released a statement through the health care system describing Poler as the "calm in the storm."
"We are extremely saddened by the death of our longtime teammate and friend, Judy Poler," the statement read. "Judy worked at Atrium Health Cabarrus for over 22 years. She was an amazing nurse with the skills and adaptability to work in multiple areas across the hospital. Judy was the 'calm in the storm' who could take on any challenge while remaining positive and supportive of both her patients and teammates. Judy's legacy includes not only the number of patients impacted by the incredible care she provided over the course of her extraordinary career but the exponentially larger number of patients who have been and will be cared for by nurses Judy mentored, trained and influenced." Poler was also active in her church and sang in the choir along with friend Gail Smith-Arrants. Smith-Arrants said she had known Poler for a few years short of a decade and recounted how they often joked about their outfits before heading into the choir and tried to out-do one another in good fun. "She could put together an outfit from a thrift store, and she looked like she was going on a runway," she said. But the biggest thing Smith-Arrants will miss about Poler is her generosity and heart. "She had a very big heart. She was full of life. She just filled the room when she came in there, full of vitality and very vibrant; she was an open and caring person," she said. "She was so generous of her talent and her time and being a friend."
How to help
Abbott's Frozen Custard in Edison Square is helping to collect donations for the pet society as its members grieve the loss of their president and friend. It's at 10070 Edison Square Drive, Ste E-100, Concord, NC 28027.Boxes are set up at Abbott's to collect Fresh Step cat litter, dog food, kitten food and cat food.