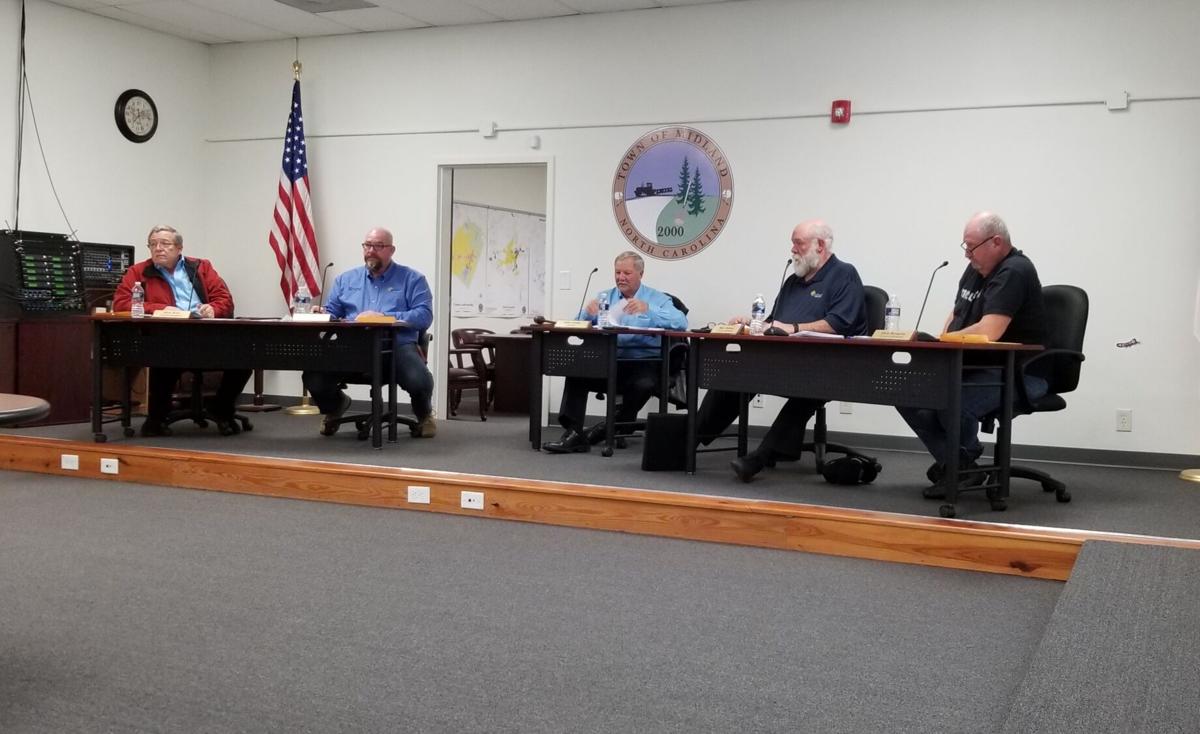 After postponing a vote due to concerns over deed restrictions, the Midland Town Council approved the commercial rezoning of a property off N.C. Highway 24/27, facing Riceland Way.
A petition to rezone a 4.81-acre piece of property at 3311 N.C. Highway 24/27 E. was brought before the Town Council in December to rezone the property from single-family residential to N.C. 24/27 Commercial, but the vote was pushed back to give Planning, Zoning and Subdivision Administrator Kassie Watts an opportunity to look into deed restrictions. 
The town's planning and zoning committee also postponed its vote to recommend rezoning in October for similar concerns. Ultimately, the committee decided in November to recommend rezoning. 
The Midland Town Council approved one rezoning application and tabled another during Tuesday…
A neighboring resident to the property attended the Dec. 8 meeting with documents showing the property was bound by deed restrictions to stay residential. While the town is not required to uphold deed restrictions, Watts said the town tends to keep them in mind when making rezoning decisions.
At the Jan. 12 meeting, Watts brought forward signed documents showing the property was released from its restrictions in 2019.
Several residents off Riceland Way also attended the January meeting, speaking against rezoning the neighboring property. Residents expressed concerns over the road, Riceland Way, which is private and maintained by the residents. Residents said the road is already seeing increased traffic, and they worry a commercial business will add to that traffic. Since the residents maintain the road, more traffic, they said, would be an added expense for upkeep.
The town's planning and zoning committee also postponed its vote to recommend rezoning in October over similar road maintenance concerns. Ultimately, the committee decided in November to recommend rezoning. 
Watts explained that the rezoned lot does have 400 feet of property that faces Riceland Way, but it does not have an access point onto the road. Should the owner want to put an access there, the residents on Riceland Way and the commercial owner will have to come to a legal agreement.
She also stressed that the town would not approve any plans for a secondary access unless there was a legal agreement with the other property owners allowing it. But there may never be a second access point, Watts said. 
"It depends on what the use is there for whether or not they need more than one access," the planning and zoning administrator said. "It is possible that they may not. Certainly, having to improve a private road for a secondary access is something that would discourage someone from wanting access onto Riceland Way because it would not be cheap."
The rezoned property is on a section of Highway 24/27 that may have sewer access in the future, making it a desirable commercial spot. But having only one access onto the highway could limit the type of business  placed there. 
It was also clear that while the residents of Riceland Way had some power in deciding if a second access point was added, the town of Midland did not. Watts said the city needed a legal agreement between all residents. The town could not make that decision. 
"We would not approve a site plan based on a handshake," Watts said. "We would have to have documentation. We don't have the authority. It is not our road."
Neighboring residents also expressed concerns over property devaluation should a business move in. But Watts said she was not aware of any property devaluation and stated that was a question for the county tax office. 
One point brought up during the discussion bothered Mayor Pro-Tem Darren Hartsell. Watts said the property up for rezoning is slated to remain residential under the Future Land Use Plan. 
"What really gets me is the fact that you just said our Future Land Use Plan has already set that aside for residential. And I know we can change that," Hartsell said.
The Town Council has approved rezonings that went against the Future Land Use Plan before, and the council can agree to a rezoning with a statement acknowledging that the rezoning is inconsistent with the land use plan. Watts also pointed out that the property is near other commercially zoned properties, including some that abut Riceland Way residents' properties. 
Before the council voted to approve the rezoning, Council member Rich Wise stated his reasoning for approval. 
"I think the people are very well protected," Wise said about the Riceland Way residents. "They are in full control of what goes in there. We are just giving these people that want to purchase this property an opportunity to maybe put a small business there, such as an office or something like that. Hopefully it will be. But again, I think they are well protected."