A global animal rights group is trying to put a stop to Repticon this weekend in Concord.
World Animal Protection, a global animal welfare organization, released a statement Wednesday asking the Cabarrus Arena & Events Center in Concord to end its relationship with Herpetorama Inc. to put a stop to the show, which takes place this weekend on Saturday and Sunday.
"It's inconceivable that when many states are still seeing increases in the number of COVID-19 cases, Repticon in North Carolina would consider playing host to a live wild animal market," said World Animal Protection U.S. programs director Ben Williamson. "While COVID-19 is believed to have started many thousands of miles away, in Wuhan, China, the conditions of live animals being confined together in close proximity to humans are remarkably similar to those we've investigated at U.S. reptile markets such as Repticon.
"Reptiles are known vectors of zoonotic diseases and the Centers for Disease Control and Prevention holds them responsible for salmonellosis outbreaks every year which hospitalize people. It's entirely plausible that the next pandemic could start at a live wild animal market such as Repticon.
"No amount of hand sanitizer or social distancing is going to make reptile expos safe for humans and animals. It's time to cut its ties with this risky business once and for all."
Kenny Robinson is the general manager for the Cabarrus Arena & Events Center.
He said the venue has taken extra precautions in preparation for the event.
"Repticon submitted a plan, which we put some venue-specific things and forwarded it to the Cabarrus County Emergency Management, and they in turn forwarded it to the Cabarrus Health Alliance for review," he said. "The key points of that plan were that we move them from a 20,000-square foot building to a 70,000-square foot building and didn't let the size of the show change.
"They have to have the same number of vendors, the same number of tables that typically they have in the 20,000-square foot room; we put all of that in the 70,000-square foot room just to spread things out."
Masks will also be required at all times for employees, Repticon vendors and the public. Additionally, Cabarrus Arena & Events Center made the normally eight- to 12-foot aisles into 25-foot aisles to help prevent violations of 6-foot social distancing rules in the state. While doing that, they also have made all aisles one way while limiting the capacity inside the building to 249 people, including vendors and employees.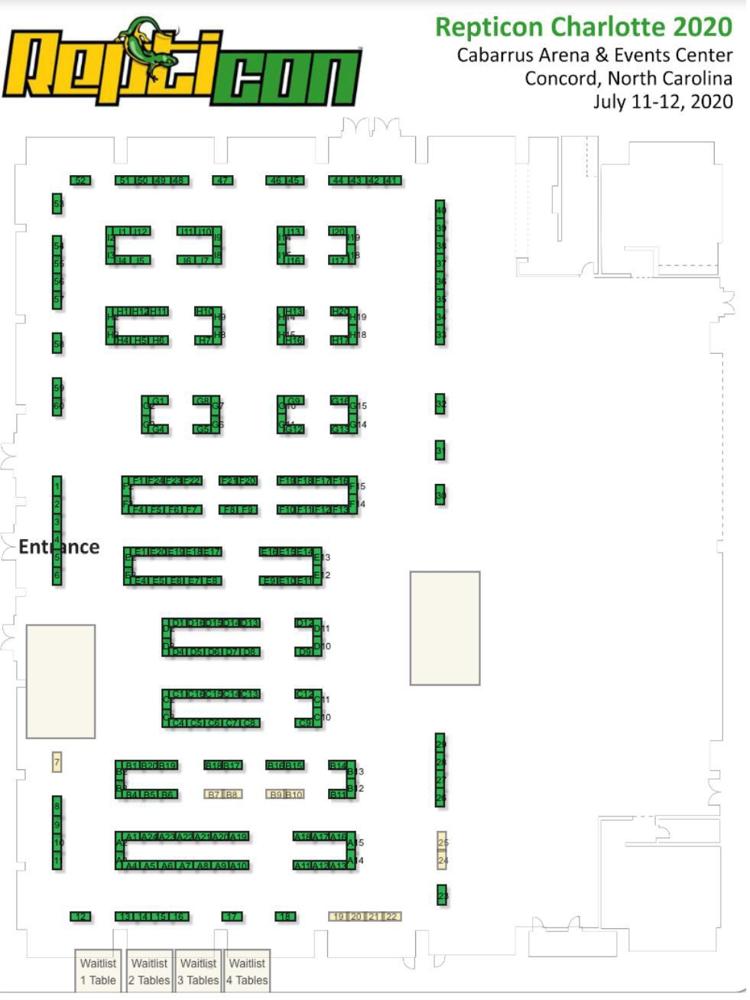 Bathroom stalls and urinals have also been limited to every other stall ,while ticketing has been done entirely digitally to limit person-to-person contact while selling online only. Tickets are sold in time slots from 9-11 a.m., 11:30 a.m. to 1:30 p.m. and 2-4 p.m.
Patrons can only come to the event in their allotted time slot, and there is a mandated 30-minute gap between slots to give venue workers time to clean and sanitize before the next group of ticket holders come in.
The Cabarrus Health Alliance confirmed in an email Thursday that it consulted with the North Carolina Department of Health and Human Services for the event.
Repticon has also worked closely with venues and local health departments regarding whether events should continue.
"Repticon is working diligently with our venue partners and local officials in each event site remaining on our 2020 calendar to determine which scheduled shows may move forward," the company said in a statement on its website.
"This website and Repticon social media will be updated whenever we receive updated information regarding any changes to our show calendar. Thank you for your patience as we all work together to find our way through these unprecedented times."
There will be some limits to what this Repticon show looks like, though. In a traditional event, patrons would be able to see live demonstrations and up-close animal encounters, but these will not be happening this year due to COVID-19 restrictions.
The public will still be able to see live animals in addition to buying supplies they may need for their pets at home.
Repticon will also do temperature checks when people enter the arena, and if a certain threshold is surpassed, that person will not be admitted. Workers will also check to see if a person has been exposed to COVID-19 recently in addition to other screening procedures.
"They're making things as safe as they can," Robinson said. "And if the local emergency management and health alliance folks feel that this is an acceptable plan, then we let them have their show."
Get local news delivered to your inbox!
Subscribe to our Daily Headlines newsletter.