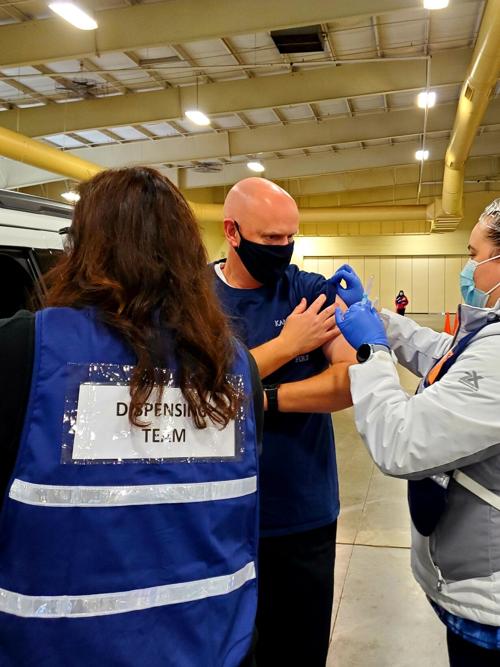 The COVID-19 vaccines are steadily being administered in Cabarrus County to frontline workers and those in group living spaces. Starting today, the vaccine will be administered to those 75 years and older, with drive-thru vaccine clinics available.
So far, the vaccine has been administered to groups like the Cabarrus HealthCare Alliance staffers, Atrium Health employees, and to local EMS and fire departments. The Concord Fire Department started receiving vaccines Dec. 30 in a drive-thru vaccine system conducted by CHA. The Kannapolis Fire Department also had about 20 personnel vaccinated that day.
According to the N.C. Department of Health and Human Services' COVID-19 vaccine data, there have been 762 vaccines administered in the county as of Jan. 5.
75 and older get it now
But starting today, the county will move into Phase 1b, offering vaccines to Group 1, anyone 75 years or older, regardless of health status or living situation. CHA Deputy Public Health Director Erin Shoe said the vaccine is another tool to help fight the pandemic. 
"I have said many times that fighting the COVID-19 pandemic is a marathon, not a sprint," said Shoe. "Starting to administer the vaccine to members of our community, EMS and other medical personnel is just another step forward in this marathon and gives us hope."
Rowan County vaccines
Rowan County will begin administering vaccines to Group 1 of Phase 1b Monday, Jan. 11.  There will be a drive-thru vaccination clinic held at 1935 Jake Alexander Blvd. W., West End Plaza or the old Salisbury Mall. No appointments are necessary, and the clinic will be held Monday through Friday from 9:30 a.m. to 3:30 p.m.
While the vaccine is making its way to more people in Cabarrus County, NCDHHS Secretary Mandy Cohen has stated that there is currently a limited supply, meaning it may take several months for the vaccine to be available to everyone in the state. Those in Phases 3 and 4 may have to wait until the spring to receive vaccinations. 
As the vaccine phases are rolled out, CHA has offered volunteer opportunities to the community to help at future vaccine clinics.
Once NCDHHS allows local health departments to expand to additional phases of community vaccination, CHA will contact and coordinate volunteer opportunities with those who complete an online volunteer survey. Volunteer opportunities will range from assisting with administering the vaccine, to traffic control and forms screening.