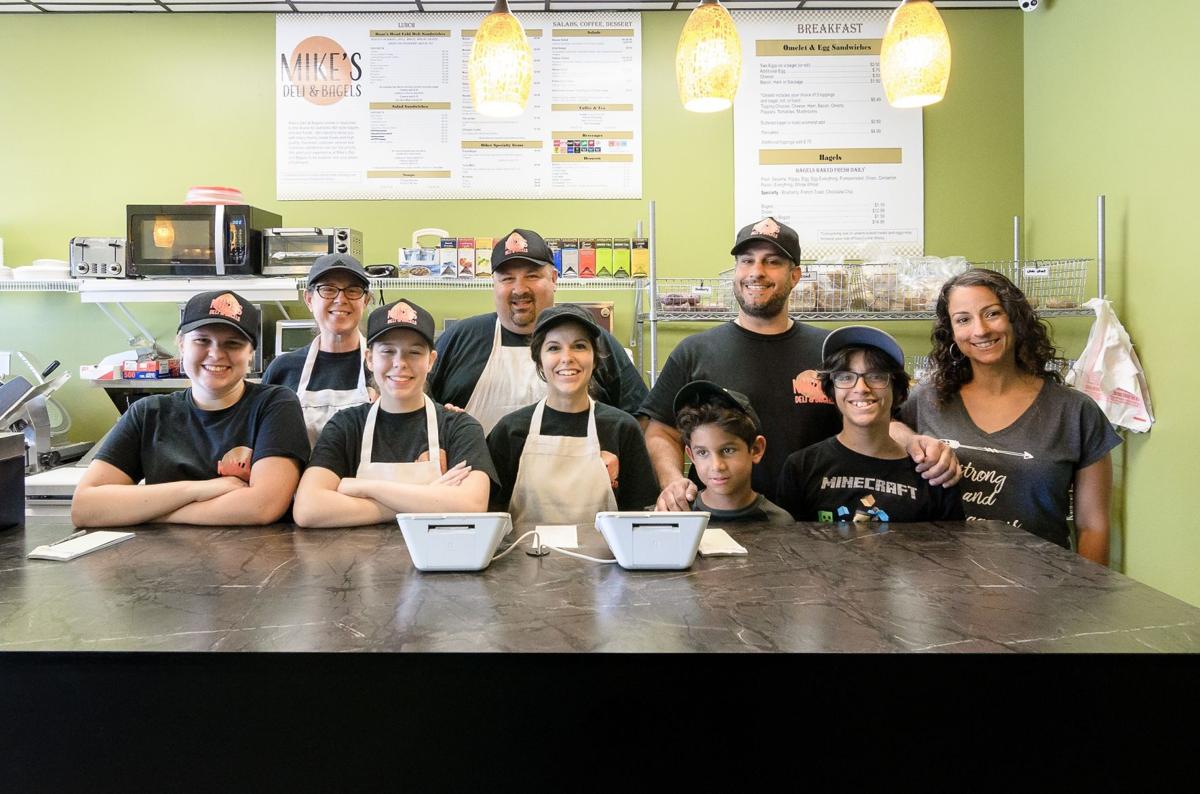 Editor's note: Mike's Deli and Bagels opened recently and were asked a few questions about the new business. If you have a new business email mplemmons@independenttribune.com and we'll send you a questionnaire.
In a couple of paragraphs describe your new business:
Mike's Deli and Bagels is a new restaurant located in the Food Lion Shopping Center at the intersection of Poplar Tent Road and George Liles Parkway in Concord.  The design is based on the bagel stores common to most street corners in New York City.  Mike's offers a wide variety of true New York bagels that are par baked fresh daily. 
Mike's Deli also offers real hero sandwiches that are made to match the fiercest of appetites with Boars Head cold cuts and cheeses because only the best will do.  Guests are invited to choose a specialty sandwich from the menu or design their own.  All sandwiches are served with a pickle and a side salad.  Salad choices include potato, macaroni, carrot, pasta and coleslaw. 
For those who prefer something lighter, Mike's offers a choice of tuna, chicken, or egg salad.  Also served are green salads including Chef, Caesar and Greek. 
Completing the menu are a variety of flavored cream cheeses such as vegetable, strawberry, lox spread, chocolate chip and more.  The pastry case has a slew of muffins, large cookies (Black and White, Chocolate Dipped, etc.), flavored croissants, crumb cakes and Italian cookies which are not commonly found in the Carolinas.
We are working to perfect our style and seek to provide high quality foods for reasonable prices. We intend to grow in our variety as the demand calls for it and we look to implement catering packages soon.
What is your specialty and what sets you apart?
There are 3 Pillars of Mike's Deli and Bagels that set us apart:
Fresh, hot off the griddle breakfasts to go.  Guests can choose bacon, ham, sausage, or pork roll plus eggs and cheese on a bagel or roll, cooked on the griddle which you can take to go in minutes. Also in minutes you can get a substantial and customizable omelet or pancakes and you can be on your way to work again. There really isn't much around that can offer these kinds of breakfasts fresh and on the go.
Sandwiches done right for lunch and completed with a side salad and a pickle. We use Boars Head which of the highest quality cold cuts and we give around a third of a pound of meat on the sandwiches which is also uncommon. There is an art to building a sandwich correctly and we train our staff to slice the meats very thin. This allows for better texture and flavor of the meat in the sandwich. Most of the time our meats will be sliced to order for greater freshness of the meat on the sandwich as well. For Hero sandwiches we slice the bread totally in half therefore allowing proper placement of all the ingredients of the sandwich. This alleviates the struggle of having to bite into different areas of the sandwich to have your tomato taste with your meat and your mayo or mustard together.
Authentic NY Style Bagels that are unmatched in this area. Our bagels come from NY par baked and we finish them off in our ovens therefore bringing actual NY bagels here and they are hot out of the oven. We have a wide variety of bagels as well as rolls, heros and breads (Rye, White and Wheat). We also have a broad selection of desserts from New York. Many pastries familiar to New Yorkers like large Black and White cookies, NY Crumb Cakes, muffins, Rainbow and Italian cookies and flavored croissants are some of our dessert selections.
How and why did you go into business?
Mike was born and raised in Queens, New York City.  He grew up enjoying the fantastic foods of New York, especially the great bagels and real hero sandwiches served on superior breads.  When Mike moved to North Carolina in 2007, he was disappointed because he couldn't find the real bagels and hero sandwiches he was accustomed to in New York.  He also longed for a decent egg sandwich on his way to work, and this led him to realize a need in our area for those foods.
After 18 months of planning, designing and securing financing, Mike's Deli and Bagels was born.  Mike's desire is to serve Concord and the surrounding area with high quality and substantial foods as they are available in New York.
Who are the owners/partners/managers?
Michael Mishkinis the sole owner of Mike's Deli and Bagels. He is married to his beautiful wife Darlene.  They have 5 children and live in Concord. He was a telecommunications technician and then an IT technician for many years. Earlier in life he worked at Bagel Man of Great Neck, NY, which is where the inspiration for this deli was conceived.
Where are you located and how can customers reach you?
Mike's Deli and Bagels is located at 5303 Poplar Tent Rd, in the Food Lion shopping center. Customers can drop by during business hours (Mon-Fri 6-3, Sat-Sun 7-2. The phone number is 704-956-2306.
Be the first to know
Get local news delivered to your inbox!