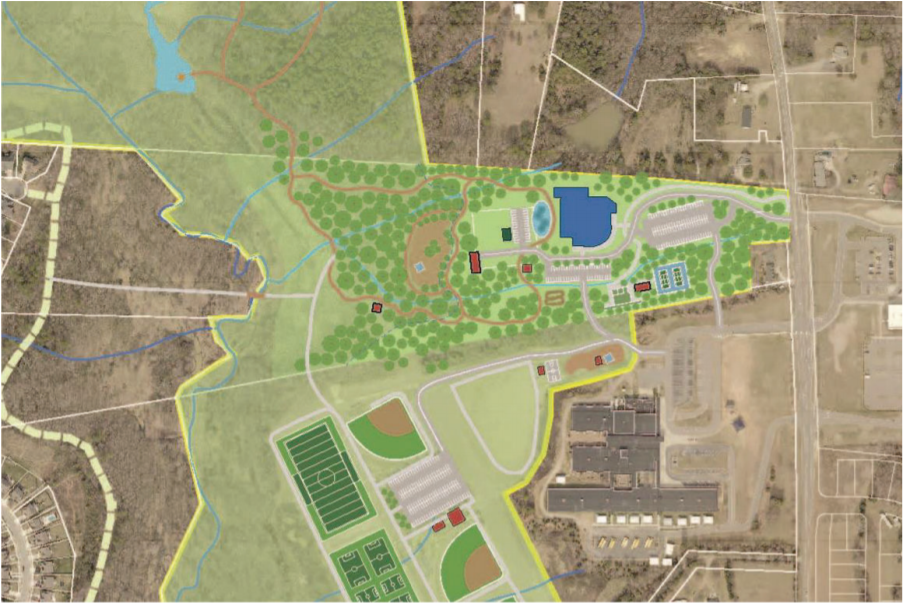 CONCORD – The northwest region of Concord is set to receive its first Community Park after the city council approved the design firm pick for the park's' construction.
The park – which will be located at 1252 Cox Mill Road in Concord – will total about 28.6 acres after completion and will be adjacent to Cox Mill Elementary School. The property was recently purchased by the city to specifically serve as the future site of the first Northwest Concord Community Park, said Concord Parks and Recreation Senior Planner Jason Pauling.
After the city purchased the property, staff sent out requests for quotes in March 2020 to several design firms and 19 responded. The city then conducted virtual interviews with two of the final picks. Staff then chose to recommend the Charlotte-based Woolpert, North Carolina, PLLC as the design firm to create a master plan and conceptual design, Pauling said during his presentation to council.
"After the interviews, we selected Woolpert. They had the highest marks on previous project experience which was the main determining factor in choosing them," he said.
Woolpert has designed several parks in the surrounding area, including Manchester Meadows Soccer Complex in Rock Hill, S.C.
During the design phase, Woolpert will seek community input on the plans for the park, Pauling said. Concord Councilman Brian King said he was glad the park project was moving forward, but he emphasized that more was needed in the Northwest region. But to start, he wanted to ensure resident's opinions were heard.
"I just hope we get a really good, diverse input from that side of town," he said.
While stating his support for the park, he assured residents that more would be coming for the area.
The contract between Woolpert and the city is for $83,820. This will include meetings with stakeholders, public workshops and public participation including a needs assessment survey, master planning, conceptual design, and other reimbursable expenses. The design firm will give a presentation to the council once the master plan document is complete.
Funding for the master plan was identified and budgeted in the fiscal year 2020-2021 budget. The city has stated that the development of a park in the Northwest region of Concord is a city council goal. The public will have opportunities to give their input on the project this August and September
Pauling also said that the Northwest Park project is a top priority goal of the Comprehensive Parks and Recreation Master Plan.
Amenities in this park may include:
• courts for tennis pickleball, etc.
• greenways and/or trails for connectivity
Be the first to know
Get local news delivered to your inbox!