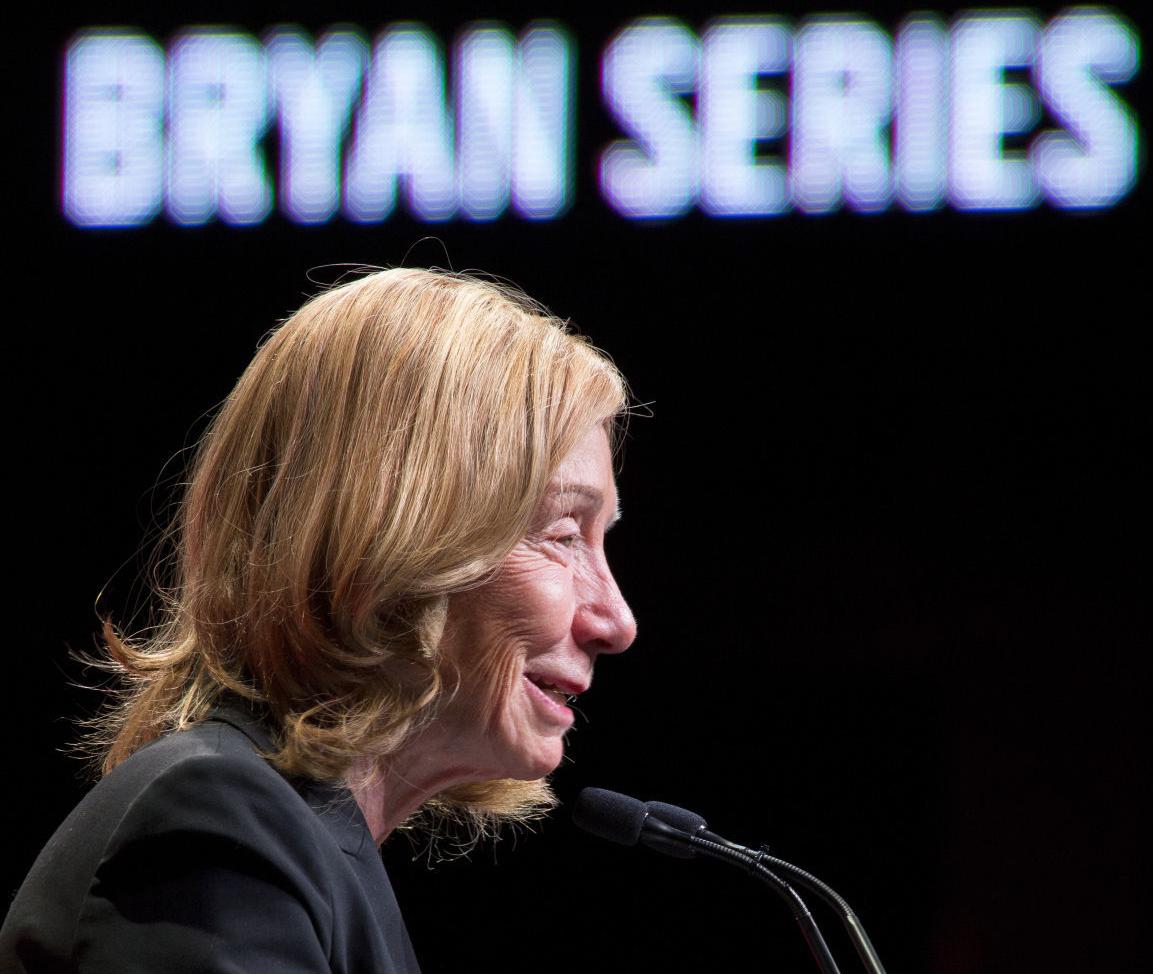 The 2020-21 season lineup announced Thursday includes former British prime minister Theresa May, political pollster Harrison Hickman, nature photographer Paul Nicklen and foreign affairs expert Ian Bremmer. 
The Bryan Series also confirmed that it has rescheduled appearances by actress Sally Field and author Colson Whitehead. Both events were to be held earlier this spring but were postponed because of COVID-19.
The Guilford College lecture series will move into a new home this season: the Steven Tanger Center for the Performing Arts. The March opening of the new downtown Greensboro venue was delayed due to coronavirus and a statewide ban on large gatherings.
Also during its 2020-21 season, some Bryan Series events will be held virtually for the first time. In addition to the three in-person and one online events listed below, the Bryan Series is planning to add at least one and perhaps two virtual lectures in the fall.
Here's the lineup for the 2020-21 Bryan Series season:
Sept. 17: Political pollster Harrison Hickman will appear online to talk about North Carolina's role in the presidential election. He is the founder of Hickman Analytics, a public opinion research and consulting firm. He was the presidential campaign pollster for Democrats John Edwards, Al Gore and John Kerry, and for two decades was the principal election night consultant for CBS. He's a 1975 graduate of Guilford College.
Jan 14: Foreign affairs expert Ian Bremmer will speak on global matters at the Tanger Center. He's a foreign affairs columnist and editor-at-large for Time magazine and president and founder of Eurasia Group, a global political risk research and consulting firm. His latest book is "Us vs. Them: The Failure of Globalism" (2018).
Feb. 16: Photographer, filmmaker, and marine biologist Paul Nicklen will speak at the Tanger Center. He's a contributing photographer to National Geographic magazine who has won numerous awards for his work. A specialist in polar photography, Nicklen is co-founder of SeaLegacy, a nonprofit that works to conserve the world's oceans.
March 18: Theresa May served as prime minister of the United Kingdom and led the Conservative Party from 2016 to 2019. She was only the second woman, after Margaret Thatcher, to hold that position. A former Home Secretary, one of the most senior posts in the British government, May is currently a member of the House of Commons. She'll speak at the Tanger Center.
These four scheduled events — plus additional virtual events — will make up the 2020-21 season ticket package. Current Bryan Series subscribers can renew beginning Wednesday. New season subscriptions will go on sale in July. Ticket information and more details are online at www.guilford.edu/bryanseries.
Two Bryan Series events postponed from the 2019-20 season have been rescheduled and will be held in-person in the Tanger Center.
Oscar-winning actress Sally Field ("Norma Rae," "Places in the Heart," "Lincoln" and others) will speak Feb. 2. Two-time Pulitzer Prize winning novelist Colson Whitehead ("The Underground Railroad," "The Nickel Boys") will speak April 12.
Those two events are open to 2019-20 season subscribers and anyone who previously bought tickets for those specific dates. Field's lecture was sold out before it was postponed, and only a handful of tickets remained for Whitehead's previously scheduled appearance.
Contact John Newsom at (336) 373-7312 and follow @JohnNewsomNR on Twitter.​
Be the first to know
Get local news delivered to your inbox!