Maria Isabel Albarran-Hernandez beamed with pride as she walked to the front of a classroom at Fred L. Wilson Elementary School to get her certificate. She squeezed her two sons with her certificate in hand; a certificate that says she's learning to speak English.
Fred L. Wilson, Rowan-Cabarrus Community College and Kannapolis City Schools celebrated the first seven graduates of a new partnership helping district parents to learn to speak English at the school on Thursday, June 6.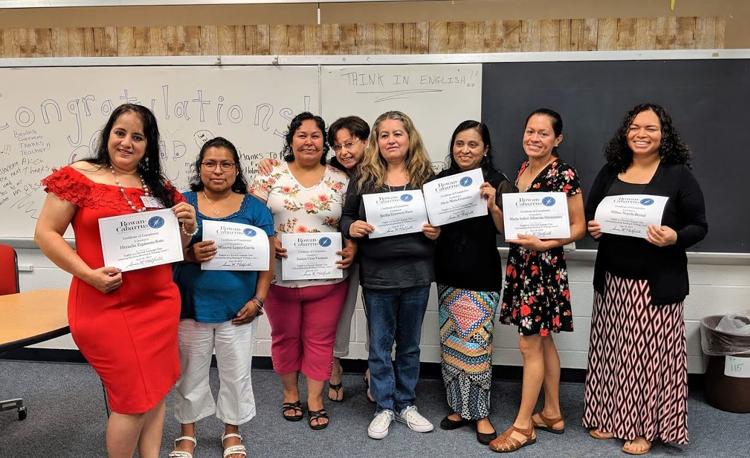 "I'm so excited because I started this program with not speaking too much English and not learn and write too much, but right now I can write and speak and understand more than when I started here," Hernandez said. "I am very happy."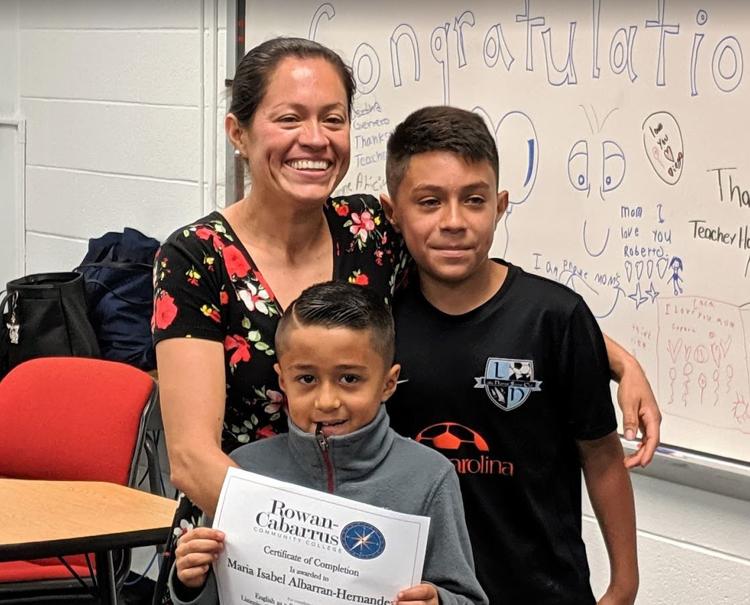 Fred L. Wilson is a Spanish Language Immersion school where students learn their lessons in both English and Spanish. Many families of Fred L. Wilson students speak Spanish as their native language, and the school's new English as Second Language Teacher (ESL), Chris Goodnight, wanted to give those families an opportunity to learn English.
"One of the first things I was trying to do on top of just learning the new position was figure out how to get the parents more involved, because I noticed at this school we had some parent involvement but we didn't have enough diversity in parent involvement," Goodnight said. "So I did some research and brainstormed and one of the things that I thought would be a great opportunity was I noticed a lot of parents didn't speak a lot of English. So I started calling around and asking around and there was talk of getting an English class started at another school, but it seemed like it was never coming."
Goodnight's wife is from Ecuador and she had taken English classes at Rowan-Cabarrus. So he reached out to the college and formed a partnership that allowed an instructor to come to Fred L. Wilson two days a week to teach English to parents of Fred L. Wilson students. The parents were able to take the course at no cost.
Goodnight said having the classes in the community eliminated one of the barriers for parents to attend.
"I know one of the things she (his wife) struggled with is getting there, making that commute. Even though it's only 20 minutes to Concord, when you have a job and when you have to cook dinner and all these other things, it was hard. That was one of the reasons I had the idea that it should be here," Goodnight said. "We wanted it to be within our own community so that people feel like they are connected with the school; building more of a sense of community and getting not just families at our school but the community at large to be more involved with the school. We want to try to figure out how to make it more of a community center and not just a school."
On June 6, the first participants received certificates showing they had graduated from the program. Their children, who are students at Fred L. Wilson, were able to be part of the graduation ceremony. The graduates will now advance to second level English as Second Language classes that will give them even more mastery of English.
"This is the number one thing, the obstacle they need to get over before everything else can sometimes happen, it's the English factor. So I was really thrilled to see my wife taking classes and then seeing these ladies come in and seeing their confidence go up. They socialize a little but more when they do come into the school with some of the teachers and some of the staff members," Goodnight said.
Sonia Hatfield, who has been working at Rowan-Cabarrus for 23 years, was one of the teachers of the program. She said her goal is to see Spanish-speakers empower themselves and understand they can't rely on translators.
She said the graduation made her proud and hopeful for the future.
"They are learning. That is my purpose. They really need to learn the language," she said. "We, the ones who come to this country, are the ones that have to learn the language. I want them to be the best, they can do it."
Beginning in August, Fred L. Wilson and RCCC will expand the free English as Second Language (ESL) program to include families from beyond Fred L. Wilson Elementary School that want to take the ESL course. All classes are free, and the flyer with more information can be found at www.kcs.k12.nc.us.
The district thinks even more community members will take advantage of the program next time, and Hernandez says she plans to spread the word about the opportunity to her friends.
"I love this city and more this school, Fred L. Wilson," she said. "They have many programs for my sons and for the parents too. But not many parents know this school has a lot of programs and for Spanish people too. I'm going to tell my friends to come. It's a good program."
Be the first to know
Get local news delivered to your inbox!