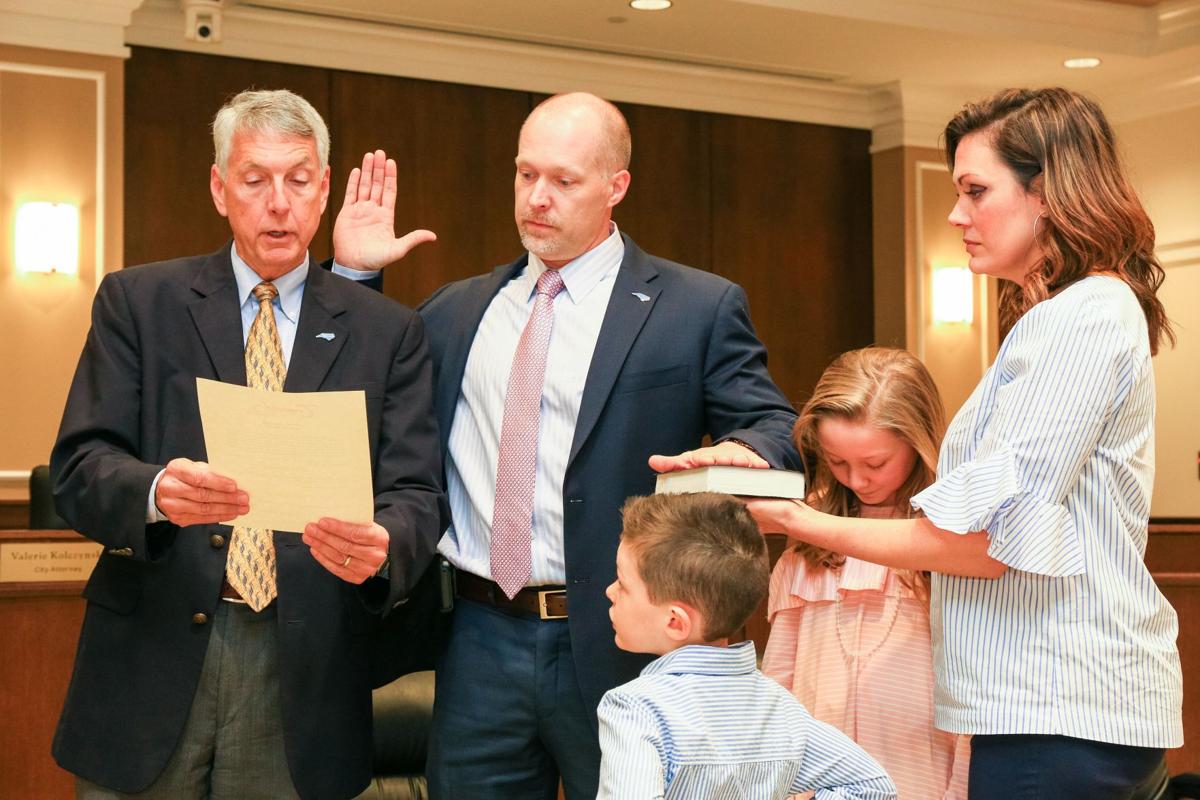 Lloyd Payne gets to follow a legacy.
With three years working under Concord City Manager Brian Hiatt under his belt, Payne had the opportunity to see the well oil-machine running first-hand before taking over the reigns himself. He officially took the oath of office Friday, March 30, on Hiatt's last day.
But Payne said he isn't trying to be the new Hiatt, as it were, nor does he plan to come in and make sweeping changes. He said he trusts the people he's worked with over the past three years and will tweak things as they come up—starting with filling a few personnel gaps.
Payne also said even with his experience as Concord's assistant city manager, he has a lot to learn.
"I'm not so naïve to think, oh, three years, I know it all," he said. "I am not the smartest guy in the room, and I tell my folks here that. I don't ever want to be in a position here where I think I'm the smartest person in the room. I want to surround myself with the smartest people in the room."
Payne has spent his entire career in city management. He began as town manager of a small town, Lake Waccamaw, out in eastern North Carolina for several years before spending a decade as town manager in Elkin up in Surry County.
"It's what I know," he said of city management. "It's what I was trained to do. I enjoy it. I thoroughly love what I do each day. I like the fact that it's not mundane. It's not routine. Every day is a little different. You come in and you have things, you have meetings and you have things planned and set out, but there's always something that comes up you weren't anticipating.
"It's kind of exciting. It's fun."
It took Payne a little while to adjust to the faster pace of a town the size of Concord—something of a change from his first two jobs—but once he caught on, he said he loved it.
"There's always something going on from a development standpoint, from a city standpoint," he said. "It's a really busy time, and it has been ever since I've been here. You never have just one task. You have multiple tasks you're always juggling. It's fun, it's exciting and it does keep you on your toes."
Hiatt said he had full confidence in not only Payne's ability to take over the job but also to guide Concord in the direction it needed to go.
"I think Lloyd certainly has the talent to lead this organization," he said. "I think that Concord is the type of community that because of the growth and what's going on, you've got to be moving forward. You've got to have new ideas, new enthusiasm, and I think he's going to do a great job."
His first few days on the job, Payne said he was mostly trying to get settled in, get his desk organized and get a feel for how things run at the main office—he spent most of the last three years overseeing the Alfred M. Brown Operations Center.
"My thing is there's nothing here that's broken that needs to be gutted and just restarted," he said. "There are things that need to be tweaked and changed some of it because the way I prefer to run a meeting or do this or do that, but certainly there's nothing that we've got to wipe the slate and start all over. Brian was running such a good operation here, again, really it's about making preference changes."
And in that process, Payne said he wants to pull staff in on the decision making.
"If there are things we're doing now that don't make sense and we've always done them that way and that's the only reason you can come up with why we do it that way is because we've always done it that way, then you want to do it a different way, OK," he said. "Tell me how you want to do it. If it makes sense to me, let's do it. I don't try to be overly complicated."
He also said he wants to foster an environment focused on team.
"I like to work with people," Payne said. "I don't like people working for me because it's a team. I may be the captain of the ship or whatever title you want to throw in there, but I've got my part to do, too. We've all got a part to do, so let's just go hand in hand and work through it. I don't necessarily need to be out in front of every problem that comes up. there maybe be someone with much more knowledge about something than me, they can take the lead on it, as long as it gets done at the end."
Part of that means putting the right staff in place. A few department heads are set to retire, and Deputy County Manager Merl Hamilton is also leaving. Payne said he plans to sit down with the remaining department heads and get a feel for their future plans.
"Getting that team put in place over the next three or four months, that's going to really consume all of my time—not only the budget short term but also getting two more assistant managers in there because as manager I can't do three people's jobs," he said. "Those short-term things are really going to consume a lot of my time over the next few months to try and get the teams set before I can really move forward and look at some of those long-term plans."
Those visions include meeting individually with members of the city council to understand their personal goals for the town's future, aligning the 2030 Land Use Plan with the development ordinances, keeping an eye on available land for future development and meshing together the different Concord neighborhoods to form a cohesive community.
"I'm just real excited about the opportunity that the mayor and council gave me for this position," Payne said. "Just looking forward to seeing with all the things going on in the city, all the activity, all the growth and everything that comes along with it how we can kind of take that and move the city forward. It's exciting times."
Be the first to know
Get local news delivered to your inbox!