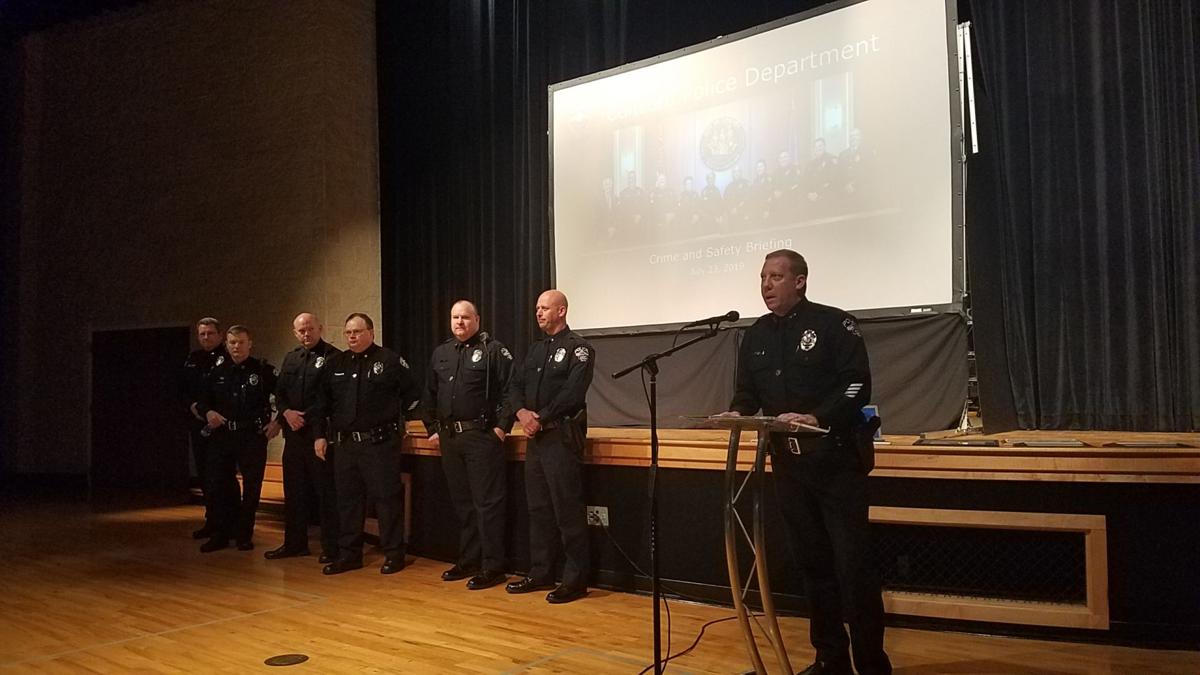 CONCORD – Concord Police Chief Gary Gacek not only credits his officers for the continued crime reduction, but he recognizes the citizens for their role.
The Concord Police Department held a public briefing Tuesday evening at Pitts Baptist Church to discuss the 2019 mid-year crime data and compared it to this point in 2018.
[RELATED: Crime in Concord continues to decline]
While the calls for services are up from Jan. 1 to June 30, there is a 20 percent decrease in violent crimes compared to the first half of 2018.
Total property crimes, which include arson, motor vehicle theft, burglary, larceny theft and shoplifting, have also seen a decline.
"It's because our citizens are engaged in the process of keeping the city safe," Gacek said. "I say that public safety is not a spectator sport. So when we talk about citizen engagement, what exactly does that mean? It means showing up at meetings like this and finding out what's going on in your neighborhood, asking questions of how they can work with us and assist in reducing crime levels down even further."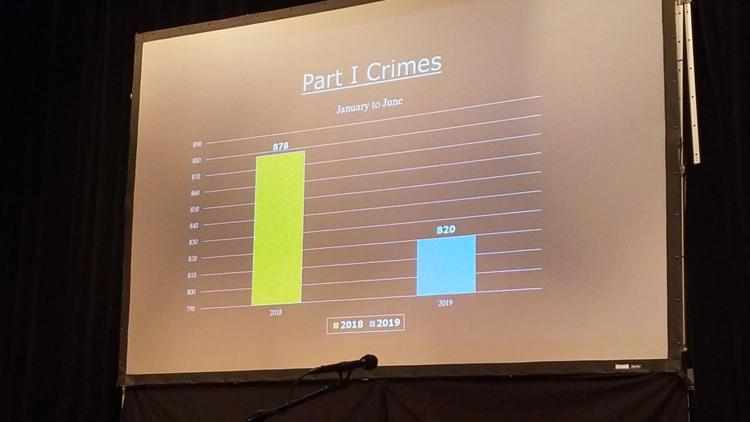 Violent crimes decreased in Concord from 113 in 2016 to 93 in 2017 and 92 in 2018.
As of June 30, Concord police have responded to 40 violent crimes in 2019, compared to 50 at that point last year.
"It tells me that the officers who dedicate their lives to public safety are doing a great job," Gacek said. "They are invested. They are effective at what they do, and as much as I would like to give kudos to the officers, you also have to give credit to the citizens."
Gacek said one of the reasons he believes crime is down is because his police officers are engaged with the Concord community and are more visible in the public's eye.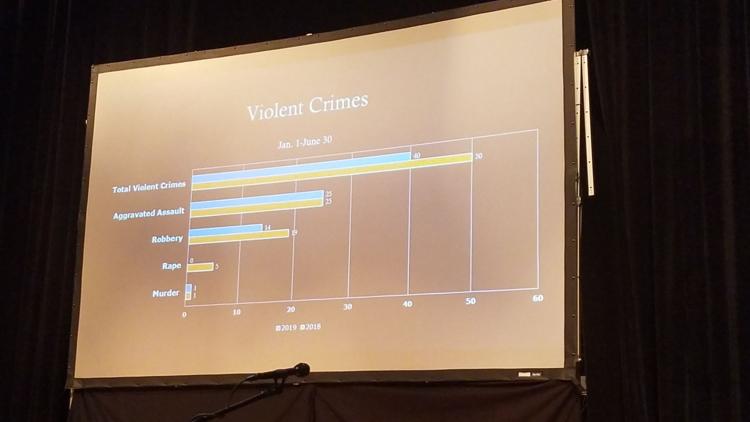 "What I ask for them to be is what are you doing in the furtherance of our mission?" Gacek said. "I want them to be highly visible in public spaces to disrupt criminal market places. That means there are certain intervention strategies, like traffic stops, subject stops, park and walks, business checks, there's things they can do so they are more visible in the public's eye. We are all over the place, and if something doesn't look right, we are going to stop, take action and see what's going on."
Comparing 2019 mid-year crime data to mid-year 2018 (Jan. 1 to June 30)
Total violent crimes are down 20 percent.
Robberies have decreased by 26 percent.
Larceny from motor vehicles has dropped by 21 percent.
There have been 820 Part I crimes, which  includes homicide, rape, robbery, aggravated assault, burglary, larceny, motor vehicle theft and arson, from Jan. 1 to June 30, 2019, compared to same timeframe in 2018.
Through the first six months in 2019, there were 32,056 calls for services, compared to 31,887 calls for service last year.
There has been a 78 percent increase in motor vehicle thefts, 18 more victims, compared to 2018.
Total violent crime has declined by 10 in mid-year 2019, compared to 2018. There has been the same amount of aggravated assaults, five less robberies and five less rapes.
Police have only investigated one homicide through the first six months of 2019.
Police say there is an increase in arson, but decline in burglaries, larceny theft and overall total property crimes.
"There are multiple suspects that get out and go search the neighborhood at night for unlocked vehicles," Concord Deputy Police Chief Jimmy Hughes said. "They are checking unlocked vehicles because it doesn't make a lot of noise and they are looking for things like change, guns, cellphones, keys for cars, those kinds of things."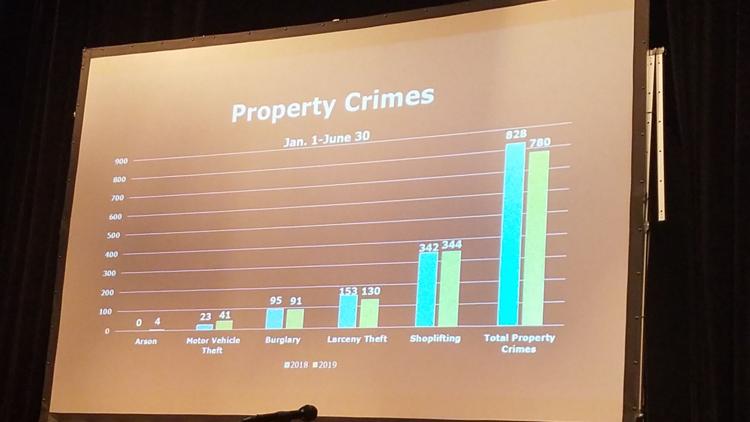 'Our kids are really curious': Concord police inform public on gun safety
Lt. Cydney McGhee, of the Concord Police Department, stood in front of the public Tuesday evening to discuss the importance of gun safety.
Last month, a teacher from Rowan County died after police said the gun in her pocketbook "accidentally" went off when she attempted to stand up at Ruby Tuesday's in Kannapolis.
Madison Moore, 28, was shot in the abdomen by her 9mm Smith & Wesson gun.
"That's a tragedy that happened where someone lost their life and they didn't have to," McGhee said. "If we could save one person to not get hurt or not hurt somebody else, that's all we want to do."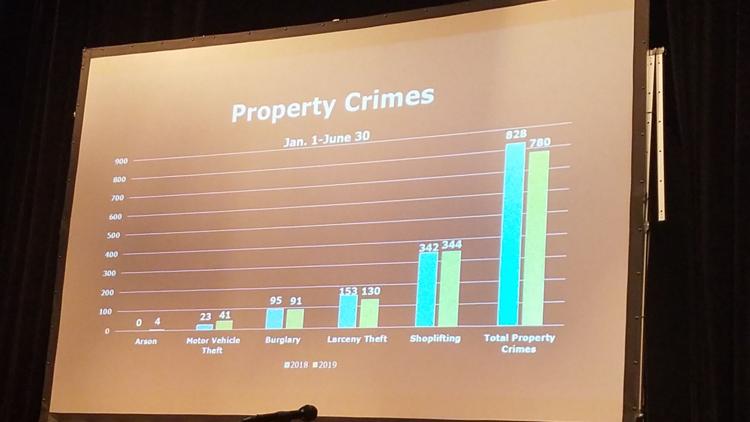 Too often, accidental shootings involve children who find a loaded gun lying around.
"Teach your kids (gun) safety," McGhee said. "Have them understand what a gun is and that there are real guns and fake guns. Our kids are really curious and they will go and grab it thinking it is a toy gun. That's the biggest thing you see is the accidental shootings with kids getting a hold of guns."
McGhee said it's important for parents to know to lock their gun away, keep the ammunition in a different location and hide the keys.
"Just keeping your gun properly secured in a safe, out of reach of kids and not loaded," McGhee said. "Our kids are really curious and they will go and grab it thinking it is a toy gun."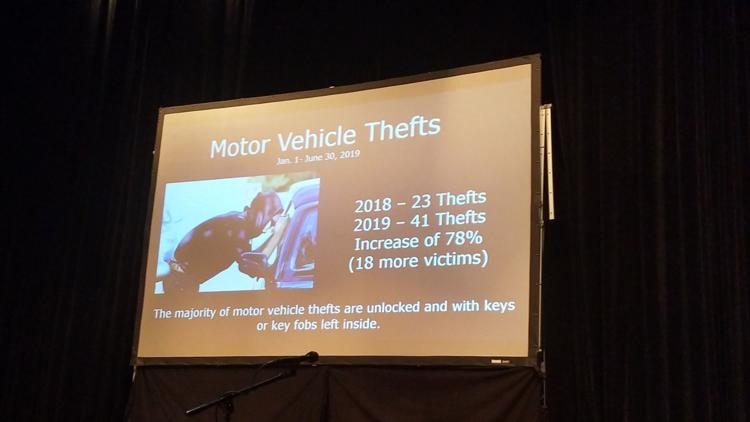 Be the first to know
Get local news delivered to your inbox!