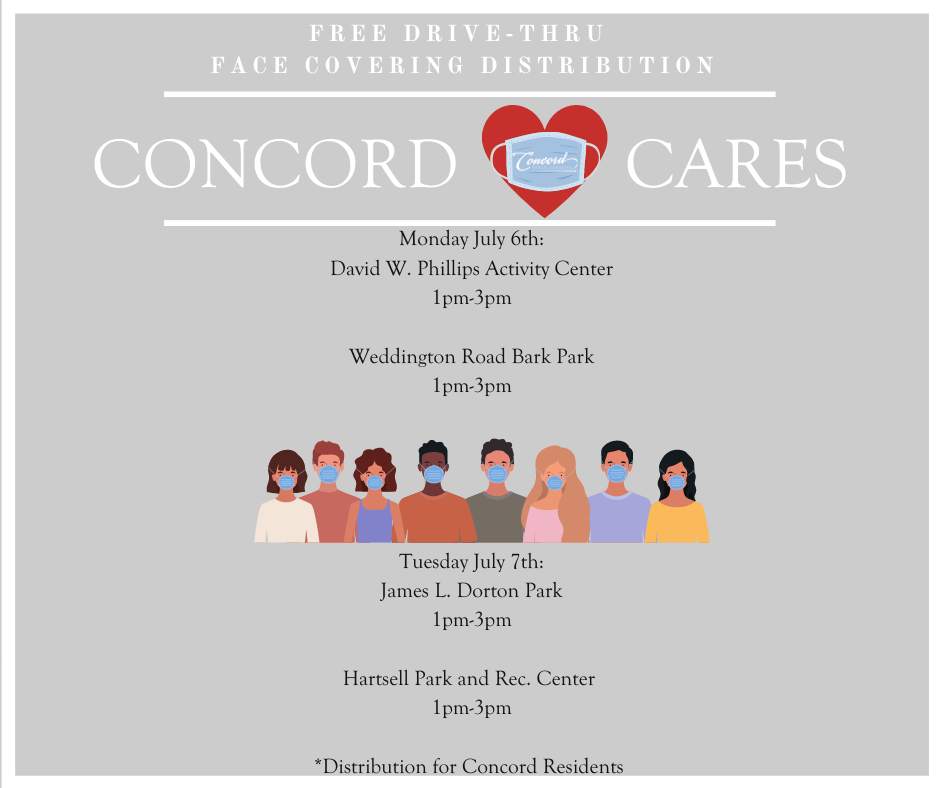 CONCORD – The City of Concord announced that it will hold a two-day mask distribution event next week in response to Governor Roy Cooper's face mask requirement.
The governor's face mask requirement went into effect June 26 at 5 p.m. after a continuous uptick in COVID-19 cases in the state. Since then, there has continued to be a daily increase in cases.
To ensure that all Concord residents are able to abide by the Governor's mandate, Concord Emergency Management Coordinator Ian Crane, the city decided to hold a mask distribution event.
"We understand that not everyone has access to a mask or face covering, so we wanted to offer one free of charge to those that were in need," Crane said.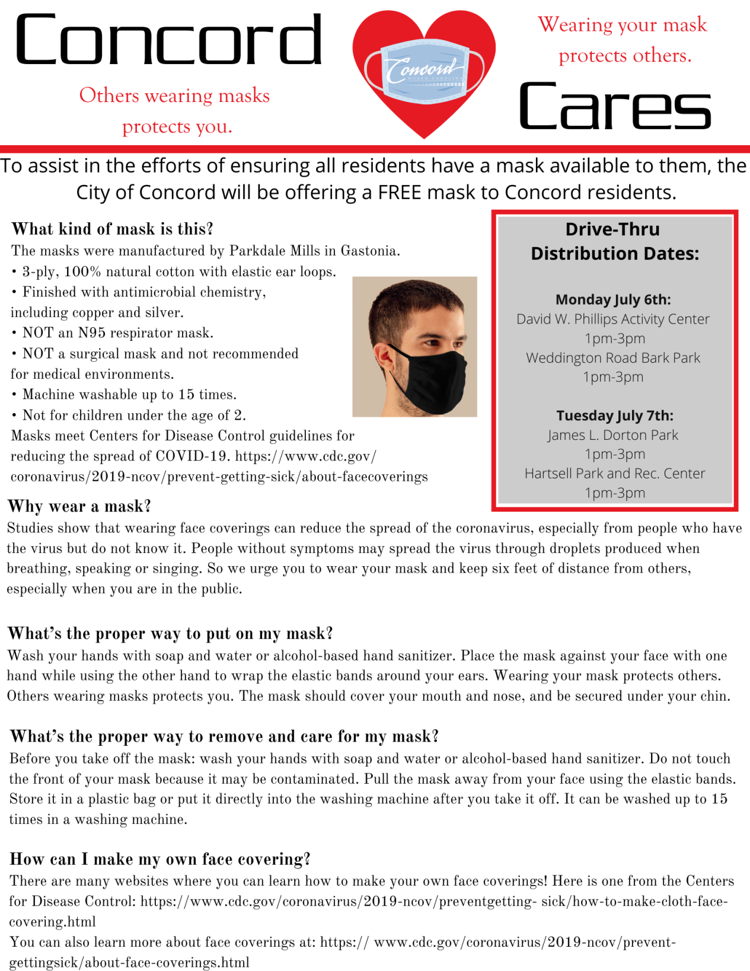 City staff will distribute masks to residents free of charge July 6 and 7. Due to limited supply, masks will be limited to one per person. Details for the event are listed below.
• David W. Phillips Activity Center 1pm-3pm
• Weddington Road Bark Park 1pm-3pm
• James L. Dorton Park 1pm-3pm
• Hartsell Park and Rec. Center 1pm-3pm
Since the increase in cases, state and local officials have urged residents to practice social distancing and to wear facial coverings when in public.
The NC Department of Health and Human services has stated, in a June 30 COVID-19 FAQ document, that wearing a face covering is a step to help reduce the spread of COVID-19 but should be practiced in conjunction with frequent hand washing and physical distancing. Dr. Bonnie Coyle, Cabarrus Health Alliance public health director, also encourages residents to practice all forms of safe hygiene and social distancing.
"Wearing a cloth face covering is not a replacement for other ways to prevent the spread of COVID-19," Coyle stated. "Community members should not forget the importance of practicing social distancing, washing hands frequently or using hand sanitizer, and staying home when sick."
A Health Affairs study conducted by Wei Lyu and George L. Wehby and published June 16 found that the 15 states that mandated mask wearing earlier in the pandemic now have a greater decline in daily COVID-19 cases compared to states that did not. The study estimated that about 230,000-450,000 COVID-19 cases were prevented due to the mask mandate in those states.
The study also found that there was no evidence of COVID-19 case decline due to employee only mask mandates.
An important reason to wear a facial covering while in public, the NCDHHS cites, is the possibility of asymptomatic COVID-19 spread. This is when a person has the COVID-19 virus but does not show any symptoms and may not be aware that he or she is infected. Wearing a face covering, the NCDHHS stated, may prevent the spread of the virus from asymptomatic people to others.
Essentially mask wearing, Coyle said, is about protecting others.
"It's important for people to understand that wearing a cloth face covering not only protects them, but also those around them," Coyle said.
There are exceptions to the mask requirement, the NCDHHS stated. For example, children under the age of 11 are not required to wear a mask. But if children can reliably wear, remove, and handle cloth face coverings throughout the day, then parents can give them masks. But cloth face coverings should not be put on babies and children under the age of 2 years old, the NCDHHS stated.
There are also exceptions for medical or behavioral conditions.
More information on mask wearing, social distancing and hand hygiene can be found here.
Be the first to know
Get local news delivered to your inbox!